The Agricultural Engineers Association (AEA) has released the final registration figures for agricultural tractors (over 50hp) in 2020. At 776 units, December's figure was up by 25.2% when compared to 2019. Given the unprecedented year, the AEA undertook a reconciliation exercise with the DVLA and identified an additional 425 machines from earlier in the year.
This brings the 2020 total up to 10,380 units. This is still 13.8% lower than in 2019, and is comparable with 2015 and 2016, the lowest figures in recent years.
Registrations by power and region
With 2020 figures now complete, the AEA has also released a breakdown by power and region. As the tables show, almost all regions saw a decline between 2019 and 2020, with the sharpest fall seen in the Home Counties, dropping from 681 machines to 398 (-41.6%). The South West and Northern Ireland also declines of 21.3% and 27.2% respectively.
Interestingly, the South East & Channel Islands saw a very minor increase; two machines for a total of 795. This 0.3% rise is the only increase report in 2020.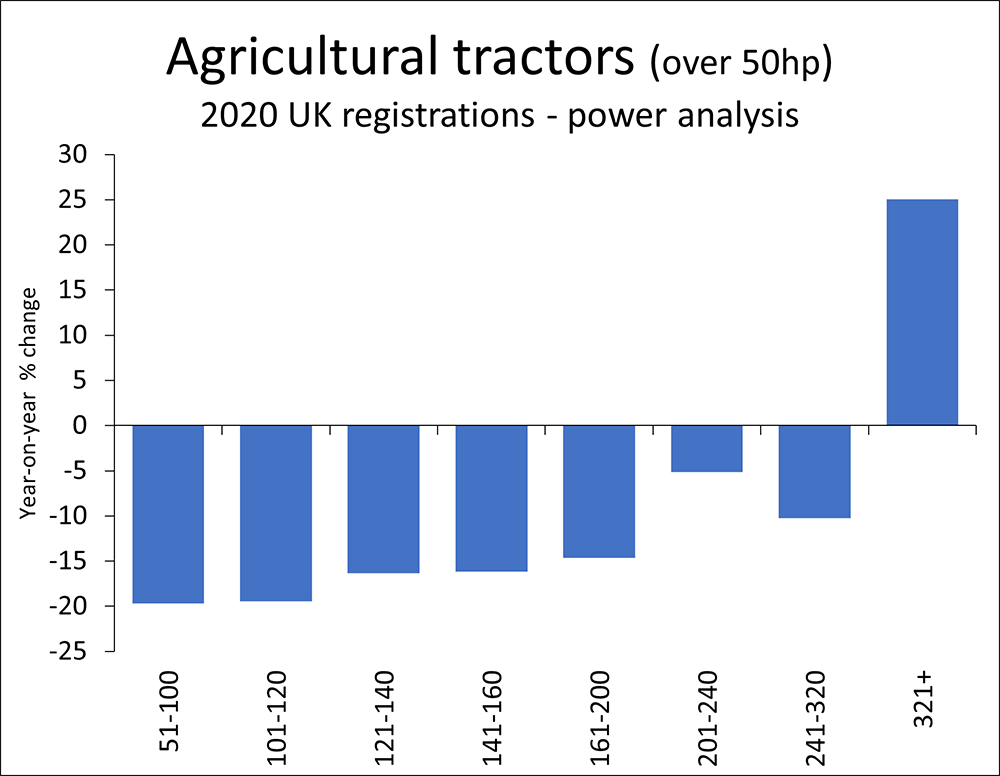 Looking at the horsepower breakdown, all but the smallest and largest machines saw a decline. Compact machines (under 50hp) saw a slight increase, with a more pronounced rise in tractors above 320hp (343 to 429, 25.1%). 201-240hp machines saw the smallest fall (just 5.2%) but all other power bands saw declines of between 10-20%.
The rise in registrations towards at the top end of the power scale meant that for the first time, the average horsepower has moved past 170hp. At 171hp it represents a jump of nearly 30hp when compared to a decade ago. When including compact machines, the average is 153.4hp.