Vervaet will debut its new telematics system in the UK, at a working demonstration held by the importers J Riley Beet Harvesters (UK) Ltd, on January 27.
This innovative introduction will maintain J Riley's place at the forefront of sugar beet harvesting and self-propelled slurry applicator specialisms and intends to further consolidate its position as a UK market leader for beet harvesting technology.
Vervaet machines produced from 2022 onwards will be equipped as standard with the basic Vervaet Connect system. Sensors collect machine performance and operating data which is automatically transmitted to a webserver and presented in real-time through an online portal called MyVervaet. The information that can be displayed includes, but is not limited to:
Real-time machine tracking
Operational status: speed, engine power usage, fuel consumption, hectares worked
Current settings and parameters with a live view of the in-cab screens
Service information such as fuel tank level and hours worked
Alerts or error codes
Historical data of machine's previous work
(For harvesters) yield mapping with harvest data collected and displayed on a field map
Application maps and total volume applied (for Hydro Trike and Quad)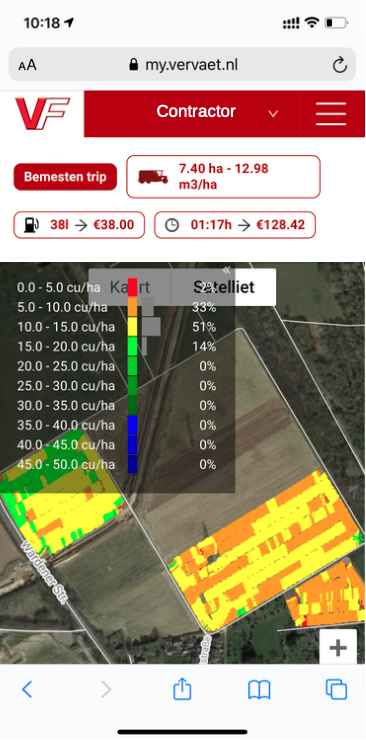 MyVervaet speeds up day-to-day management tasks as the operator is instantly able to ascertain the location and status of a machine at all times. Logging a machine's previous work allows for the analysis and comparison of a machine's performance, thereby allowing for improvements where possible – increasing machine efficiency and reducing costs.
Alerts and errors are flagged up on the MyVervaet portal, which is also visible to the dealer and manufacturer, with remote diagnostics possible. Software updates can also be installed wirelessly, reducing machine downtime.
Thanks to the system's compatibility with other platforms, MyVervaet data can be used where other advanced farming techniques, such as variable rate seeding, are already being employed. The Vervaet Hydro Trike and Quad system create application maps in the MyVervaet portal displaying the rate of slurry applied across each field. This can be used alongside a separate John Deere system with an integrated NIR sensor, to control the application rate according to the nutrient value of the slurry.
MyVervaet will reassure growers, as yield mapping for root crops is now offered as an optional integrated system with data conveniently presented on MyVervaet.
Daan van de Velde, marketing manager at Frans Vervaet BV, said: "Our main objective is and has always been, to provide the best possible support to our sector, and this is achieved when everyone works together – we feel that you shouldn't ever be afraid of collaboration. So, we made sure that the data generated by Vervaet Connect can be shared with other systems to realise its greatest potential for the end-user and enhance the development and progress of our industry."
"The system is completely bespoke to our machines, so it is tailored to the specific requirements of the harvesters and the slurry applicators and we were able to specify how we wanted to view the data. Those attending our working demonstration should be able to view the system in action on the day," said Matt Carse, sales manager at J Riley Beet Harvesters (UK) Ltd.
The J Riley Beet Harvesters working demonstration will take place on 27 January 2022 at Little Witchingham in central Norfolk with the kind permission of H Jones (Farms) Ltd. The postcode is NR9 5NY, and signs will be in place on the day.