Over fifteen years, A J Luke Contracting has developed from a man and tractor operation to a significant farming and contracting enterprise.
Ashley Luke was just 20 years old when, in 2005, he decided to set up his own contracting business. Starting with a Valtra 8150, he worked with contractors and offered feeding, yard work and maintenance to farmers around the Somerset and Wiltshire borders, running from a 75-acre smallholding owned by his parents, Robert and Vanessa, near Frome.
"After I had finished studying farm mechanisation at college it was clear that the farm would not be able to sustain two wages," Ashley explains. "Dad had always worked for contractors in the area and that's where I got the bug. Over time, I started gaining my own customers and looked at buying my own machines."
One of the first purchases Ashley made was a Weaving Agrimaster hedgecutter, a move encouraged by a local dairy farmer. Following this, he noted that growers in the area were hiring their own muckspreaders and saw an opportunity to increase his workload by offering this service direct.
"I started out with a Tebbe machine, then moved to ECE units," he explains. "We try to buy everything new or nearly new, but when we're looking into additional operations, we're more frugal. We often hire in a machine or look for good quality second-hand units so that we can test the market."
Muck and slurry spreading now make up a sizeable part of the company's income. Ashley offers a full service, loading, transporting and then spreading farmyard manures with two Richard Western rear discharge machines. Investment in slurry application has also been key, and Ashley now runs two tankers and a SlurryKat umbilical system with 1800m of four- and five-inch piping.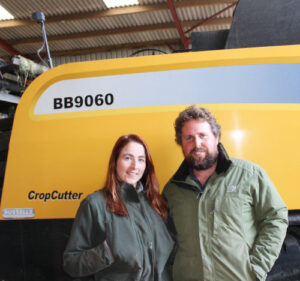 "The move to umbilical spreading was motivated by increasingly difficult seasons and growing concerns over soil compaction," Ashley says. "Because of the excessive wet weather last year, we looked into purchasing a nurse tank to extend the umbilical operation."
Believing that the quoted prices for nurse tanks were difficult to justify, Ashley looked elsewhere and opted for a 50m3 capacity roll-on, roll-off skip, something that has proven to be very successful. "We've used it repeatedly over the last year and even hired it out to some trusted customers, which has gone towards covering the initial cost."
Carefully Considered
Machinery decisions are not made based on replacement policies or machinery hours. Instead, they are weighed against the whole operation by Ashley and his partner Chelsea, who manages all the paperwork and is studying for an accountancy qualification to better manage the company's finances. "It's not just about whether the machine needs changing, it's about the benefits we can accrue from the new unit."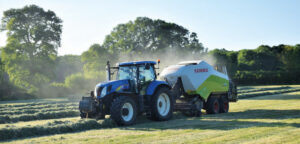 When looking at equipment, the couple takes into account the hours worked by the previous machine, as well as the acres covered. An upgrade is considered when both Ashley and Chelsea believe that the new machine will be more time-efficient. "For example, we changed from a 120×70 large square baler to a 120×90 machine. This is not only faster in the field, but significantly reduces haulage time."
One of the largest investments for the company was a self-propelled sprayer. Encouraged by his uncle, who runs his own spraying business in the area, Ashley bought a JCB Fastrac with a demount system in 2007 to handle any over matter, before building a customer base large enough to justify a self-propelled machine. Now running a Househam AirRide, he covers between 12,000 and 15,000 acres each year in a twenty-mile radius of the farm.
Alongside these key operations, Ashley continues to offer hedgecutting with two McConnel machines. There is also groundworks with 13-tonne and 14-tonne capacity JCB diggers, cultivation and drilling work, and straw and grassland baling.
A Claas Quadrant 3300 and a New Holland BB6090 large square baler handle most of the straw and silage work, making around 17,000 bales each year, with a Claas round baler backing up these units to produce an additional 4000 bales. Four New Holland tractors provide the horsepower, with owner-operators brought in during peak periods.
"We don't offer foraging because there are so many contractors in the area already doing that, but we work closely with several of them, putting silage trailers and buck rakes on farm," says Ashley.
The use of technology throughout the business comes on a need-to basis. Ashley admits that he is cautious about precision farming systems because it is difficult to adjust rates to cover the investment.
"It's incredibly expensive to specify these systems and farmers cannot pay the prices we would need to charge," he says. "The cost of equipment is a real issue across our industry. Farming is the only business that will invest so heavily without having any idea about the prices we will receive at harvest. It's becoming harder to justify any real expenditure when crop and livestock prices remain so low."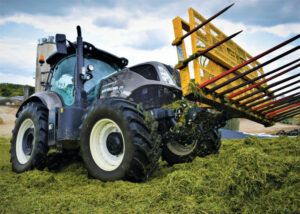 Ashley and Chelsea are all too aware of the difficulties farmers currently face. Alongside the contracting work, the couple has worked with Ashley's parents to expand and diversify the farm. Renting land on top of the initial 75-acre holding, they now crop 300 acres, down as grass, maize, wheat and barley and run a successful contract heifer rearing operation and a 12,000 bird free-range poultry unit.
"The poultry unit was established in 2009 as a way to boost the income of the farm and to function as a retirement fund for my parents," says Ashley. "My mother handles the day-to-day work alongside a part-time member of staff, while Chelsea and I look after the management decisions in regards to the overall care of the birds and the financial side of the enterprise. Because of the contracting business, we can also supply machinery and staff to clear the building at the end of each flock."
He goes on to explain that he 'stumbled' into contract rearing following a conversation with one of his customers. "We had the buildings on the farm which were sat empty, so it made a lot of sense and it's been a big benefit to the business, having a regular monthly income. There is not a lot guaranteed in agriculture.
Ashley and Chelsea plan to extend the farm further going forward, with permission to build an additional 12,000 bird poultry house and new cattle sheds to increase rearing numbers to 140. "We're also in the process of expanding the workshop. The machinery is so big now that much of the equipment will not fit in our current building. To keep costs down and keep the staff busy during the winter, we believe it's important to build our own kit and handle as much maintenance as possible."
Finally, they have developed a staff portal on the company website, working with one of their employees. A forward-thinking move, this has streamlined the process of gathering staff hours and job data and meant that invoices can be sent out quickly.
"As I said previously, I believe in technology when there is a clear benefit. Using this software, staff can also report breakdowns and incidents so that we can react quickly and minimise any downtime. We're also hoping to integrate this into an app so that it's easier to use in the field," Ashley concludes.