Diversifying into amenity and local authority work has allowed one Dorset contractor to continue working within agriculture without treading on toes.
When James Rose established JS Rose Countryside Contractors in 2005, near Sturminster Newton, it was to offer man and tractor work in the local area. Deciding against competing in an already crowded market, when James branched out on his own, he invested in a post-knocker and a hedgecutter, and began building a customer base with fencing work, hedgetrimming and hedgelaying.
"To differentiate myself from other contractors, in 2006 I purchased a compact John Deere 855 to work alongside my 6420. This meant I could operate in orchards and smallholdings," James explains. "I've grown the business by looking for gaps in the market. It's normally the jobs that no one else wants to do!"
Having set himself up with compact machinery suitable for amenity work, James was able to tender to Dorset council for grass cutting work in 2007, winning the contract to clear public parks and dog walking areas. This supplied a week of work for nine months of the year and was justification for James to hire his first member of staff. The two then filled out the rest of the year with hedgetrimming and fencing.
On the Verge
This relationship with the council would prove to be lucrative for the company. Four years ago, JS Rose Countryside Contractors was one of just six businesses (some nationwide) asked to submit quotes to handle verge mowing along 2300 miles of Dorset roads (barring the A35, considered Dorset's motorway).
"It was a huge opportunity," explains James. "But it also required a lot of investment. It meant I needed more equipment, and had to hire more men. I was already employing four people at this point and needed to ensure that there was enough work for the rest of the year."
There were additional costs to consider as well and James' needed to weigh these carefully before finalising a quote. These included hiring traffic management services when working on dual carriageways. "I decided to handle the dual carriageways at night because the level of traffic is reduced, and we can get a lot more done in the time period. However, working at night increases the cost of the traffic management service. You could easily be working for nothing if you misjudge this.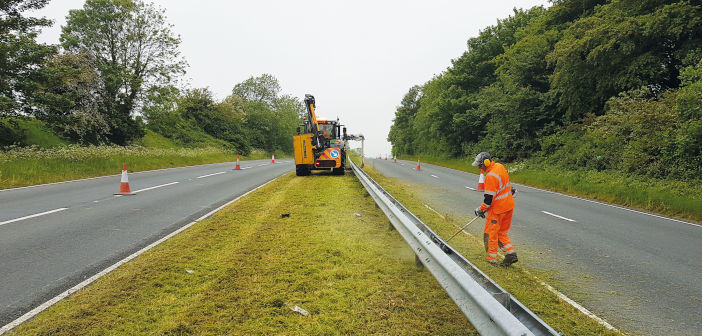 "I also need to predict how much the operation will cost to complete, as well as any downtime we might incur," James continues. "The council ask for quotes by the kilometre, including both sides of the road, so it's a lot to consider before putting in a quote."
Having now handled roadside verges for four years, James has maintained a mixed fleet of good quality second-hand and new tractors. He currently runs two John Deeres (a 6130R and a 6930) bought from Smart Agricultural Services and four Valtras (two new N154s and a N163 and N174, both second-hand) from CJ Cox.
"I've had to change how I choose my machinery. Previously I could use high houred machines, but we only have three to four weeks to cover all the main roads so downtime is not an option. This isn't just about efficiency or cost, if we have a breakdown on one of the dual carriageways, it's a hazard to both my staff and the public."
Tractor purchases are carefully considered with James consulting his six full-time members of staff to ensure that they are happy. "I wouldn't be where I am today without my staff," he explains. "They're expected to work hard for long hours and meet the high expectations of my customers, so I have to take into account their needs."
Because so much of the workload is completed on the road, close attention is also paid to the tyres. "I keep an eye out for nearly new Nokian and Alliance rubber and work with a local fitter to change tyres before and after the verge mowing. The drivers aren't always keen because they can feel the bumps in the road, but the rubber is hard-wearing so it is more cost-effective than using field tyres."
Hedgecutters are supplied by the Alamo Group, with three McConnel machines, two Bomford Turners and a Twose trimmer. James deals with Midlands-based dealers FH & J Alviti and Joe Turner Equipment. "It might seem odd to source backup from dealers who are so far away, but both offer rotor balancing which is absolutely crucial to ensure the best operation possible."
FH & J Alviti also supplied one of the company's latest investments, an Antonio Carraro compact tractor, with reverse drive for improved visibility when working in constricted areas. "Frank [Alviti] also modified a new Twose machine so that it would work with the reverse drive, and I've recently invested in a reverse-drive Muthing flail so we can cut grass without driving over it first. The Antonio Carraro tractor is so impressive. It has a basic cab, but I really like how the controls turn with the operator so that it's the same operation in reverse drive."
Building Bridges
The council work continues as James offers bridge-building for footpaths. "It came about through a conversation with one of the rangers who monitors the footpaths and bridleways throughout the county. When I saw the wooden bridges they use, I knew that my team and I would be able to offer a similar service and fit them."
The bridges range from 3m to 14m in length, although James notes that the vast majority are between 3m and 8m. "It comes in fits and starts. There are thousands of miles of public right of ways in Dorset and some of these bridges are hardly used, so it's only when people notify the rangers that these are replaced."
James adds that the bridgework and much of the council work benefits from his connection to agriculture. "I know nearly all the farmers in the area, or know someone who does, so I can be that point of contact. It means I know when to travel over certain fields because of the cropping rotation. It's a key role because it improves the relationship between farmers, the council and the public."
The rest of the workload comprises fencing, agricultural hedgecutting, and hedgelaying. James explains that two men are working all year-round erecting fences for local farms, domestic and commercial properties and stretches for the Forestry Commission.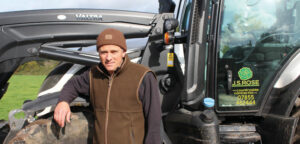 Between 45,000m and 55,000m of fencing is put up each year by the company, using Protech P300 and P400 machines. "It was always a job that I enjoyed," James says. "It was the first operation I offered on my own and continues to be a key source of income. My staff and I go out in two-man teams and can put up a lot of fencing when conditions are right."
Work in the wooded areas across Dorset and into the New Forest requires machinery capable of travelling over the difficult terrain, so James utilises a three-tonne capacity Cat excavator to remove old fencing materials, which can also be fitted with a boom-mounted post-driver for reaching over ditches. Three years ago, he purchased a tracked Evo2 Protech fencing machine, which has had a massive impact.
"It's been a revelation for us," he explains. "The Evo2 can manage the tricky terrain and almost makes fencing a one-man operation. It maximises the manpower needed because someone isn't sat on a tractor powering the post-knocker, they can be laying out rails or wire while the other knocks the posts in."
As for the future, James hopes to extend the forestry work and greater utilise the larger excavator with a 360-degree Modularis rotator unit and tree shear grapple. He is also watching any changes to the UK's grant schemes very closely.
"We've received a lot of hedgelaying and fencing work because of the grant schemes," he explains. "And farmers are keen to continue this as long as they have adequate support. I hope that any changes to the Basic Payment Scheme do not impact the grants available."