The Bridgestone brand has been working closely with one North Yorkshire contractor to increase the efficiency of its specially-adapted fertiliser trucks.
Richard Coning supports both the arable and livestock sectors, covering some 100,000 acres from North Yorkshire up to the Scottish Borders.
He has a fleet consisting of three Iveco Trucks, two Mercedes Truck/Unimog, two Trailer Spreaders, two Ferti Chaser Trailers and a Kramer Telehandler. However, it's one of two brand-new MAN TGM 18.320 trucks which will head to the event, fitted with VT-Tractor tyres.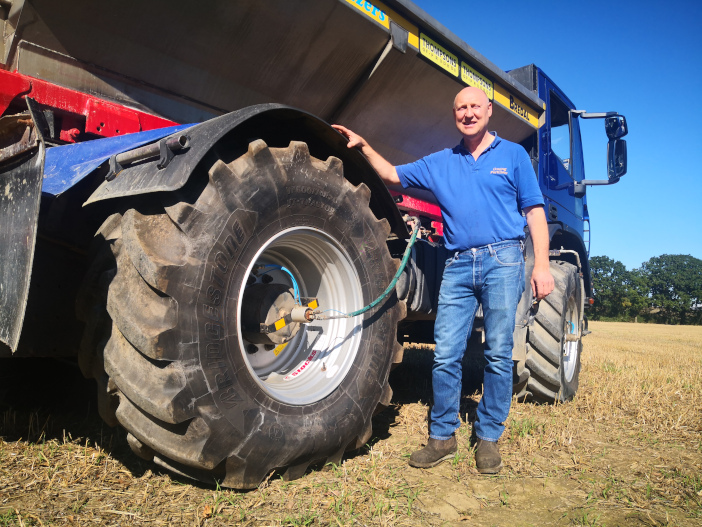 Previously shown on the KRM stand at Lamma, back in May, to showcase the F10 hopper, the weight of the 320bhp machine requires a tyre that can withstand heavy loads, whilst also protecting the soil. The VT-Tractor can operate at lower inflation pressures, offering a larger footprint, and enabling the company to work faster and more efficiently.
Bridgestone's VT sales manager for North Europe Stephen Lamb said: "The tyres operate on the ground at 1.4bar – 1.0 bar and back up to 2 bar for road travel. This is where our VF540/65 R28 and VF710/60 R30 tyres come into their own.
"This MAN truck is one of the best adverts we could wish for, as it showcases how the VT-TRACTOR improves areas of efficiency and performance in a really memorable way.
"Richard has done a fantastic job of converting these spreader combinations locally into bespoke pieces of kit, that are tailored for the all-around efficiency of his business. Bridgestone has had a long-standing relationship with his business, with regards to his determination to reduce the effects of soil compaction within his customers' fields, with the use of CTIS & VF Tyre Technology."
Mr Coning added: "We've looked at all aspects of improving the service to our customers. These include cost savings on fuel, road and field gear-ratios combinations these trucks offer, improvements to soil compaction effects and spreading accuracy via dynamic weighing and section control. Plus, having the flexibility of transporting the Ferti-Bins, behind the trucks onto farm, gives us greater capacity, without the additional transportation cost and time.