Datamars has announced the acquisition of remote animal monitoring company, HerdInsights. With this, the company will accelerate its own research and product development in livestock performance monitoring, and enhance its ability to deliver data-driven insights to producers on productivity, animal wellbeing and resource use.
HerdInsights was established in Cork in 2017, from original start-up Alanya Ltd. Since then it has developed and launched a reproductive and health monitoring system for the dairy industry and represents the first health monitoring solution of its kind.
The management team has experience across the dairy agricultural sector, global veterinarian industry, and the IT industry, with a strong market presence in the UK, Northern Europe and Australia.
The acquisition strengthens Datamars position as the only company offering a complete end to end solution from animal identification, to weight based and activity data, to cloud based reporting and insights.
Datamars CEO, Daniele Della Libera, said that the decision to acquire HerdInsights was made in support of dairy farmers and livestock producers who are facing increasing pressures to produce more, with less.
"Throughout the world, the demand for meat and dairy products continues to grow significantly – at the same time as farmers and producers face the competing demands to find more sustainable ways to interact with precious resources such as land and water; deliver greater traceability to consumers, and utilise more targeted animal health practices.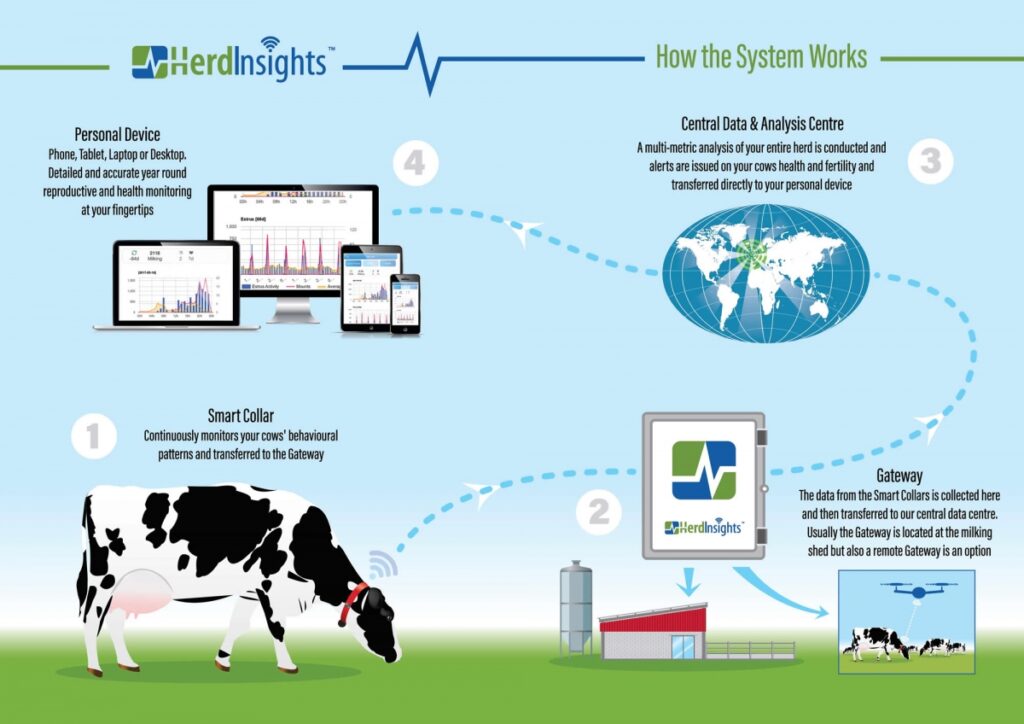 "HerdInsights joining Datamars combines two teams united in our belief of the power of data to help resolve those competing demands. Together, and via our integrated livestock solutions, we can now deliver an additional layer of data-driven insights to livestock producers."
HerdInsights CEO, Brian Mulcahy explained that joining with Datamars was the obvious choice: "HerdInsights will join Datamars' broader stable of livestock management solutions where it will immediately be able to take advantage of the scale of Datamars' global sales and marketing capabilities, and manufacturing and supply chains, expand into new markets and take the value of HerdInsights to more farmers and producers around the world. It will also benefit from Datamars' R&D capabilities, leading to further innovation.
"We are particularly excited to combine our industry-leading expertise with that of Datamars so that, together, we can work collaboratively to continue product development and market expansion of the HerdInsights solution; and accelerate further Datamars' innovation in the area of livestock monitoring and performance across sectors and regions," he said.
Datamars will become the primary global reseller for the HerdInsights solution which continues to be available as it exists today for dairy farmers. The system will be integrated into Datamars over the coming weeks with all 13 HerdInsights employees joining the Datamars team.