Recognising the losses incurred from wasted feed in the cattle shed, JF Hudson has developed the Silo Crab, said to be the industry's first machine for collecting leftover material from the feed fence and saving both expenditure and manpower.
Designed to be fitted on a front loader or telehandler, the Silo Crab has wings on either side of the bucket that pivot outwards and guide feed to the centre to be collected. The wings have a rubber wear edge that runs across the floor and can be easily adjusted from the cabin. At the end of the passageway, the wings can be closed to collect feed from the corners without the need for manual digging.
The machine was conceived following a request from dairy farmer Philip Metcalfe, partner at Metcalfe Farms, who milks 1,300 pedigree Holsteins near Leyburn, North Yorkshire. The farm has 965m of feed fence across six passageways, with 12 dead ends and Mr Metcalfe was looking for a way to reduce how labour intensive collecting leftover feed was. Knowing that feed waste was driving costs upwards and reducing efficiencies, he approached JF Hudson for a solution.
According to Mr Metcalfe, the Silo Crab has saved 45 minutes each day and reduced dairy shed labour costs by £9,581 per year, thanks to staff members being freed up to tackle other jobs.
"It saves time and is good for staff morale. We are also saving diesel because the loader does not need to run for as long and the high capacity of the bucket allows TMR to be weighed more conveniently with no spillage," he said.
Award-winning
The design of the Silo Crab was also Commended at the British Dairying 2021 Cream Awards. One of the judges, Paul Tompkins of South Acre Farm, said: "The application stood out immediately to any dairy farmers who have consumed too much energy on manually sweeping feed passageways. This innovation offers a tool to farmers that is simple, straightforward but offers a practical time-saving solution and can help improve cow performance."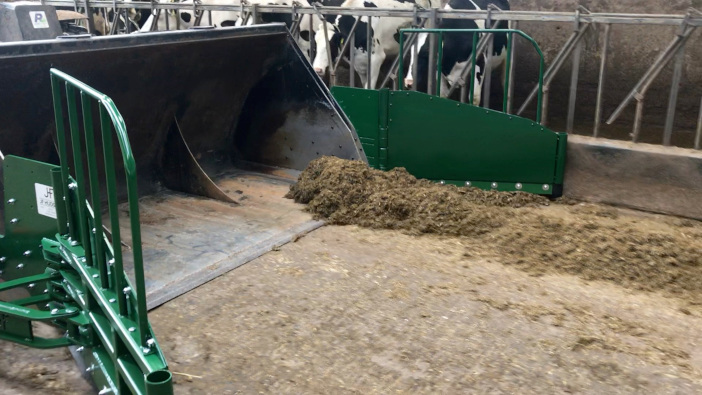 Using a bespoke CAD 'n' Cut service and having a solid understanding of modern dairy farming operations, JF Hudson is reportedly well placed to produce bespoke builds such as the Silo Crab. The attachment was designed using the 3D software package Solidworks, before materials were laser cut and fabricated at the company's workshop near Bedale, North Yorkshire.
James Hudson, owner and managing director of the firm, said: "Farming is a sector built on tight profit margins and this is where the Silo Crab offers real value. Leftover feed can be gathered and weighed allowing you to calculate the total intake. Adjustments can then be made to the next feed based on what the cows ate and therefore need. By monitoring feed intakes, instead of relatively expensive guesswork, the Silo Crab makes it possible to keep surplus to an absolute minimum.
"Investing in the right machinery and practices will preserve your bottom line. It has brought great results for Metcalfe Farms so we are producing the Silo Crab so that other farmers can enjoy the benefit it brings."
The Silo Crab is now available for demonstrations throughout the UK. For more information go to www.jfhudson.co.uk