To increase accuracy across its diet feeder range, Kuhn Farm Machinery has launched a package of customised weighing, monitoring and reporting solutions. The company has collaborated with Italian manufacturer Dinamica Generale to offer programmable weighing on all its machines and will also offer a secondary display or a remote-control facility, available through pre-loaded apps on a smartphone or tablet.
Full ration tracking and management are now possible via a cloud-based data transfer function, with a host of monitoring and reporting options controlled from a personal computer and with the potential to interface with other farm management software.
Kuhn now offers the DG600 terminal as standard on all Profile and Euromix trailed diet feeders. It features twin screens, the first to show weights and a second that acts as a virtual keypad and shows ingredient names and quantities simultaneously. Scrollable menus are said to speed up data input and the terminal can store up to 99 mixes, each with a maximum of 24 ingredients, and up to 48 feed batches.
The company has also developed the Datamix View app, available pre-loaded onto a rugged smartphone or tablet. This connects to the DG600 via wifi up to a range of 90m. There is also the Datamix Control app which takes over the programming functions. This allows operators to access historic information and download PDFs. Both apps are available without a subscription and come preloaded onto devices, available through the options list.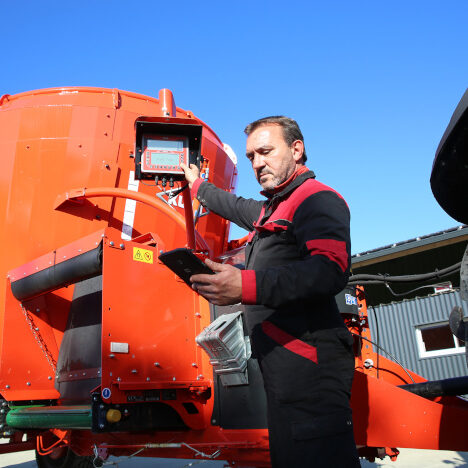 For more extensive ration management, there is also the DTM data transfer software available for DG600 or DG8000 terminals. This allows data transfer through a 3G modern or via a flash drive and provides ration programming, monitoring and reporting functions. It can also be integrated with many herd management programmes to further optimise the ration and tracking of herd performance.
For more information go to www.kuhn.co.uk