The recent heavy rain and hailstone storms have taken their toll on many oilseed rape crops, resulting in yield losses just ahead of harvest. However, Limagrain UK is pointing out that some crops have been left relatively unscathed by the extreme weather, showing the value of pod shatter resistance.
Pod shatter is a natural process for seed dispersion in oilseed rape, however, it can lead to significant seed loss caused by heavy wind, rain, hailstones or the combine passing through the crop.
The pod shatter resistance gene (POSH) was originally introduced to oilseed rape with the restorer gene from radish but the gene has been lost in the breeding process of some hybrids.
"Those varieties that do carry a high degree of pod shatter resistance, can make a real difference to seed losses both before and at harvest, which is what we have seen in the last couple of days," said Limagrain's arable development manager Liam Wilkinson, who further believes that the trait is often underestimated or not fully understood.
"Pod shatter can be quantified as the force required to break a ripe pod – it's not an either-or trait. We precisely quantify pod shatter resistance using lab-based techniques, where the force required to shatter the pod is measured, and this clearly shows that not all POSH resistant varieties offer the same level of resistance," he said.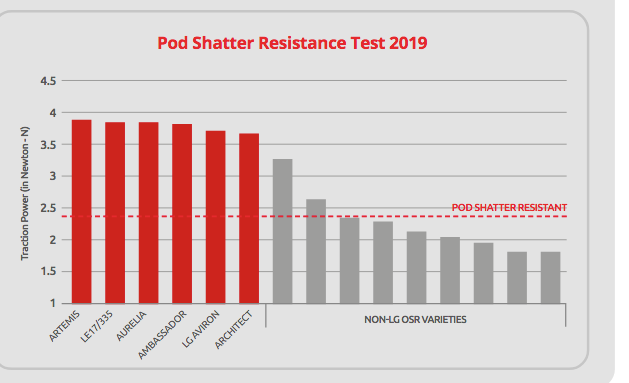 Mr Wilkinson added that all Limagrain hybrids contain the pod shatter resistance trait and that the company monitors the efficacy of resistance against other commercial varieties to verify its claims. "This plays out in their high yields of and leading position on the current AHDB Recommended List."
Other benefits reportedly include added flexibility in the timing of harvest, as much as 14 days extra in some cases, as well as cutting down on the number of volunteers in the following crop, which eases weed control.
"It doesn't make sense not to take advantage of the trait, why risk any seed losses if you don't have to? It's not as though you pay any more for variety with good resistance over one that does not," he concluded.