Said to offer the largest selection of tool carriers, including compact wheeled loaders, skidsteers and compact track loaders, Bobcat also produces and markets a range of attachments for snow operations.
Covering a range of winter applications, including the clearance of snow and ice on urban and country roads; pavements; car parks and other locations. The company also offers steel tracks, as well as snow chains or snow tracks to improve operations.
Katinka Kincses, product manager for Doosan Bobcat in Europe, the Middle East and Africa (EMEA), said: "There is a growing trend for municipalities and their contractors to use versatile solutions, with powerful compact machinery increasingly taking the place of manual labour. Together, Bobcat loaders and attachments provide truly effective and versatile solutions for dealing with the effects of all types of winter weather, especially snow."
The company offers a snow blade with seven working widths from 152cm up to 274cm, which can angle left or right up to 30 degrees. It's available in standard or heavy-duty variants. It's joined by the V-blade, which is available from 152cm up to 274cm, and can be used in five configurations: as a V-blade, scoop blade, straight blade or at a 30-degree angle either to the left or right.
Bobcat's snow pusher attachment is available as either a 244cm or a 300cm unit. The moldboard offers a level of floating and oscillation to keep the snow pusher in contact with the ground without damaging equipment or property, enabling snow removal over decorative or uneven surfaces.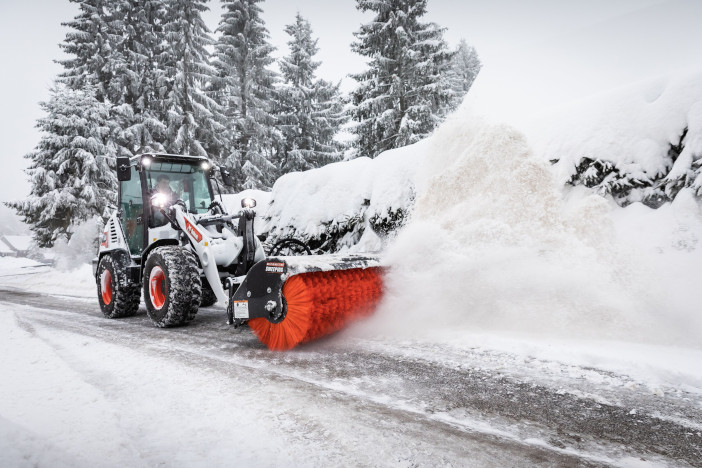 Snowblowers are offered, capable of throwing snow up to 12m and equipped with a rotating chute and deflector. There are also four sizes of Bobcat angle broom in widths from 132cm up to 213cm, designed to sweep away light snow, dirt, dried mud and other debris quickly. The broom can be angled to sweep flush to a kerb or wall on the right hand side. Reversible rotation enables the operator to sweep snow away from garage doors, gutters and other obstacles with ease.
Scraper attachments available with disc diameters of 46cm or 56cm are said to be highly efficient at dislodging packed snow and ice and offer an environmentally friendly alternative to the use of chemicals or salt. Bobcat also offers hydraulic salt and sand spreaders, with a hopper capacity of 330 litres. The hopper can additionally be used as a bucket to fill from the pile.
The company also offers large capacity buckets with widths from 168cm up to 254cm and capacities from 690 litres up to 1,530 litres.
For more information go to www.bobcat.com