Mercedes-Benz Trucks has responded to customer feedback by introducing more powerful versions of its 4×4 Unimog UGE implement carrier. Now available for order, the U435 and U535 now produce 354hp, an increase of 54hp on the highest output previously available from the six-cylinder engine. Maximum torque has also been increased by 180Nm to 1,380Nm, which is available from 1,800rpm.
A purpose-built automated manual transmission is also equipped to manage the higher output. The Opti-Drive system is said to improve gear change coordination and clutch control, producing quicker shifts and a smoother ride and improved fuel efficiency. As a result, the gearbox is predicted to be popular with UK operators.
Other developments include self-levelling suspension on the rear axle, available as an option. This new setup employs gas storage tanks and hydraulic cylinders, instead of the usual coil springs, and is said to offer benefits in terms of comfort and operational efficiency. This includes a constant driving level regardless of the load status or any rear attachments fitted, as well as increased handling stability and easier coupling and uncoupling of implements.
There is also a new Comfort steering option which makes the machine easier to steer at low speeds or when stationary and is said to be particularly helpful when the machine is fitted with large volume tyres or heavy front implements. The electrohydraulic system adjusts to adapt to the driving situation.
The U435 and U535 have maximum gross weights of 14 tonnes and 16.5 tonnes respectively. The first examples are expected to arrive in the UK from January.
Head of Special Trucks Ross Paterson commented: "Mercedes-Benz Trucks is committed to the continuous improvement of its range. This, of course, applies every bit as much to the Unimog – a vehicle first seen in 1946 and that now enjoys legendary status – as it does to other, more mainstream products.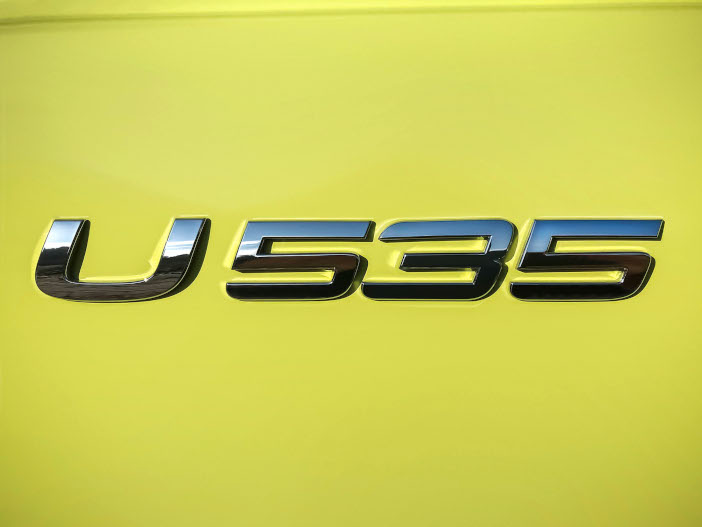 "Many of the innovations and developments we've introduced have been in direct response to feedback from those, here in the UK, who buy and operate our vehicles. We listen to what they tell us, and wherever possible we deliver what they need.
"That's certainly been the case where the U435 and U535 are concerned. Farmers and arboriculturalists, in particular, wanted that little bit more power and torque at the wheels for in-field operations, as well as for trailer work."
Mr Paterson continued: "We've taken that feedback on board and delivered what they asked for – a Unimog with comparable outputs to some of the bigger agricultural tractors, but which leaves those same tractors standing when it comes to on-road performance."
For more information go to www.mbtrucks.co.uk