BRP, the parent company of Can-Am Off-Road, has launched its 2022 model range of ATVs and side-by-side UTVs, offering increased power levels, better traction and enhanced comfort.
Headline news includes the Can-Am Maverick, which is the first machine in its class to offer a 200hp engine. It's coupled with an all-new pDriveroller clutch system for quicker acceleration and power-on-demand. Smart-Shox adaptive suspension is said to handle tricky terrain with ease and the latest machines are built around a stronger frame and can be fitted with 30-inch and 32-inch Maxxis Carnivore tyres.
There are also new engine options for the rest of the line-up. Can-Am will introduce two new Rotax power units, the HD7/700ACE and the HD9, which will replace the HD5, HD8 and the 800 series.
Lower horsepower Traxter machines will be fitted with the HD7, said to offer 37% more power than the HD5. This engine will also power the Maverick Trail 700 and is optimised for off-road performance, reducing noise, vibration and heat when compared to the previous generation.
As an option, Traxter units can be fitted with the HD9, offering 30% more horsepower than the HD8 and low-end torque for increased traction.
"With the addition of the HD7 and HD9 engine options to the already existing HD10, Can-Am is class-leading in power and by far the best option to accomplish the task at hand, whether that's work or play," said Christian St-Onge director of global product strategy, Can-Am Off-Road Vehicles. "Regardless of your vehicle choice, this lineup is built to perform."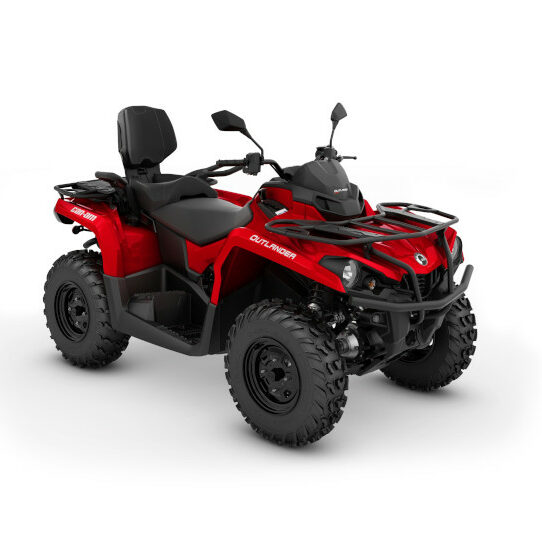 Additional improvements include the rollout of ABS on selected HD9 and HD10 models. These machines can now be fitted with the innovativeBrake and Traction Control systems and are no longer limited to 60kph.
For ATV's, the company has also expanded the availability of its Visco-4Lok system, allowing drivers to engage four-wheel-drive lock mode at the push of the button. The system ensures equal power is delivered to each of the wheels for improved traction.
It will be available on all 2022 Outlander and Renegade X MR packages, as well as the Outlander XU (650-1000), Outlander XXC, Outlander XT-P, and Outlander MAX Limited.
For more information go to www.can-am.brp.com