New and existing Corvus customers will have access to a broader range of options, designed to enhance the look and performance of their Terrain off-road utility vehicles.
Options include protective steel front bumpers, snow tracks and useful features that can be specified at purchase, or retrofitted onto existing vehicles.
The front bumpers include installation components to allow the fitment of a front winch, with a choice of WARN units with capacities of up to 2,041kg. These can be operated using a dashboard switch, or a wireless system with a range of 15m.
Tyre choice has also been extended, with the CST Clincher now available on 14-inch rims. The spare wheel is also supplied shod with the Clincher tyre.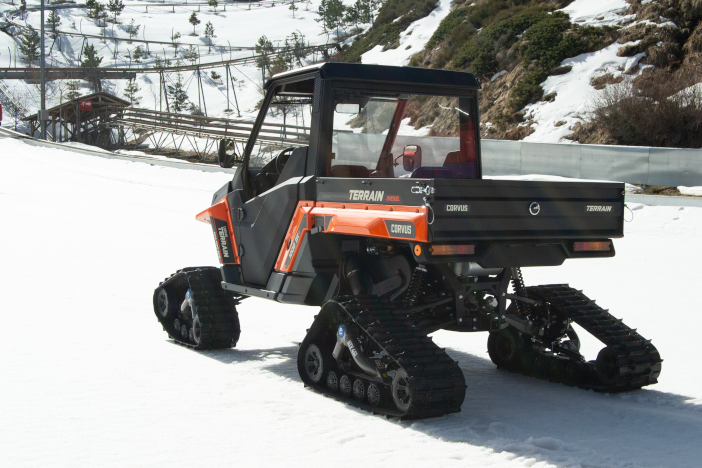 Extra storage capacity has been ensured with options for roof racks and side storage pods, as well as a rear window impact protection (made from tubular steel), cargo box cover and protective anti-slip silicone carpet.
An electro-hydraulic system for tipping the rear cargo bed can also be installed, while steel extensions can be fitted to increase the rear bed capacity.
For operator comfort, a two-door pack (full doors with windows, half doors or half net doors) is available, while the windscreen can be specified as tempered glass or a protected glass flip-up.
Additional safety features are available, including a reversing warning system, an emergency light kit and, for improved traction and performance in the snow, a new adapter kit for Camso 4S1 snow tracks.
For more information go to www.bossorv.co.uk