STIHL has launched the new HLA 135, the most robust and powerful cordless long-reach hedge trimmer in its offering, ideal for commercial applications and trimming and pruning back large hedgerows, especially in noise sensitive environments.
Weighing just 5.6kg (without the battery), the STIHL HLA 135, is 249cm in length and features 600mm double-sided, double-edged universal blades that can cut through 16-18mm branches. The cutter bar can be rotated through 145 degrees via the lightweight magnesium gearbox to enable over-head, side and ground-level cutting.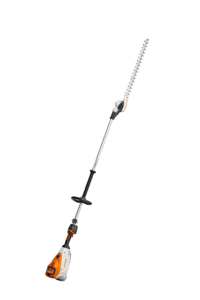 A new, more comfortable control handle boasts three-speed pre-selection levels through an LED display, enabling operators to alter their working speed to the necessary conditions, whilst optimising battery-working time.
The maximum stroke rate is an impressive 4000rpm, perfect for leaving a smooth finish on conifers.
Other features include a soft loop handle and grip shaft for easy handling, RTS harness eyelet for user support and a mesh air filter for optimal engine performance. When used in conjunction with STIHL's AP 200 battery system, the HLA 135 has a run time of up to 64 minutes.
Read about another brand new product from STIHL, the SGA 85, cordless sprayer here.