The latest FibreTech rollers from Horning are said to improve the processing score in maize and wholecrop for greater energy intake.
Often, it is the smallest changes that make a significant, long-term difference. In agriculture, we have long talked about a plateau in extensive redesigns and developments, focusing more on improving efficiencies to find added wiggle room in those profit margins.
For cattle farms and AD Plants, this means utilising new tools to improve forage quality for easier digestion and better energy intake for greater yields – be it milk, meat or electricity. Digestion of the starch content is key to this and to achieve this, the kernel needs to be broken up into the smallest possible particles.
This places greater emphasis on the forager's kernel processor and Harvesting Solutions Ltd has been set up to offer Horning rollers to contractors and farmers looking for improved samples and chop quality. The Horning roller range was developed in the early 1990's by dairy farmer Leon Horning Sr., based in New Holland, Pennsylvania, and was developed into the early 2000's to feature a sawtooth profile to shred forage effectively.
"A sawtooth roller provides improved grip and reduces slippage," explained Alan Haycocks, general manager of Harvesting Solutions. "This not only improves the processing score but also reduces the power requirement for the kernel processor, lowering fuel consumption while maintaining, or even increasing, throughput."
Through continued development, the company introduced spiral cut and dual cut roller systems. The dual cut was particularly significant according to Mr Haycocks, producing a higher processing score at low differential speeds, and shredding the plant matter to improve digestibility. This allowed chop lengths to be increased.
Horning now offers the Fibretech Chevron in maize and wholecrop configurations. It comprises an aggressive spiral pattern and combines it with a square-cornered, sawtooth chevron. This reduces the space between teeth to firmly grip the cob, with sharp corners for an improved processing effect.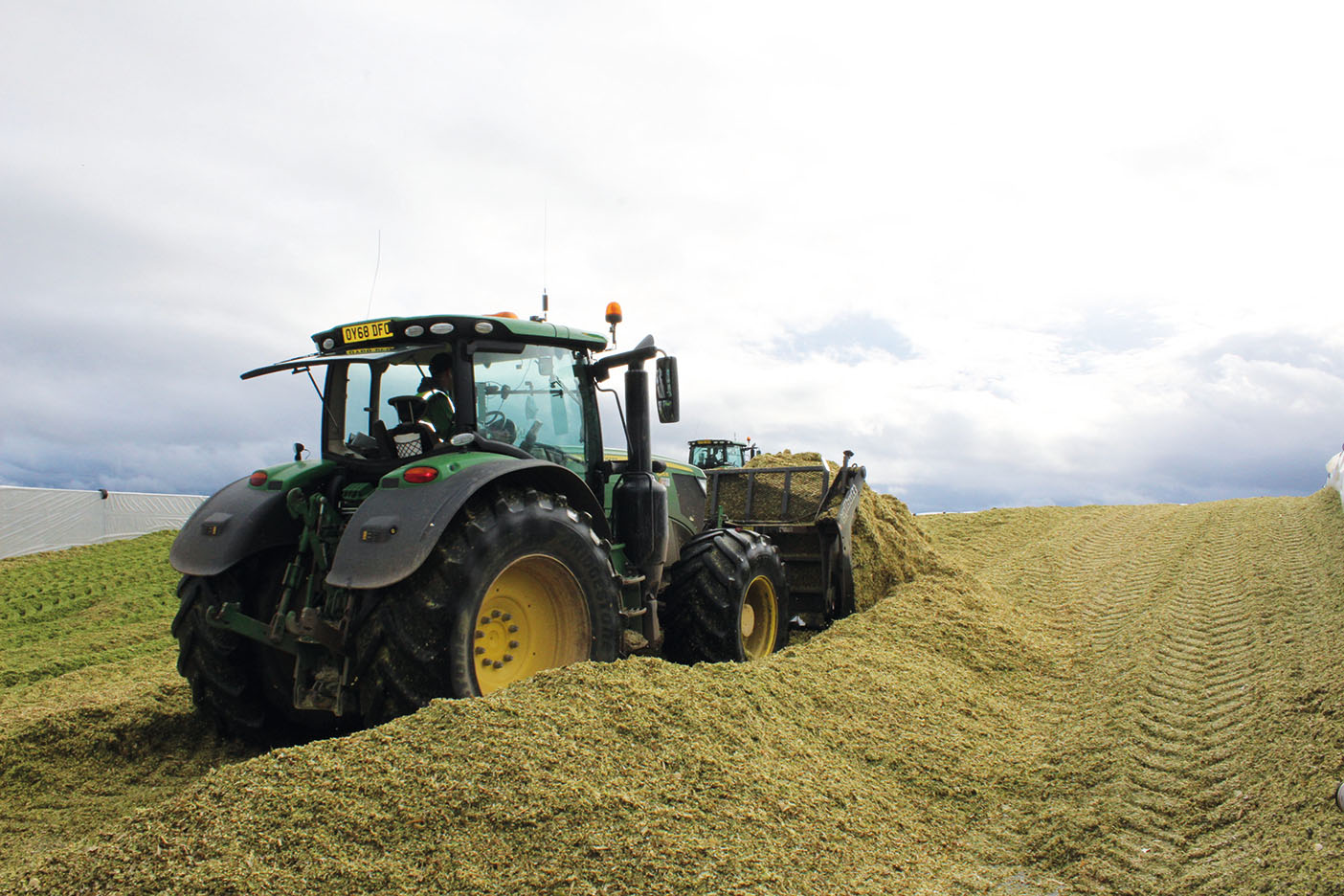 ---
Mr Haycocks highlights the importance of the kernel processing score (KPS) to ensure that particles are small enough for easy digestion and energy release. The KPS score is calculated by assessing what percentage of crop starch passes through a 4.75mm sieve.
"Kernels need to be fully broken and the marrow ripped up for the full absorption of starch. Just nicking or cracking the kernel is not enough," he explained. "It's also vital that plant fibres continue to be ripped apart to increase digestibility and improve butterfat production in dairy cows."
---
A percentage above 70% is considered a good KPS, with less than 3 or 4 unbroken kernels for each one litre sample taken, and this is achieved by running the rollers at a 1-2mm gap and Mr Haycocks further recommended the SilageSnap free mobile application for quick visual assessments of the kernels following sieving of the sample.
The app will give a fairly accurate score based on how many kernels exceed the desired size, using a corn as a reference point. A good KPS score will not only improve starch intake in livestock and AD Plants, but will improve the consistency of feed, especially when maize is used as part of a Total Mixed Ration.
Tests done in the US and Europe, showed that against key competitors, Horning rollers could provide over 90% more kernels below 4mm in size, running at 50% speed differentials, with a 2mm processor gap and 20mm chop length. This is as well as improved material flow through 19mm and 9mm sieves.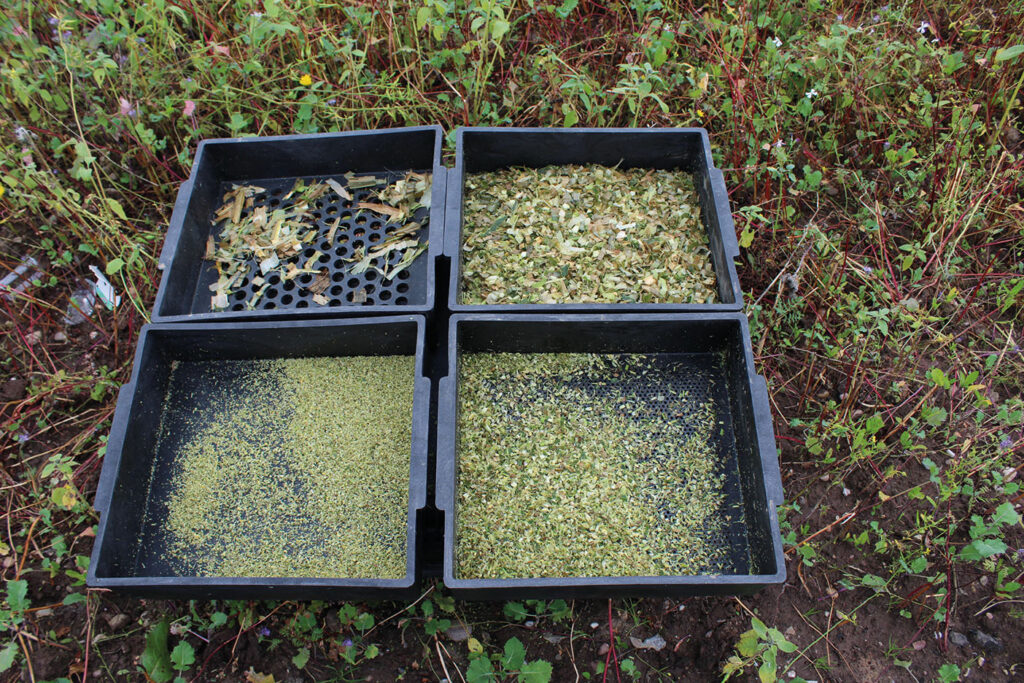 ---
"The KPS is key concern for farmers and contractors in the US and is slowly becoming more important in the UK," Mr Haycocks noted. "Paying greater attention to the way kernels and grains are processed in maize and wholecrop will help farmers get the maximum potential out of their crops."
Horning offers its Fibretech Chevron rollers for New Holland, Krone, Claas and John Deere machines. One of the key selling points, according to Mr Haycocks, is the spiral pattern which runs from the centre of the roller to outside, eliminating sideways forces on the bearings and spreading the stress across the full width for even wearing.
Maize and wholecrop variants are available, with 124 or 138 teeth in maize, or 186 teeth for wholecrop. The rollers are completed with a heat-treated chrome plating for longevity and have been designed to run at a lower differential than competitors while supplying the same chop quality, leading to reductions in power usage, fuel consumption and wear.
The wholecrop variant will also sideways cut the straw, flattening the fibres to help pit consolidation, which has been an issue for some wholecrop growers in the past.
Harvesting Solutions not only offers new rollers and bearings across the UK and Europe, but the company will also offer refurbishment of used units to extend the working life. A wide range of used or new frames are also available.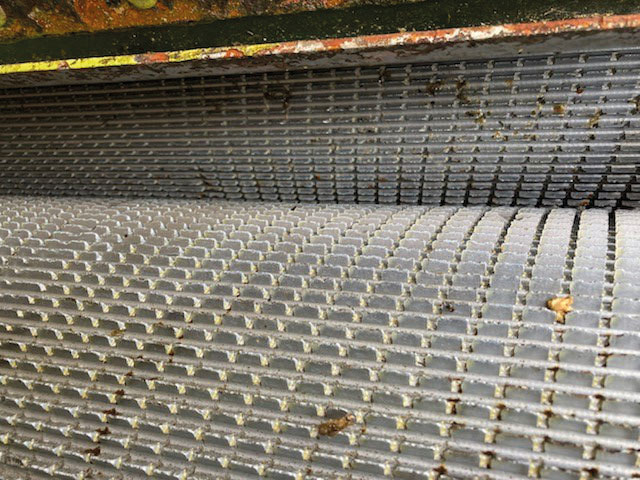 ---
On the day we went to see the Horning rollers on a farm just outside of Penkridge, Staffordshire, busy harvesting maize for its AD Plant, we were impressed by the samples we saw (even in the very wet conditions). But to find out the long-term effects of forage quality we reached out to customers to get their testimonials.
Paul Ducksbury, Paul Ducksbury Ltd. Newark.
Paul Ducksbury offers a variety of agricultural and amenity operations throughout Nottinghamshire, Yorkshire and Lincolnshire, including grass and maize silage with a Claas Jaguar 970. He specified the Horning rollers this season and completed around 120 acres of maize, commenting that he could certainly see the difference in the sample.
"Our customers are primarily dairy and beef farmers, who are expecting to get the maximum from their forage so any improvement in the sample is a bonus," he said. "We also saw a reduction in the fuel consumption which will make a significant difference over a full season."
Carwyn Phillips, E M & C P Phillips. Pembrokeshire
According to Carwyn Phillips, who milks a closed herd of 580 cattle in Pembrokeshire, the 70 acres of wholecrop processed with the Horning FibreTech Chevron rollers by Evans Agri produced a far better sample than in previous years.
"I let the wholecrop go ripe, so that the grain is harder, but the Horning roller cracked it no problem and there's been a clear improvement in the digestion," he said. "There used to be a lot of grain in the manure, meaning the cows are not taking in the energy but this year I haven't seen any whole grains passing through."
For Mr Phillips, this is particularly important because he aims to feed the herd with as much natural forage as possible, growing 1200 acres of grass and 80 acres of maize on top of the wholecrop. "The more energy the cows can get from my crops means a reduction in feed costs."
Michael Leake, Burnell Contracting. Hertfordshire.
The Hertfordshire based contracting firm Burnell Contracting covers a significant area of forage ground each year, almost of which is maize. This year the company specified Horning rollers in its Claas 950 Jaguar and Michael Leake says that he is impressed with the durability of the unit.
"It ran all season without blocking and consistently cracked the kernels," he said. "We work at chop lengths from 5mm all the way up to 22mm and the rollers handled this in all conditions. Reliability is key when the pressure is on, and I'd consider specifying the Horning rollers when it came time to replace the forager, without question."
Eric Kramer, Kramer Harvesting, LLC. Kansas.
Looking across the pond to Kansas, USA, Eric Kramer, of Kramer Harvesting, LLC, runs nine forager harvesters from Krone and Claas, all of which are fitted with Horning rollers. The company chops up to 40,000 acres of forage each year, with 20,000 acres made up of maize and wholecrop.
"We've always been impressed with the Horning product," Mr Kramer said. "We can go all year without changing the maize rollers, and we run them at 1mm so we could expect a lot of wear. Having one set last an entire season has a massive impact on our productivity."
Mr Kramer added that 90% of the customer base are dairy farmers, who pay close attention to the kernel processing score to get the best possible forage. "There's a lot of competition in the area, so we need to be better than excellent to maintain our workload. With the latest FibreTech rollers, we have had KPS scores of more than 80, an increase of up to 10 points in some cases.
"Not only that but we've always been impressed with the backup from Horning. The company works with its customers to find the best possible solutions. A few seasons ago, we had some issue with the chrome plating chipping, but these new rollers are showing now sign of that."