The Kverneland Ecomat On-land shallow plough offers farmers soil compaction limiting solutions to on-land ploughing. This new plough model aims to make Green Deal compliancy easier for farmers; as the Green Deal aims to reduce chemical usage and the necessity to control weeds, slugs and pest mechanically.
Kvereland Ecomat On-land plough specifications:
| | | | | |
| --- | --- | --- | --- | --- |
| Kverneland model | Number of furrows | Working capacity (m) | Working widths (m) | Inter-body clearance (m) |
| Ecomat On-land | 8-10 | 2.40-5.00 | 0.30, 0.35, 0.40, 0.45, 0.50 | 0.65 |
The Ecomat On-land plough is a compact model and only requires machines to have a lift capacity of roughly 7 tons, making it ideal for most medium size tractors.
This model also benefits from Kverneland's existing Ecomat elements, such as the Ecomat plough bodies. The bodies have a short, high and cylindrical design, for a 180° soil turning effect. Fitted with a specific range of accessories, the steel or plastic Ecomat bodies can be used in different soil structures and residues, and adjusted to the desired working depths of 6 to 18cm.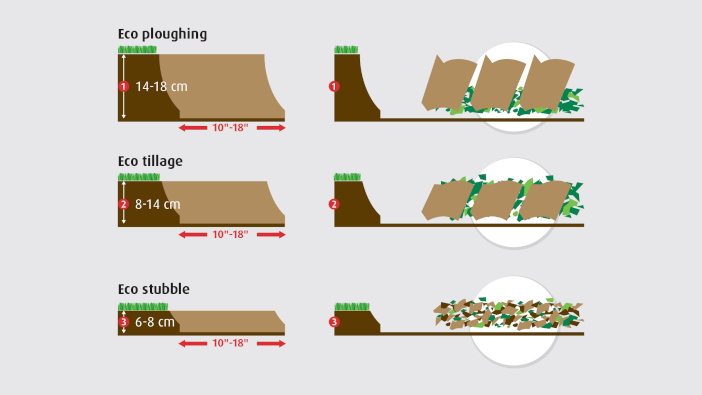 The Ecomat plough also offers greater soil compaction reduction benefits, as it works with wider and lower pressure tyres; easily removes compacted soil, as the top layer of soil is ploughed instantly; and provides a better soil profile in adverse condition – especially heavy soil types.
Kverneland Trailer Transport Solution (TTS)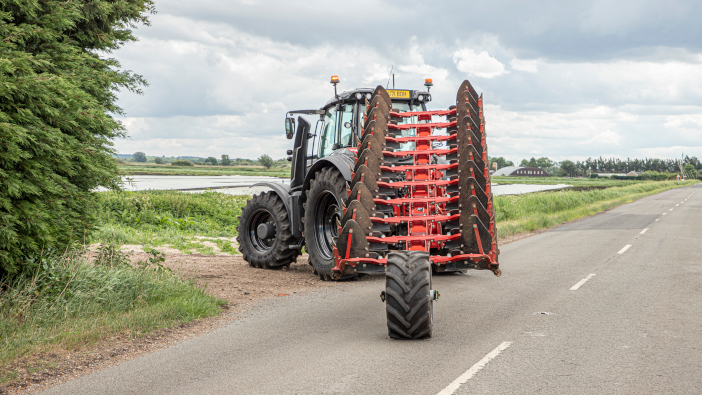 The TTS system enables the Ecomat plough to behave just like a trailer behind a car; the pivot point of tractor and plough is located in the middle, so there is no tilting out, while it travels at a lower height, to easily pass under bridges and trees when en route.
It also takes less than one minute to adjust the plough from transport to ploughing, and vice versa.