KRM will expand its range of mechanical weeding solutions from Carré with the introduction of the Klinea inter-row hoe for cereal crops, and the new Kipline camera guidance system.
The Klinea SGI Hoe comes as standard with the Kipline system, integrated into the frame for a more compact unit. The machine features parallel linkage-mounted hoeing elements for a consistent working depth, as well as an independent ground wheel.
At the rear, a two-row comb harrow is mounted at the rear to consolidate the soil and expose the uprooted weeds. As an option, hydraulically lifting elements are available, as is ISOBUS control for automatic headland management.
Carré has reportedly designed its tines and plough shares to scalp the earth at a constant depth, while the joint system supporting the tines incorporates a non-stop spring safety system for precise adjustment.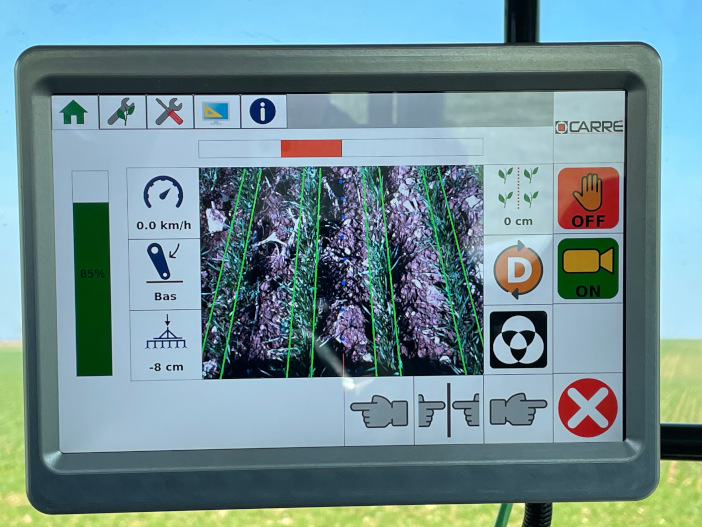 Camera guidance with Weed Pilot
Having previously used the Claas camera system, Carré has developed its own guidance system with the Kipline and Weed Pilot control box. It is designed to work in high pressure weed areas and in narrow row spacings.
The main camera can be combined with a second for two-sided guidance, ensuring the hoe is properly guided when emergence is low, or when working in irregularly shaped fields.
According to the company, the system can recognise crop flows, even when weed pressure is very high, and the inclusion of LED lights enables the machine to continue working into the night. It can analyse the entire colour spectrum, meaning it can distinguish weeds and crop rows.
The Weed Pilot display is a touchscreen with a real-time feed from the cameras. Operators have the choice of factory-fitted settings for a quick setup, or can individually adapt settings to fine-tune the machine.
Prices start at £56,800 for a 6m, 24-row Klinea with Kipline guidance.
For more information go to www.krm-ltd.co.uk