Kuhn Farm Machinery has announced the Sitera 100 mechanical combination drill, available in three models with a variety of coulter and seeding unit options.
The three models each have a working width of 3m, with 24 rows spaced at 12.5cm or 20 rows at 15cm spacings. The key difference, according to the company, between the 310, 320 and 330 machines is the coulter arrangement.
The 310 is fitted with Suffolk coulters, while the 320 has a single disc coulter and the 330 comes equipped with double disc coulters arranged in two rows on a parallelogram and the Seedflex 100 distribution head.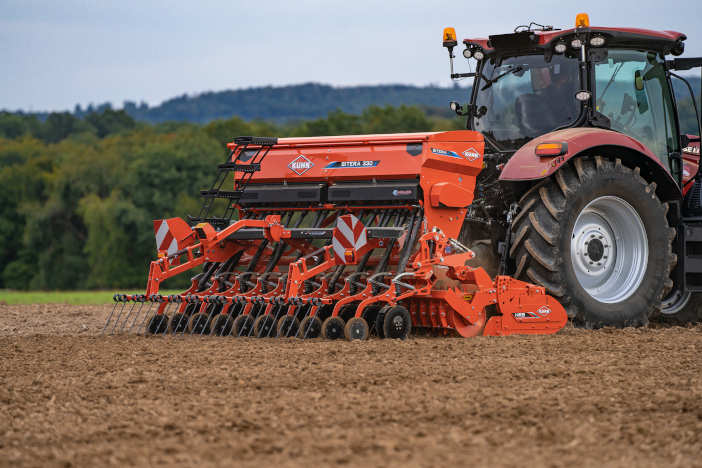 All three drills are suitable for tractors from 100hp up to 250hp and can be combined with the company's HRB 302, HRB 303, HR 304 and HR 3004 power harrows. Each one comes with a 600-litre hopper and mounts to the rear roller of the harrow to keep the weight close to the tractor.
As standard, the Helica volumetric helical spline metering unit is fitted with the option of an electrically driven version on SiteraE models, with automatic calibration and adjustment of the seed rate from the cabin, or automatically via a GPS system.
Non-ISOBUS tractors can be equipped with Kuhn's VT 30, CCI 800 or CCI 1200 displays. Prices start from £17,135.
For more information go to www.kuhn.co.uk