Kuhn has announced a new generation of the Megant lightweight tine drill, featuring new coulters, an updated terminal and the option to add a second hopper.
The 602R shares much of its functionality with the previous 600 machine, but offers half-width shut-off and can be specified with the SH 1120 110-litre hopper to drill two crops in one pass.
It can be operated with tractors from 150hp and can be specified with three types of tines, including reversible forward action, straight and a new narrow 12mm straight tine which is said to reduce soil displacement through improved penetration.
The new VT 30 terminal means that it can be operated with or without ISOBUS. It comprises large buttons and a shock-proof casing, with an ergonomic design. The drill is also compatible with Kuhn's CCI 800-1200 terminals, as well as other ISOBUS screens.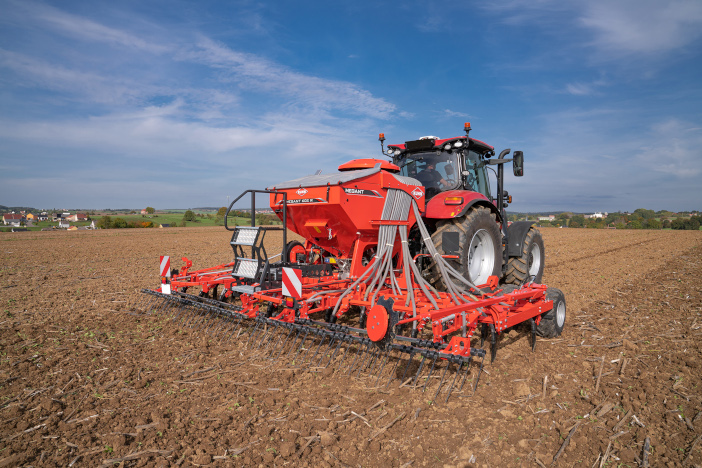 Brought down from the Espro range, the Megant includes spring-loaded, nonstop track eradicators and side markers. The new welded hopper has a capacity of 1,800 litres, replacing the riveted tank used on the 600, and includes internal steps to improve access to the distribution head.
A shut-off door enables operators to isolate each compartment, allowing adjustment of the metering unit even when the hopper is full.
The Megant is completed with the Kuhn Vistaflow valves, which can be configured and controlled from the terminal. This allows operators to program the flow of seed and save settings for future use. It also records tramline configurations to reduce input costs.
The Megant 602R is available to order now, with a retail price starting at £42,760.
For more information go to www.kuhn.co.uk