Pöttinger offers the Aerosem A and ADD, the latter offering a double-disc coulter, pneumatic seed drills. Both are available in working widths of 3m, 3.5m and 4m.
On A machines, the concave single disc coulter has a diameter of 320mm, opens up the soil and in combination with a cast coulter point, pushes trash away from the seed slot. Both coulter rows have the same coulter pressure up to a maximum of 25kg. Adjustable rotating scrapers are located behind the coulters.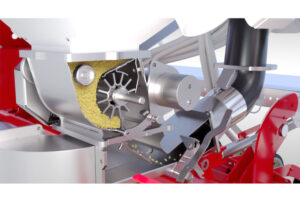 The Dual Disc, double disc coulter system (ADD machines) features offset, large diameter coulters to produce a uniform, V-shaped seed slot. The maintenance-free, equal length coulter arms are said to ensure reliability and there is up to 60kg of downward pressure for each seed coulter.
Depth adjustment and coulter pressure are carried out from the side of the linkage-mounted units. On single coulter units this can be changed using the coulter pressure, or via the optional depth wheels.
ADD units feature two turnbuckles to adjust the depth of the entire machine. For both types of machines, hydraulic, in-cab adjustment is available as an option.
Both units offer a compact design because the coulter rail and rear roller are positioned close together. When mounted on a power harrow or compact combination, the centre of gravity is close to the tractor, with the weight of the seed drill placed on the rear roller.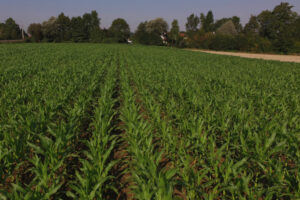 This further enables parallel guidance of the machine and means that when the working depth of the front cultivator is adjusted, it does not impact the seeding depth.
On the ADD machine, Precision Combi Seeding (PCS) can be specified. With this, operators can sow maize at 37.5cm, 75cm or in the Duplex Seed layout which divides the seed into two rows with increased longitudinal spacing.