Designed to sow a full range of crops, including wheat, barley, oilseed rape, sugar beet, peas, maize and sunflowers, the latest Proceed drill from Väderstad will be introduced at Agritechnica.
"At Väderstad we build machines that keep our customers at the forefront of modern farming. We develop new methods and from time to time we set completely new standards. Proceed is one of those leaps that doesn't happen often in the farm machinery industry, but when it does, it changes things," explained Mattias Hovnert, senior vice president of sales & marketing, at Väderstad.
When seeding cereals, the Proceed has a row spacing of either 225mm or 250mm, however, this configuration can be easily changed to 450mm or 500mm for sugar beet or oilseed rape, or to 750mm for maize or sunflowers.
At its heart is a series of high-precision row units. Prior to sowing, pre-seeding wheels consolidate the field, each of which is individually mounted and uses hydraulic downward pressure to ensure a consistent seed depth.
"When the seeds reach the row units from the central hopper, an adapted version of the world-leading Väderstad PowerShoot singulation system take full control of every single seed all the way down to the soil. Leaving the short seed tube, each seed is received by a stop wheel. This ensures optimal seed-to-soil contact at selected depth all over the working width," said Lars Thylén, director of product management and business development.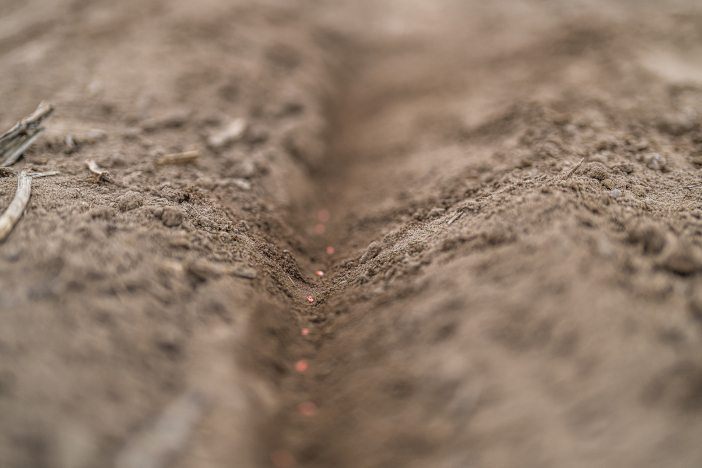 Each row is electrically driven and controlled via the company's E-Control iPad system. Functions include individual row shut-off and variable rate, dynamic tramlining, individual calibration and real-time monitoring and control. These are said to be technical innovations in the cereal seeding sector.
A few months after seeding, trials of winter wheat at a seed rate of 150 seeds/m2 show an increase of 102% in plant biomass, 72% in root biomass and 62% more shots per plant, compared to a modern seed drill.
The Proceed will make its public debut at Agritechnica and the company will spend 2022 undertaking fieldscale trials with cooperation with researchers, seed companies and farmers across the world.
For more information go to www.vaderstad.com