Having announced its entry into the wheeled loader market back at the 'Next is Now' launch event in October 2020, Bobcat has now completed the first L85 compact wheeled loader model, marking the start of full production at its Dobris plant in the Czech Republic.
To meet demand, a fourth production line was built at the plant, with a capacity of 1,000 machines each year, operated by 15 workers per shift. This investment was said to be worth over one million Euros.
Jiri Karmazin, loaders product manager at Bobcat, said: "A product of the Bobcat Innovation Center on our Dobris campus, the L85 has been designed to set a new market-leading performance benchmark in this segment of the market. The L85 is built with proven components including the engine, structures, axles, electronics and hydraulics sourced either from Bobcat or our prestigious Tier 1 suppliers. Many components are already widely used in our market-leading compact loaders, mini-excavators and telehandlers, and the L85 undergoes the same final assembly and test procedures as these products."
A multi-function machine
The L85 is fitted with a Bobcat D24 68hp horsepower engine and has a choice of hydraulic pumps, including a high flow option offering 100 litres per minute for intensive attachments such as a snowblower or sweeper. The Advanced Attachment Control system allows the operator to independently control engine speed (and auxiliary flow) and travel speed to get the most out of the front implement.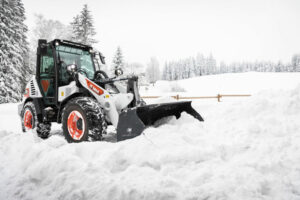 Soft-touch buttons on the armrest provide quick engine start and stop during the day, while an automatic parking brake and slope assist automatic functions are included as standard. A rotary switch offers easy control of the 5-inch LED display for quick machine setup and access to the rear camera feed. All vital information can be accessed through this terminal.
Seat and hand controls can be easily adjusted and the multi-function joystick can be moved horizontally, and integrated into the suspended seat for maximum comfort and ease of use. The steering column is also fully adjustable, both vertically and horizontally.
The cabin meets FOPS II safety requirements and has a full glass door on either side for excellent visibility. This is combined with low front window corners, a compact hood design and the rear camera. Maneuvrability is ensured by the tight turning circle.
Included is a standard heating system, which can be upgraded to a full heating, ventilation and air conditioning unit. Bobcat has also provided space for large bottles and cups, as well as a 12V charger and USB ports.
Completing the package is a range of comfort and performance features including:
Automatic Ride Control
Bucket level indicator
LED road lights
30kph road speed option
Wheel and tyre options
Bobcat already offers a range of attachments for the L85, including buckets from 0.6  up to 1.2 cubic metres, pallet forks, an angle broom and a snowblower attachment.
More information is available at www.bobcat.com