Toyota and authorised conversion company Arctic Trucks' newest off-road vehicle, the Hilux AT35, will wear BFGoodrich All-Terrain T/A K02 tyres as original equipment – said to be the manufacturer's toughest on/off-road fitment.
The AT35 is a re-engineered high mobility vehicle that has been specially developed to handle changing ground conditions, a feature reportedly being complemented by the LT315/70 R17 tyres, with a tread design to increase all-terrain traction and on-road and off-road mileage in all conditions.
Carrim Bundhun, project and commercial development lead at Arctic Trucks UK, said: "The owners and operators of our vehicles range from builders and farmers to utility companies, rescue teams and beyond, all working in some of the most aggressive conditions, so we needed a tyre partner that would deliver enhanced performance, control, and mobility over a range of challenging terrains, while maintaining OEM levels of comfort, composure and confidence-inspiring on-road performance.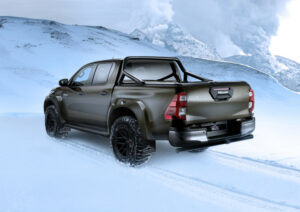 "We have previously fitted BFGoodrich tyres on both personal and development vehicles, and they've always delivered, whatever the conditions. For the Hilux AT35, they completely transform the vehicle and push the boundaries of what it can do. The larger tyre variation gives our customers a smoother and faster ride over rough surfaces, combined with better traction in difficult conditions."
BFGoodrich states that the All-Terrain K02 tyres have a 20% tougher sidewall than previous variations, resulting in a more durable tyre with extended tread life. It features an interlocking tread design and stone ejectors, which work to decrease irregular wear. The design actively removes mud from the tyre and has a serrated shoulder design to increase traction.
Depending on vehicle application, the Hilux AT35 will also be available with BFGoodrich KM3 Mud-Terrain tyres and there is the option of an onboard inflation/deflation kit, with a 12V compressor mounted in the engine bay. The KM3 tyres feature large tread blocks for improved grip in muddy conditions.
Each new AT35 is individually built by Arctic Trucks to enhance the body, frame, drivetrain, suspension, wheels and tyres of the base Hilux vehicle.
More information is available www.arctictrucks.co.uk