John Deere has announced a series of revisions for its 8000 and 9000 series forage harvesters. Alongside a facelift, the 8100, 8200 and 8300 models have been given a power boost.
The 8100 is fitted with a nine-litre engine, offering 431hp, while a 13.5-litre engine powers the 8200 with 465hp and the 8300 gets a maximum output of 505hp.
Further enhancing the performance, the Dura Line kernel processor can be specified with the BusaCLAD coating, specifically designed for highly stressed components and available for all 8000 and 9000 machines.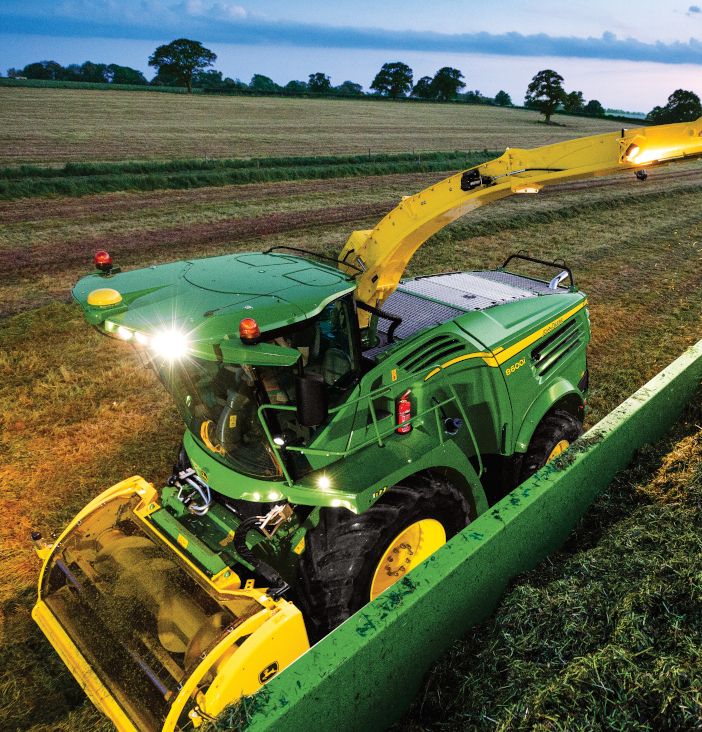 The 9000 Series
The 9700 machine joins the 9500 and 9600 by being equipped with a JD18X, 18-litre engine, with HarvestMotion Plus for increased torque and power at low engine speeds. As a result, it now delivers up to 825hp.
Additionally, the 9000 series is now equipped with a newly designed discharge chute, which is 20cm longer than previous versions and offers an optimised design for higher throughput.
New pickup options
To utilise the power offered by John Deere forage harvesters, Kemper has developed the 30R grass pickup, with a working width of 2.7m. It's equipped with an 80cm diameter auger, 20cm auger flights and six tine bars with 6.5mm tines.
To ensure that the full power is used, the 30R is fitted with a chainless drive and heavy-duty wear parts to reduce maintenance costs.
AutoSetup
For machines with JDLink, forage harvesters can be specified with AutoSetup enabling data to be exchanged wirelessly and free of charge through the John Deere Operations Center.
This allows workflows to be set up, planned and monitored in a single online portal, and send tasks directly to the forager. Pre-planned work schedules will then automatically appear on the in-cab display when the machine crosses the field boundary.
It gives the driver access to the correct A/B lines, work settings and field boundaries.
For more information go to www.deere.co.uk