Vicon's newest triple mowers, the Vicon EXTRA 787T and EXTRA 787T BX, are both 8.75m combination mowers that include the QuattroLink suspension concept: for high performance from a compact machine.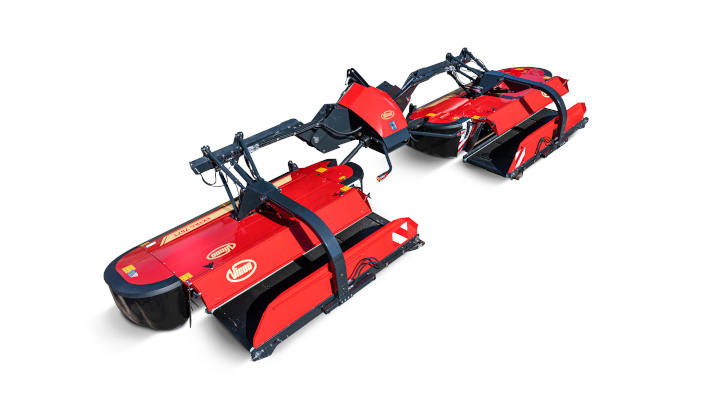 The EXTRA mower model includes two 3.2m mowing units, each with 8 triangular Vicon discs, and can be operated by tractors starting from 180hp, with either mechanical controls as standard or with the Dual Lift Control joystick (for optional electro-hydraulic folding and unfolding).
The EXTRA 787T BX version has high-speed swath belts, that will operate up to 1500rpm, for the carrying of high crop volumes and the placement of crops into even and narrow swaths. The BX belts can also be removed within 15 minutes; there is also the option to place the two belts on specially designed transport rollers.
Technical specifications for the 787T mower models:
| | | |
| --- | --- | --- |
| | Vicon EXTRA 787T | Vicon EXTRA 787T BX |
| Working width (m) | 8.75 | 8.75 |
| Weight (kg) | 2975 | 3515 |
| Conditioner type | SemiSwing steel tines | SemiSwing steel tines |
| Power required per minute | 180/132 | 200/147 |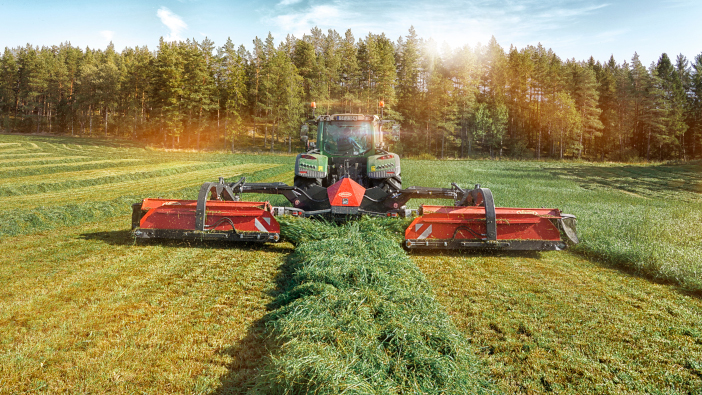 QuattroLink suspension concept
The QuattroLink four-arm suspension concept provides flexible ground contour adaptions: the mowing pattern is adjustable within a vertical working range of 400mm upwards and 300mm downwards, with a transverse adaptation range of 30°.
In addition, the 100% NonStop BreakAway system offers protection across the full working width of the mower. When hitting an obstacle in the field, the mowing unit will immediately move backwards and up, before returning to its original position.
Transport configuration
The EXTRA 787T mower model folds to a transport position above 90°, for stable weight distribution. The outer guards have the option of folding hydraulically into transport position, while parking feet are included as standard.