As part of its 2021 press conference, Fendt announced a series of updates to its combine harvester portfolio, with added options to both its flagship Ideal range, and its straw walker machines as well.
While Ideal machines have been available to specify VarioGuide lane tracking for several years, with NovAtel or Trimble receivers, operators will now be able to order an RTK correction signal pre-installed for accuracy levels down to 2cm. Said to allow the entire fleet to consistently follow the same set of tracks, lane guidance will enable Controlled Traffic Farming when combined with the VarioGuide guidance system.
Further additions include new tyre options for the Ideal 7 and Ideal 8 models. When shod with a 710/70 R42 tyre, the machines have an outer width of less than 3.3m, improving travel safety on narrow lanes.
Internally, Fendt has also reworked the cleaning system of the Ideal 9, with new curved, double drop steps located above the sieve. According to the company, the curved shape means that heavy grains will gather in the lower section, while lighter material will accumulate above.
The curved steps provide a wider air outlet, increasing the air volume and improving efficiency, while the double-drop separates chaff and short straw on the first level, while other non-grains are separated on the second. The cleaning system works over four sections, with two return floors ensuring even distribution and coverage across the preparation floor.
At the rear, the ActiveSpread SwingFlow straw distributor has been specially designed for tough harvesting conditions and is an additional option, said to offer a more even distribution even in humid conditions.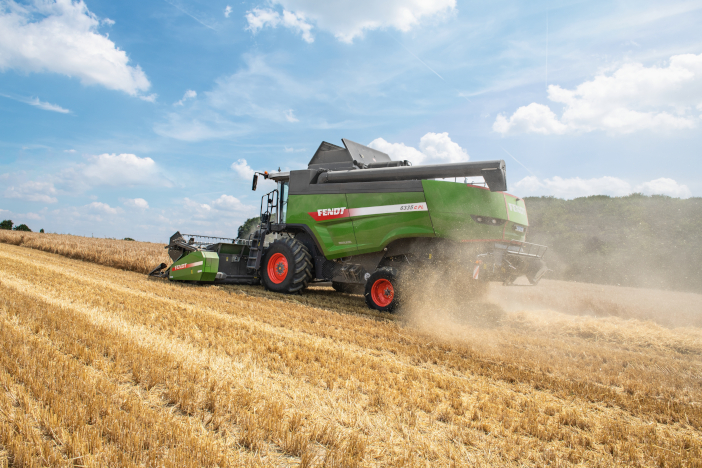 New features on straw walkers
All E, L and C series combines have now been upgraded to meet Stage V emissions regulations, with selected Tier 2 emissions machines available for Ukraine, Russia, Belarus and Kazakhstan. These include the models Fendt 5185 E, Fendt 5255 L and 5255 L MCS, Fendt 6275 L, Fendt 6275 L MCS and Fendt 6336 C and Fendt 6336 C PL.
For very steep terrain, Fendt introduced the 5275 C SL (SuperLevel) as a new five-walker machine, capable of compensating for lateral inclinations up to 38% and slope compensation up to 35%. The company has now made this model available in Spain and Russia.
C and L machines, alongside the Ideal range, can now also be equipped with the Fendt Connect telemetry system, helping operators to manage their fleet and optimise machine settings. Data, including machine position and CANbus information such as engine speed, fuel and AdBlue consumption, and machine speed, can be accessed via a PC or smart device.
It also opens up additional services from dealers, including proactive maintenance, with dealers able to access machine data to see upcoming service intervals and error codes, with the owner's permission. This can potentially reduce downtime during harvest. Fendt Connect is a standard feature on Ideal combines, and is available as an option on C and L units.
Increased production at Breganze factory
In response to increased demand for Fendt combine harvesters, the company has undertaken an extensive renovation of its plant in Breganze, Veneto. The entire production, including upstream and downstream area, was entirely reconstructed and expanded, while parts production, logistics and the assembly line were revamped.
Fendt Ideal and E, L and C machines can now be manufactured simultaneously, akin to the tractor production line in Marktoberdorf.
For more information go to www.fendt.co.uk