Massey Ferguson has just announced that the road legal Ideal drive joystick steering system is now an option on the MF Ideal 7, 8, and 9 TrakRide combine harvester models.
The introduction of this option offers increased operator comfort and productivity. With studies from the Aalborg University in Denmark showing that the Ideal drive joystick can increase productivity by 6% and reduce an operator's steering workload by 65% – in comparison to the use of conventional steering systems.
The joystick will be situated on the left armrest in the operator cab, while the speed and direction combine controller will be positioned on the right-hand armrest; with the buttons usually found on the steering wheel or column now positioned on the joystick.
The buttons atop the joystick operate turn signals when in road mode, and row-finder lights when in field mode, and the buttons on the back of the joystick engage guidance, switch a model's lights from high-beam to dim, and sound the machine's horn.
The Ideal drive joystick also includes a 'return to centre' feature which centralises the joystick when the operator lets go, and aligns the wheels straight ahead simultaneously, for precise operator control. The joystick also offers variable resistance, proportional to the machine's forward speed and steering angle.
Plus, with the steering column removed, operators now have an uninterrupted view in front of them and across the header.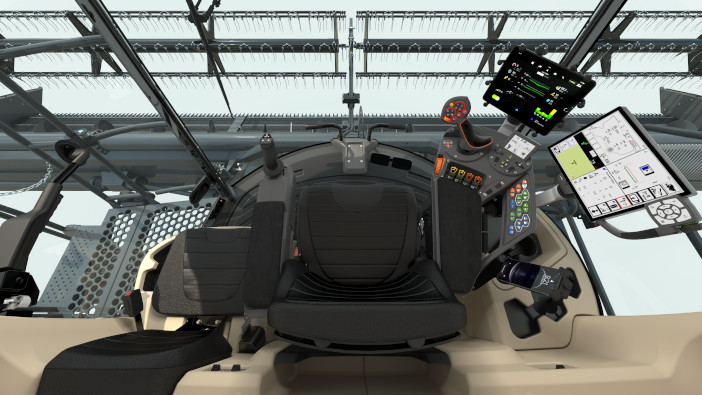 "Replacing the steering wheel with the joystick is not a gimmick," said Jérôme Aubrion, marketing director of Massey Ferguson, Europe and Middle East. "Detailed research proves the system increases productivity," he added.
Further cab upgrades
The operator cab now has added sound insulation, plus extra storage compartments behind the seat and an upgraded toolbox with an improved chilling performance.
Additionally, brackets to support the terminal and an iPad holder are now included, as well as USB ports on the armrest and a phone holder with an integral charger.