John Deere recently opened the doors and gave a tour of their new Apprentice Training Centre to attendees of an agricultural journalist training course, organised by the Guild of Agricultural Journalists and John Deere.
The bespoke facility was built on a farm site which John Deere rent from a local farmer in Upper Saxondale, near Bingham in Nottingham. The build was a roughly £1.5 million investment, made by John Deere and the training provider ProVQ.
The ongoing goal of the project is to "support and manage the development of apprentices so that they can achieve what they want to," said John Deere's branch training manager Allan Cochran.
While another goal is to encourage diversification in the industry. "At the moment we are about 5 or 6% female, across the programme," said Mr Cochran. However, John Deere is actively trying to overcome the challenge of diversification, through the likes of targeted recruitment videos.
"It is not an industry that diversifies easily, unfortunately, but it is changing, even if it is slow progress," he said.
Having first welcomed apprentices earlier this year, the new centre currently has just over 200 students enrolled across its three apprenticeship schemes – with the capacity to extend to 300 in total.
Ag, Turf and Parts Technician apprenticeships are available at the site, with some additional training undertaken at the nearby John Deere headquarters in Langar, Nottingham.
At the training centre, apprentices from the age of 16 and upwards will train for eight weeks per year, in four blocks of two weeks; Parts Tech apprenticeships run as a two year course, while the Ag and Turf apprenticeships take three years. All apprentices come from UK John Deere dealerships, though the apprenticeships are advertised on national apprenticeship-finder websites too.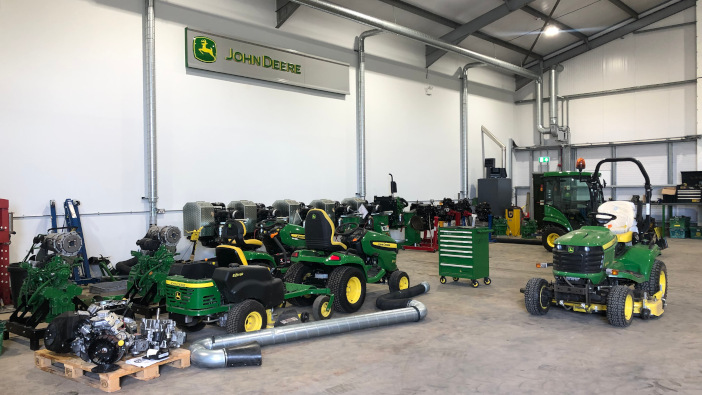 On completion of their apprenticeships, Mr Cochran said: "Some apprentices finish their apprenticeships, go to a dealer, and then come back to John Deere after that." However, he also said that the point of the centre is not to poach all the apprentices that come through the doors, but rather to set students up for a successful career wherever they may end up.
Facilities
The centre's on-site facilities include a host of teaching rooms, where the apprentices spend the morning learning theory, as well as a large workshop, where students spend their afternoons applying theory in a practical environment: getting hands-on with John Deere equipment.
Within the workshop, a range of John Deere engines lines a wall. During their course, apprentices are given the opportunity to strip and rebuild these engines. In their first study year, apprentices learn on smaller John Deere engine models; later, apprentices work on the larger, running engines, before moving onto fully functioning John Deere machines.
There is also a canteen facility on site, but no residential accommodation for students. Instead, John Deere has partnered with a Nottingham hotel that provides accommodation and evening dining for the apprentices during their training. A shuttle service, organised by John Deere, also transports students between the hotel and the training centre, Monday to Friday.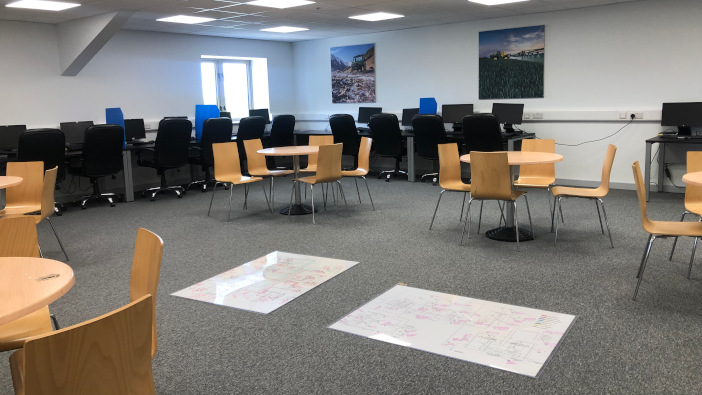 Mr Cochran stated that John Deere wants to ensure that the students (and their families) are supported during their training at the centre – as for many of them this could be their first time away from home.
Getting an apprenticeship with John Deere
As all the apprentices come through John Deere dealerships, getting employment with a dealership local to you would be the best way to get yourself onto the scheme.
To see current apprentice vacancies, or to find out more, visit apprenticeshipfinder.co.uk/john-deere/.