Operators are being urged to check combine harvester tyres ahead of, and during, the harvest season to increase operational efficiency, minimise tyre damage and reduce soil compaction. To aid with this, Continental is now offering its CombineMaster tyres with the ContiPressureCheck, a new system that monitors the pressure and temperature of tyres during operation to prevent tyre-related issues, such as underinflation or overloading.
However, a comprehensive check of the rubber is still important as tyres may be damaged from previous harvests, causing bulges, cuts or tears. "A thorough check of the tread area and sidewalls, including the rim of the wheel, will identify any areas of concern. The low operating pressure and requirement to carry a heavy load creates strain on the tyre wall, so if there is a fault the tyre should be changed to avoid operational failure and downtime," said Continental's agricultural tyre specialist Richard Hutchins.
Flat spots can occur when a combine is parked for long periods. "Flat spots are common with combines because of the length of storage time. Investing in a tyre with a more flexible carcass material will help," he said.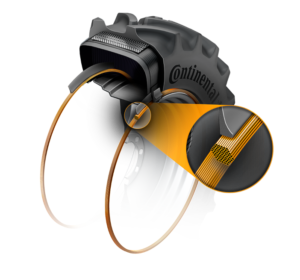 N.Flex Technology in Continental tyres is patent-pending, heat-treated nylon that sits beneath the rubber to help the tyre return to its original shape following impacts and heavy use. "N.Flex reduces the occurrence of flat spots and provides a more comfortable ride," he added.
In addition to this, Continental has developed a strong, single wire bead with a hexagonal cross-section – the Hexa bead. With no joins in the bead, the Hexa bead is said to have less risk of weaknesses occurring meaning that the tyre stays on the rim, even at low pressures.
"Our research showed a more flexible tyre, with a stronger Hexa bead construction, will grip the rim even at very low pressures. This reduces the risk of the tyre slipping off the rim, whilst helping to spread the huge weight of a combine. This is especially important for the front tyres which take more weight and torque," he explained.
ContiPressureCheck can be retrofitted to existing tyres or specified with new CombineMaster tyres. "This technology is the future and offers farmers an opportunity to reduce soil compaction and avoid costly tyre failure," concluded Mr Hutchins.
For more information go to www.continental-tyres.co.uk