The Agricultural Engineers Association (AEA) has announced the winning recipient of the final year BEng/MEng Agricultural Engineering scholarship at Harper Adams University. Sean Whiteway was selected by a panel of industry representatives and experts and wins the award, coupled with an opportunity to connect with industry partners and work with them to promote careers in the agricultural and outdoor power equipment sectors.
The AEA will work with Sean to develop video and social media content that inspires others to consider a career in agricultural engineering.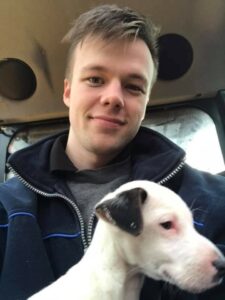 Mr Whiteway said: "I am really looking forward to working with the AEA… I am truly excited to be involved with the positive promotion of our industry which will be interesting if not challenging. Connectivity within the farming community is rising. There is still somewhat of a barrier to attracting those without an agricultural background into our industry, but by using social media and video content we can portray the industry in a greater light to the next generation, whilst showing off the amazing opportunities available within the agricultural engineering sector. [The award] goes to show that you do not have to be from an agricultural background or a farm to succeed in the industry."
AEA CEO Ruth Bailey said: "One of the biggest issues the agricultural and outdoor power equipment sectors face today is the accessibility of skills and attracting the next generation. The scholarship is a fantastic opportunity for an agricultural engineering student of any background to help promote and support the industry as it looks to find new talent and attract others who may wish to look to agricultural engineering as a profession.
"Sean's enthusiasm and passion were obvious to all the judges in abundance, at both application and interview stage. Sean will be a perfect Ambassador for our sector, relaying a clear message about how exciting a space this industry can be for anyone of any age or background to join. Sean, like many of a younger generation shining though, embraces technology and can see the impact it can bring in terms of playing its role in efficient, sustainable agriculture and environment."
Later this year, the AEA will be launching further scholarships for 2021/2022, aimed at second-year students studying Agricultural Engineering and Automotive Engineering (Off-Highway) degree courses.