Off-highway tyre specialists, BKT, has announced a new size for its Ridemax FL 699 tractor and trailer tyre, designed for transport in agricultural and industrial operations. The 525/65 R20.5 joins the existing 24 R20.5 size.
The company states that it is focused on environmental sustainability, which led directly to the development of the Ridemax range. It has been developed to be stable at high speeds, to support heavy loads (reducing transport cycles) and to offer reduced rolling resistance to lower fuel consumption.
The range includes the FL 699, FL 693 M, FL 690 and FL 690 IND for trailers, and the IT 696 and IT 697 (M+S) for tractors.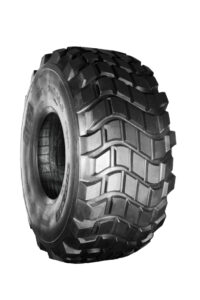 The FL 699 is a flotation tyre for tankers and trailers, with an all steel structure to handle high load capacities. It also features a reinforced bead to offer stability at high speeds and a comfortable ride. The FL 693 M prioritises road handling, comfort and self-cleaning properties, with a D/E speed rating to reduce transport times. Similarly, the FL 690 is designed for 75% road work, capable of carrying heavy loads and has excellent self-cleaning characteristics according to the company. It's 'twin', the FL 690 IND is designed specifically for industrial operations.
The IT 696 has a newly designed tread pattern for performance on road surfaces, even during winter, as well as self-cleaning properties and low rolling resistance. It's said to be suited for transport and maintenance applications. The IT 697 (M+S) is reported to be the best option for tractors in winter operations, with incisions in the tread and a special compound to ensure stability, comfort and control. Furthermore, the company's own tests indicate that the IT 697 can offer a significantly longer working life.
For more information go to www.bkt-tires.com