Introduced as an option on the latest M5002 tractors, Kubota has now announced that the electronic rear lift control will be available as a retrofit option for existing M5001 tractors through its dealer network.
This gives operators the option of retaining the standard level controlled rear lift, or they can choose to upgrade to a push-button system for added convenience.
"This is a great innovation for the M5001 tractor series, for those operators seeking extra sophistication with linkage mounted equipment," explained M-series tractor product manager Henry Myatt. "Simple to control and comfortable to use, ELC adds greater convenience to M5001 models."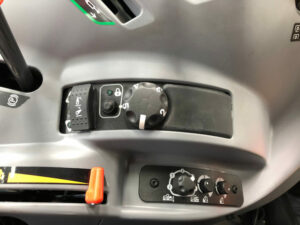 The installation sees the original levers replaced with electronic controls, without the need to trim any of the cab interior or panels. A rocker switch is used for raising and lowering the three-point linage. A rotary control lets the operator choose the depth control, while three additional dials control draft/position, rate of drop and the maximum lift height.
In addition, a linkage lock/release button is fitted, with an LED light to confirm the lock is active.
As part of the package, external controls are integrated into the nearside rear wing, allowing safe operation of the linkage when attaching or removing implements.
The electronic rear lift control retrofit kit is priced at £1,643.88.
More details are available at www.kubota.co.uk