Following 12 months of development, Landquip has launched the PowerTrac trailed sprayer range, said to be the first machine on the market with a self-contained hydraulic drive system powering the sprayer axle.
The three model range will be offered with capacities of 6,000, 7,000 and 8,000 litres and features a brand new pneumatic, level-ride axle suspension system with quadruple air bags. It's hydraulic drive system utilises a load sensing, high torque, axial piston pump driven at 1,000rpm by the tractor PTO, transmitting up to 130hp to the axle.
During field trials, a 6,000-litre machine with a payload of 8,400kg of suspension fertiliser was able to propel the outfit across a ploughed field, with an application rate of 1,200 litres per hectare and a working speed of 12kph while the tractor was out of gear.
The PowerTrac range is said to offer payloads of 8,800kg and improved weight distribution and reduced soil compaction when compared to a large self-propelled machine. Having three driven axles shares the tractive force across six wheels, resulting in less slippage, soil disturbance and compaction.
Steering or non-steering axles can be specified with track width options from 1.8m to 2m, with export machines available in 2.5m track widths. The steered axle option offers a 20-degree turning angle and air brakes are standard, with the option of ABS.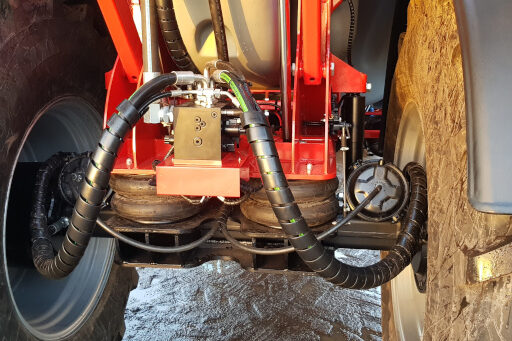 An intelligent power-on-demand system has two forward and two reverse speeds powering the axle at up to 18kph for in field applications and is claimed to be advantageous when reversing into headland corners. It's also stated that the outfit is safer on hillsides as the tractor's wheels are less prone to loss of traction.
To match the increased capabilities, a 450, 700 or 1,300 litre per minute pump is offered and application rates of 1,400 litres per hectare are possible at 12kph with boom widths up to 42m.
The tank is equipped with a pressurised agitation system to fully mix contents regardless of the liquid's specific gravity. Pressurised boom circulation is also standard, as is pneumatic sprayline blow-out to eject chemical back into the tank or out of the nozzles prior to rinsing or washing out.
Landquip's Poziflow recirculation system has been further developed to ensure wide boom agitation, even distribution and equal pressure. Booms are constructed from aluminium and available in working widths up to 44m, and are said to be chemical, fertiliser and rust resistant.
An easy to operate fill station includes stainless steel ball valves, a 30-litre induction bowl that incorporates chemicals at up to three litres per second and can handle powders. In the cabin, a colour screen terminal includes GPS automatic air-switched sections, variable rate control and coverage mapping.
The options list includes automatic lubrication and a tyre inflation system. Prices start from £130,000.
For more information go to www.landquip.co.uk