Doosan Infracore Europe has introduced the new DX140W-7 and DX160W-7 Stage V wheeled excavators, said to provide significantly higher performance in every area than the previous generation with new operator assistance functions, greater comfort and an increased tool carrier capacity.
The latest generation Doosan DL06 diesel engines provide 137hp at 2,000rpm and are said to offer a new solution to exceed Stage V regulations without the need for exhaust gas recirculation by boosting the quantity of air available during combustion to reduce the number of particulates produced. This is combined with a DOC/DPF and SCR after treatment system, with maintenance levels significantly reduced. The DPF requiring no maintenance until 8,000 hours.
Starting with the comfort zone, the cabin offers increased space and ergonimics, fitted with a new high quality seat. Features include the new Auto Digging Brake, fitted as standard, which automatically holds the service brake in position when the machine stops. This can be turned on and off using a dedicated button on the control panel and automatically releases when the accelerator is pressed.
A new option is joystick steering, allowing the operator to manoeuvre the machine using the joystick thumbwheel when working, or driving in work mode. For safety, this can only be activated in first or second gear, when travelling under 20kph. There is also the Load Isolation System, available as an option, which mitigates the impact transmitted to the front of the machine when driving offroad on uneven or tough terrain. This is also activated by pressing a button on the control panel and can be activated when the driving speed is above 5kph.
New Tiltrotator mode
The latest Tiltrotator mode on the control panel helps to optimise hydraulic flow and maximise the accuracy of the tiltrotator by eliminating backpressure. It's a specially designed two-way flow mode, managed by the EPOS like a one-way system with direct return to the tank in each direction.
It's complemented by the Fine Swing function, which minimises the shaking that a lifted object undergoes at the start or stop of a swing movement. This is said to improve operator comfort and protect nearby workers, while also preventing damage to the object being carried.
Other standard features in the cab include a deluxe steering wheel with a chrome-plated spoke and logo. The two-spoke design increases visibility and the steering column has also been redesigned, with an 80mm telescope function and a new tilting lever to angle the steering wheel 15 degrees towards the operator.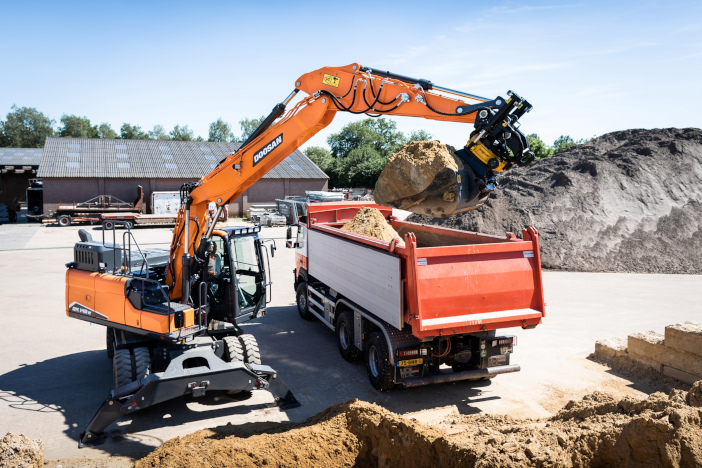 The cabin is completed by a host of new additions:
New 8-inch Doosan Smart Touch screen, giving more information via a 30% larger screen
DAB audio (Hands-free calling system and Bluetooth)
Keyless start (Doosan Smart Key) & remote door lock/unlock
Fully adjustable air suspension seat with heating (with optional cooling function)
Parallel wiper system and new design pedals
Improved air flow for defrosting and air conditioning
Centre High Mounted Stop Light (CHMSL)
9 x LED work lights as standard
4 more LED lamps as an option
AVM – Around View Monitor with 360° cameras (option)
Ultrasonic detection of obstacles (option)
Greater tool carrier capacity
Both machines are said to offer improved front movement for rotating tools such as mulchers, and the working range for articulated front machines has also been improved. The articulated boom cylinder stroke has been increased while retaining the same mounting position and a lock valve has been added to prevent unexpected releasing of the cylinder during digging work.
The DX140W-7 incorporates a heavier 2.5-tonne counterweight as standard for both monoboom and articulated boom configurations. This is the same for the DX160W-7, which also has the option of a three-tonne counterweight. This allows both machines to work with heavier attachments, such as tiltrotators.
To accommodate these counterweights, heavy-duty ZF3060 axles are used in the construction. On the DX140W-7, this provides a 30% increased maximum dynamic load and a 28% increase in maximum static load. The DX160W-7 also features a new heavy-duty chassis and both machines have new upper structures to provide the space and durability for the counterweights. The bolt-on assembly provides an increased overhang on the front and rear carriage, offering even better stability.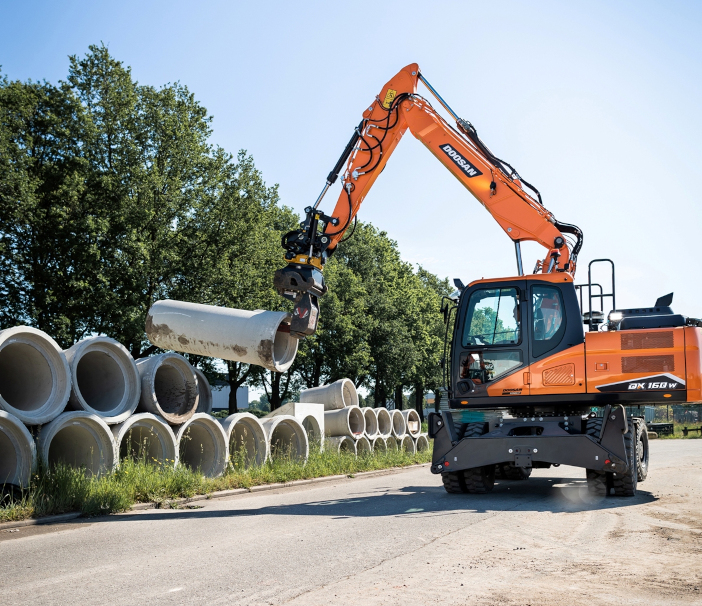 As standard, a new five-tonne capacity lifting eye is equipped, which forms part of the casting for the push link at the end of the arm and features a special bush to prevent deformation. The new stability is complemented by a smart hydraulic system that offers around a 30% improvement when working with attachments. It optimises the hydraulic flow rate when both the arm and attachment are working simultaneously, with a new priority valve and an additional hydraulic line to maintain continuous flow.
Smart controls
The latest SPC3 Smart Power Controls are said to help reduce fuel consumption, offer four power modes. This is also simpler than in previous generations, which offered eight working modes. During transport, the operator can select a dual pump mode via touch control on the main panel. This reduces engine speed by around 300rpm, resulting in a 10% reduction in fuel consumption. The acceleration pedal has also been adapted to offer greater responsiveness and when the dual pump system is deactivated, the machine offers greater torque for travelling uphill.
Both units are also factory installed with the Doosan's DoosanCONNECT wireless fleet monitoring system, allowing owners to monitor the performance and security of their machines, while also promoting proactive maintenance. It's available as a standard feature on all new Doosan excavators (above 14 tonnes), its wheeled loader range and ADTs.
Machine specifications
| | | |
| --- | --- | --- |
| DX140W-7 wheeled excavator | Operating weight (standard/articulated boom) | 16,050/16,496kg |
| | Max digging depth | 5,025mm |
| | Max digging reach | 8,050mm |
| | Max digging height | 9,150mm |
| | Digging force over bucket (ISO) | 7.6 tonnes |
| | Digging force over arm (ISO) | 10 tonnes |
| | Lift capacity at max reach | 3.91 tonnes |
| | Lift capacity at 4.5m | 7.44 tonnes |
| | Lift capacity at 6m | 5.48 tonnes |
| | Max traction force | 81.6kN |
| | Swing force | 34.8kN |
| | Engine | Six-cylinder, Doosan DL06 Stage V, 137hp @ 2,000rpm |
| DX160W-7 wheeled excavator | Operating weight (standard/articulated boom) | 16,578/17,000kg |
| | Max digging depth | 5,025mm |
| | Max digging reach | 8,050mm |
| | Max digging height | 9,150mm |
| | Digging force over bucket (ISO) | 7.6 tonnes |
| | Digging force over arm (ISO) | 10 tonnes |
| | Lift capacity at max reach | 3.91 tonnes |
| | Lift capacity at 4.5m | 7.44 tonnes |
| | Lift capacity at 6m | 5.48 tonnes |
| | Max traction force | 81.6kN |
| | Swing force | 34.8kN |
| | Engine | Six-cylinder, Doosan DL06 Stage V, 137hp @ 2,000rpm |