Following the introduction of the Slicer mower portfolio and the Former range of rakes in 2017, Fendt has further upgraded its grassland series of machines, facilitating new mowing combinations and boasting a new design and options package.
The latest generation of front and rear disc mowers have been redeveloped, with a new lightweight design that reduces the weight of a 310 F front mower by around 60kg, and a rear mower combination by up to 350kg. This further reduces the power requirements of the unit while also lowering the ground pressure and fuel consumption.
The 310 F features a swing hitch that has a range of +/-7.5 degrees to adapt to undulating ground. As an option, KC (tine conditioner) and RC (roller conditioner) variants can be specified with hydraulic load relief to regulate the contact pressure.
Additional options include hydraulically folding side guards on the 310 F for transport. To improve safety at junctions it is also possible to have mirrors fitted to the mower or the mountings for cameras. A lever is used to lock the front guard into various positions for blade changes and other maintenance work, and a plastic impact bar is fitted as standard to protect the machine from minor collisions in the field.
The rear-mounted Slicer 860 and 960 machines are also available with the latest SafetySwing mechanical collision safety system, preventing damage when stones or drain covers are hit.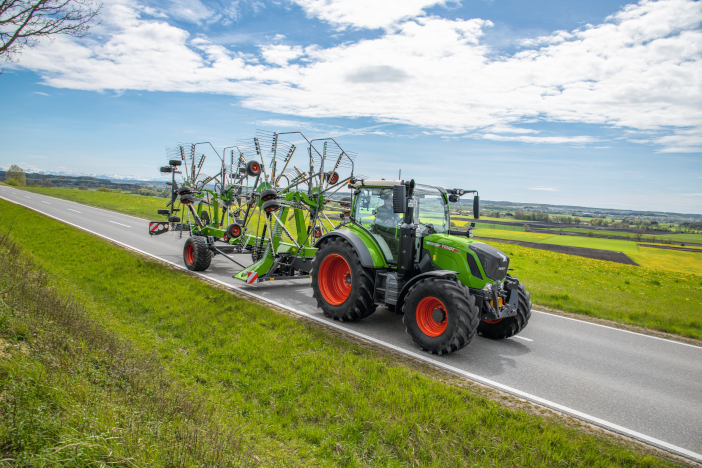 The intensity of the conditioners can be adjusted, with five settings on the tine conditioner and stepless adjustment of the roller units. Cutting height can also be adjusted via the upper link arms. Completing the package is a blade box, and a newly reduced running speed of 850rpm, said to reduce fuel consumption.
Hydraulic rake control
The Fendt Former 12545 and the ISOBUS-compatible Former 12545 Pro now feature a hydraulically lowering chassis to provide a transport height of less than 4m, even in transport mode.
During production, the tedders have also undergone a new colouring process and design, including a new coating to increase the UV resistance.