Maschio, imported and marketed in the UK by Opico, has upgraded its heavy-duty Bisonte flail mower, which is now rated up to 140hp.
Said to be one of the most popular models in the Maschio range due to its strength and flexibility, the Bisonte can be mounted on either the front or rear linkage of tractors between 60hp and 140hp. This is facilitated by a quick-change system, with a new double, fixed position three-point hitch, with 1,000rpm PTO connections at the front and rear.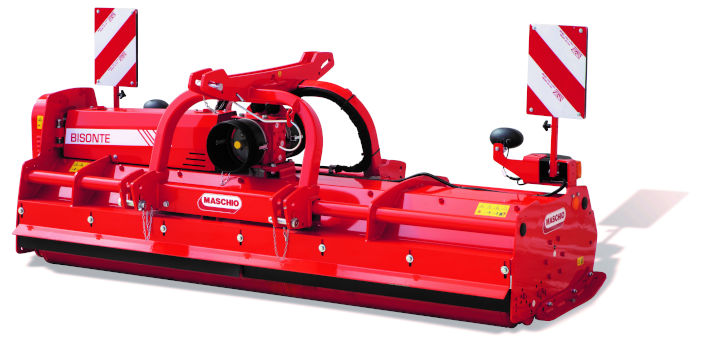 In addition to this, side maintenance windows on the PTO shaft have been added to reduce downtime, while the 280 model, with a working width of 2.76m, has received a 25% increase in rotor speed – now running at 2,000rpm to improve cutting quality. An additional adjustment setting on the back roller has also been added.
The Bisonte is available in 2.26m, 2.57m, 2.76m and 2.98m working widths, with hydraulic offset up to 50cm from the central position. Rotor speeds between 1,600rpm and 2,000rpm ensure consistent mulching of grass, crop residues, small branches and twigs for a tidy finish.
Dominic Burt, Maschio's product manager in the UK explained: "The additional horsepower rating makes this hardworking machine even more versatile. Even if 140hp is the maximum rated horsepower, the upgraded Bisonte can work with bigger tractors if it is used as part of a combination – for example with a Bisonte on the front and an offset Giraffa XXL flail at the back. This can extend the cutting width up to 5.5m in one pass."
The Bisonte 220 flail mower has a starting price of £8,606.
More information is available at www.maschio.co.uk