A best seller in the Joskin portfolio, the Tornado muckspreader has been updated with a new narrow, lowered body. Compared to its predecessor, the body is now more tapered and the sidewalls are smooth to ease emptying and cleaning.
The rear side has been widened to offer a more consistent spreading action and the hydraulic pipes have been integrated into the upper body to protect them from contact with the material. The mudguard has also been redesigned with a 45-degree inclination to stop muck heaping.
Standard equipment includes a perforated front wall, enabling the operator to see into the muckspreader. It has a reversible moving floor, comprising steel tubes and two shipping chains, the tension of which can be adjusted via two mechanical side tensioners. Because the body widens at the rear, the material can expand between being spread by the beaters.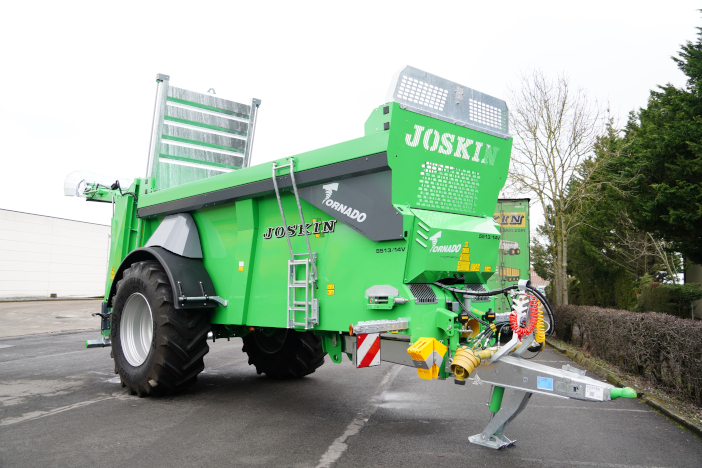 Depending on the capacity of the machine, the Tornado is available as a single, or tandem-axle unit. The single-axle spreader features an oversized axle bolted to the underside, which can be moved easily to adjust the balance. The tandem-axle model is available with a free-steering axle and hydraulic suspension.
All models are available with either vertical or horizontal beaters. Vertical beaters are designed to spread heavier material up to 16m, with two forward-sloping units rotating at 423rpm, fitted with HB400 teeth. At the base are two retractable blades, which project the manure and retract when coming in contact with stones to avoid shocks to the drive system.
The horizontal system is for lighter material, spreading up to 22m. Material is crumbled by the steel teeth beaters and thrown against the closed spreading canopy to fall onto two spreading discs, each fitted with six adjustable blades. As standard, these units are fitted with the Ferti-Control 4000 control box and the galvanised guillotine door to easily control the application rate.
There's a wide range of options available for the Tornado models, including wooden or aluminium extensions, ISOBUS functionality, a weighing system and weigh cells, a self-steering axle, automatic lubrication and a front lifting axle on tandem models.
For more information go to www.joskin.com