Following the introduction of its latest XSplit press screw separator, Vogelsang has introduced several new products.
"To remain cost-effective despite the significant degree of regulation, our customers are increasingly relying on economical use of valuable liquid manure, including optimal nutrient placement. With this goal in mind, we are constantly developing our portfolio and have now added separation technology," said Harald Vogelsang, managing director of Vogelsang GmbH & Co. KG.
This includes the latest generation of the ExaCut ECC precision distributor, which does not require air suction or ventilation hoses. The rotor concept ensures that liquid manure is fed into the outlets evenly, whereas some would occasionally escape in air suction systems. This is said to be particularly important when cultivating grassland.
The company has also modified its UniSpread universal linkage, now available in a working width of 10.5m. Automatic end-arm folding ensures a transport width of 2.5m, as well as an ideal transport height. This means it is compact enough to be retrofitted onto small tankers and can be equipped with either a dribble bar or trailing shoe.
Vogelsang has equipped its Blackbird trailing shoe linkage in working widths of 21m and 24m with a simplified control system to enable smooth communication between the tanker and spreading units.
Moreover, the company has redesigned the SyreN, which stabilises liquid manure during field spreading by adding sulfuric acid. This is said to optimise nutrient use and reduce ammonia emissions by up to 70%.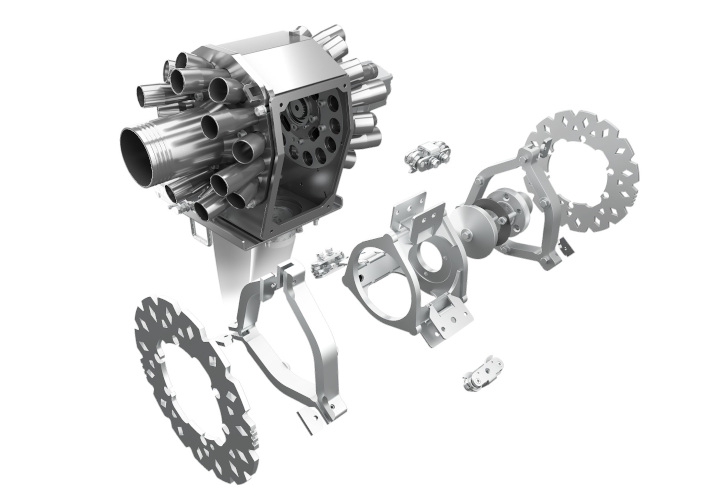 Additional innovations include:
The PowerFill Small, which is now available in two drive versions, with the most powerful achieving a volume flow of up to 12,000 litres per minute. The weight has also been reduced by 40%.
The ProCap T progressive cavity pump rounds off the company's pump technology with a compact design with large free passage to make it low-wear and durable.
Flow Performance Monitor sowing technology uses sensors to monitor the slow of seed and mineral fertilisers on pneumatic seed drills and reports blockages directly to the in-cab terminals. It's also said to be resistent to corrosion and foreign bodies.
For more information go to www.vogelsang.info