The use of slurry and muck on farms has long stopped being a process of getting rid of waste, and instead has become a vital part of maximising both the yield and income for farm businesses.
How much of the changes within the organic manures industry (especially slurry) has been farmer-led and how much has come from regulatory and legislative changes is hard to quantify. We are some ways behind the stringent rules followed in parts of Europe, but these have informed product development and as further education about the nutrient content comes through, balanced with greater knowledge of the environmental impact, UK farmers are opting for equipment that can help them use their muck and slurry more effectively.
Much of the development, it must be said, is on the slurry side. Applicators such as dribble bars and trailing shoes have become more common, with precision farming systems such as section control and variable rate becoming frequent purchases alongside the kit. Many systems can now work in conjunction with technologies such as John Deere's HarvestLab 3000, which will adjust application in real time based on the nutrient levels within the slurry.
For muckspreaders, this level of accuracy is harder to achieve. The nature of delivery means that true section control or variable rate is not possible, however the addition of weigh cells and application mapping, means that users of these machines are still getting that level of traceability. In addition to this, spinning discs and rear doors (depending on the product being applied) is enabling operators to fine tune their application settings for a more accurate spread.
We have explored the latest developments from manufacturers of muckspreaders, slurry tankers and applicators. Far from a waste product, this is now arguably one of the most valuable operations on UK farms, providing a potent fertiliser from enterprises already onsite.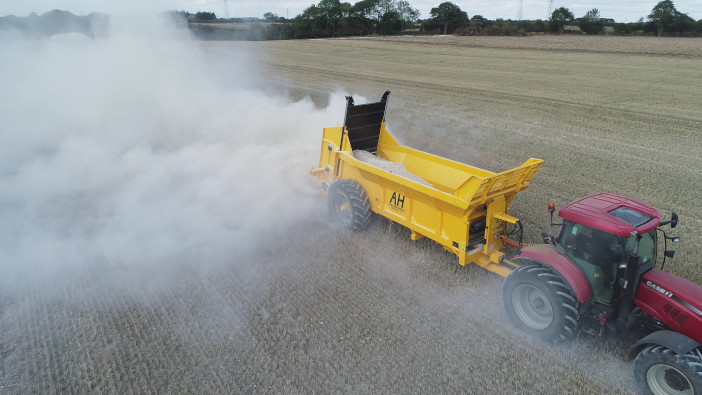 Suffolk based manufacturer Agri-Hire offers a range of muckspreaders from 8 to 50 tonnes, with single, tandem and triaxle builds, vertical or horizontal beaters, and a two-year warranty as standard.
Horizontal beaters mix and chop material for a more consistent spread, dropping these smaller particles down to 1,100mm spinning discs which offer a spread width of up to 24m. Notably, these machines can now be optioned with a hydraulically operated product regulator on the rear door, which can be adjusted from the cab to adjust the machine to different products, as well as handle spreading on the headlands.
Further precision can be specified with the RDS Athene variable rate system, with weigh cells continuously measuring the weight in the spreader and automatically adjusting the floor speed. According to Agri-Hire this system will allow for quick adjustments based on the product characteristics. For ease of use, various other machine functions can also be operated and monitored through the in-cab terminal.
Other options include a slurry door with a height indicator; a vision hatch in the front wall to allow the operator to see into the spreader body; a variety of lighting packages; and a choice of passive or active steering systems on the Magnum range.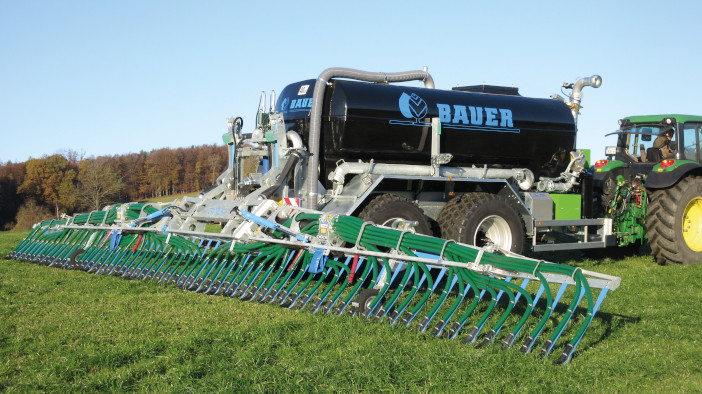 Two ranges of tankers are offered in the UK by Bauer; the galvanised steel Aetos, from 10 to 30m3, and the fiberglass Poly+ series, from 6 up to 26m3. Both use the companies own positive displacement pumps for loading and emptying, eliminating frothing in the tank, and fitted with auto fill stop as standard to accommodate part loads.
The pumps are offered with 4,000, 6,000 and 10,000 litre per minute capacities, with output linked to the PTO speed. According to the company, using a positive displacement tank means that output can be managed accurately, even when applying at low rates. When specified with auto rate control, the application can be adjusted between 10 and 50m3 per hectare.
The Aetos range is supplied on a 27-tonne pendulum axle on models up to 17m3, with larger units being mounted on a 32-tonne, four-spring axle. Poly+ tandem machines are supplied on the 27-tonne pendulum running gear. Options include tyre pressure control and Signo 4 ISOBUS control.
Bauer works with various suppliers to offer a range of applicators, include Vogelsang dribble bars and trailing shoes, Bomech trailing shoes and a series of disc injectors and cultivators from Duport and Ceres. Application can be linked to Bauer's on-board flow metering, or to a NIR sensor for precise placement, while ISOBUS control allows for mapping of the application rate, variable rate control and full records of work completed.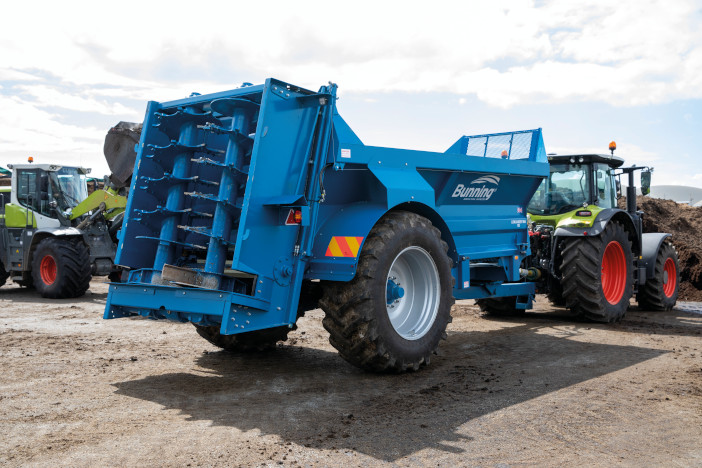 GT Bunning has focused development on increasing output for smaller scale operations, improving efficiency. The Lowlander 105, 120 and 150 twin vertical auger (TVA) machines can now be specified with 895mm Widebody augers, replacing the standard 695mm units, to achieve a wider spread pattern and increased throughput.
Widebody augers are dynamically balanced and fitted with boron treated flights to improve service life. To boost product consistency, 20mm reversible cutters are also equipped.
To achieve the increased throughput, the slurry door is also from the Widebody range, and ensures the flow of product to the augers isn't restricted. The wider opening also helps product flow when spreaders are equipped with flared extension sides for added carrying capacity.
For operators looking to apply fine materials at a low application rate, including compost, lime, poultry litter and digestate, there is the option of twin 1,100mm boron blades and a rear canopy. The canopy stops material reaching the full length of the augers, while the curved deck, with replaceable wear strips, is said to improve product flow. Mounting the blades in a lower position also stops product building up at the rear of the machine.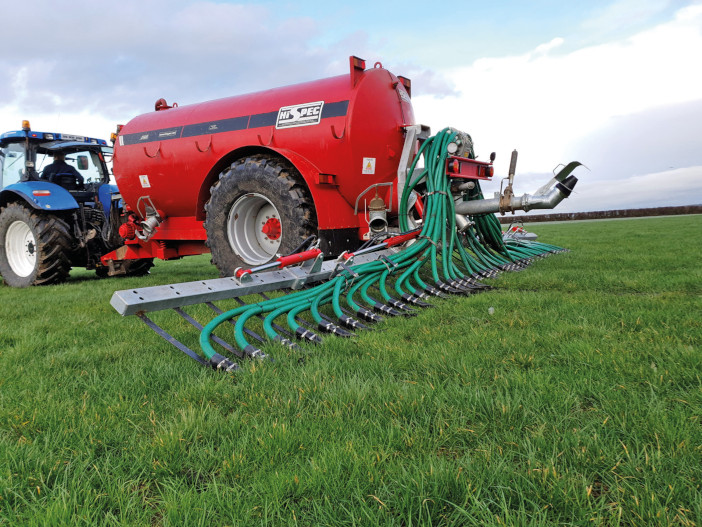 The HiSpec slurry tanker range runs from single axle units, to tandem and triaxle machines, with a range of options available. Recently added to its applicator range is a new chassis mounted dribble bar, offering a working width of 7.5m and folding down to just 2.55m for transport.
Thirty flat hoses are equipped, spaced 25cm apart and fed by an in-house developed distributor with an integrated stone trap. The body is fully galvanised and fitted with an LED lighting bar for transport. Though the unit weighs just 520kg, by chassis mounting the dribble bar, the weight is closer to the tanker axle, avoiding stresses on the rear door or tanker barrel.
The dribble bar is complemented by a range of trailing shoes, with working widths of 6m, 7.5m, 9m and 10.5m. Like this dribble bar, these galvanised units are chassis mounted. A hydraulic double folding system reduces the overall height during transport and there is the ability to use both rear fill points and the splash plate if required.
The two largest models feature a hydraulic self-levelling system, wherein each arm of the trailing shoe will lift as it passes over a side incline to avoid putting unnecessary pressure on the hardened trailing shoes. Standard fitment includes the Vogelsang ExaCut distributor, and the trailing shoe can be used as a dribble bar.
The company's Xcel 1250 muckspreader is said to be unique on the market, using a rotary chain and flail system to break up material ahead of the spinning discs. The benefit of this is that any foreign objects can passes through the machine without causing any damage.
It offers a twelve tonne capacity, with double floor chains and a slurry door for spreading solid and liquid material. Weigh cells and application rate control are available as an option, via an ISOBUS compatible RDS system.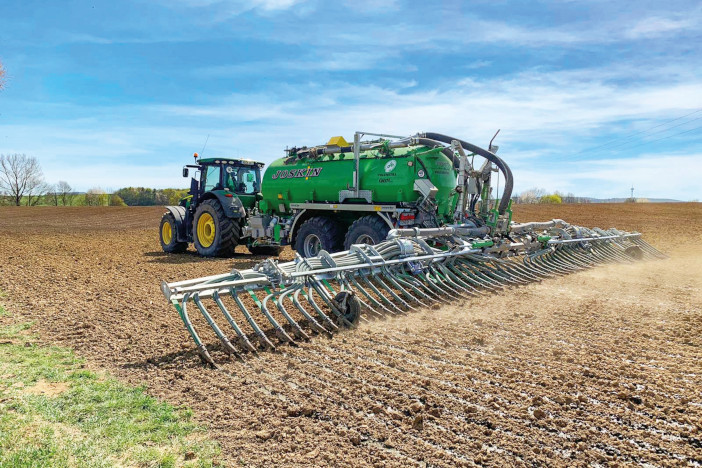 Joskin has recently redesigned its Tornado range of muckspreaders, offering a narrow, lowered body with large diameter wheels for improved traction and a reduced ground pressure. Construction is from high tensile steel, removing the need for body reinforcements which contributes to the reduced weight.
At the front, the wall has been perforated to improve visibility into the machine from the cab. The moving floor comprises steel tubing and two 16mm shipping chains, with easy mechanical side tensioners. The rear spreading deck is also wider than the body, allowing the material to expand before spreading. A choice of vertical or horizontal beaters is available; the vertical units are sloped forward for an improved output and can handle heavy manures to a spread width of up to 16m. The horizontal units are designed to break down material, projecting manure against the rear canopy before two spinning discs spread it up to 22m.
The options list includes extensions; a galvanised slurry door for exact dosing; rear doors to limit spread widths at watercourses or field edges; and a choice of control systems, with weigh cells and application control based on the forward speed.
For slurry applications, the company highlights its Pendislide Pro trailing shoe, available in four working widths between 12m and 18m, with row spacings of 25cm. Each unit comprises a 70mm wide spring leaf, fitted with an Ertalon skid. Working speeds are said to be between 8kph and 10kph, with independent movement of the left and right sides to deal with undulations.
The body is galvanised, with each half of the trailing shoe fed by a Scalper macerator for homogeneous dosing and limited difference between slurry flows at each end of the machine.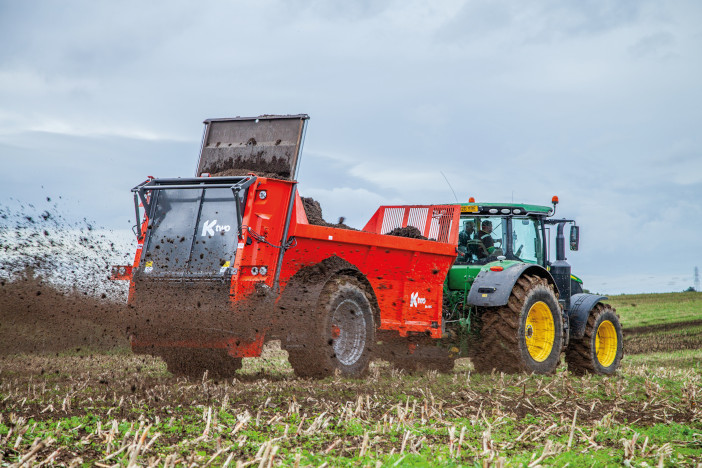 Ktwo offers a wide range of UK built muckspreaders, including the vertical beat Evo range, available in single, and tandem axle builds. Standard equipment includes 1,700mm diameter rotors at the rear, with 1,250mm paddles fitted to enable the spreading of finer material. The drive is ensured with four 16mm bed chains and 75mm drive sprockets, while standard fitment includes a slurry door, torque liming clutch driveline protection and in-cab electronic floor speed control.
The Bio is a horizontal beater machine, with two 1,100mm spinning discs for a possible spread width of up to 36m. Like the Evo, this is available in both single and tandem axle builds, with the standard model featuring the same robust driveline and moving floor. It can also be equipped with a slurry door and in-cab control of the floor speed.
Both ranges offer capacities up to 26 tonnes, with various options available to provide greater levels of precision. Both single and tandem models are supplied weigh cell ready, with the possibility to specify an RDS rate controller, linked to field mapping software for variable rate and traceability.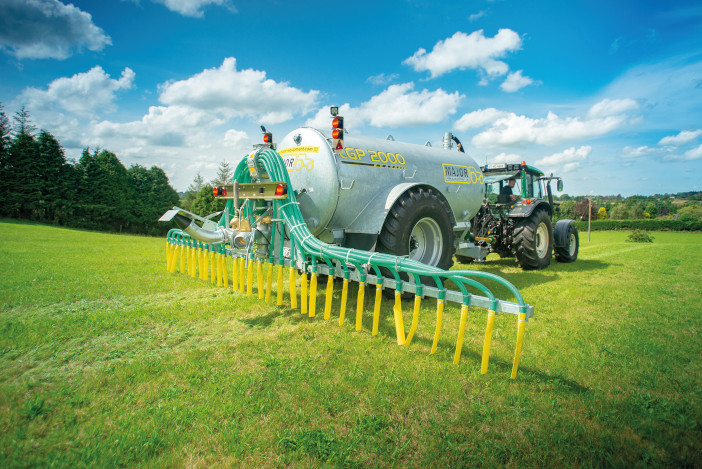 There are three types of slurry applicators offered by Irish manufacturer Major, alongside its range of tankers (the Contractor specification topping out at just over 14,000 litres). The company's range of dribble bars offers working widths of 7.5m, 10m and 12m, with the smallest model suitable to be retrofitted on any tanker make or model.
Also retrofittable is the 7.5m trailing shoe manufactured by the company. It's built with a fully galvanised body, mechanical suspension and automatic mechanical shut-off. Both the dribble bar range and the trailing shoe are provided with a choice of Vogelsang or Mastek macerators.
 To reduce the emissions caused by slurry spreading, Major has developed a disc injector system, said to almost eliminate ammonia emissions by placing the slurry between 2cm and 6cm beneath the soil surface. It has a working width of 5.2m, hydraulically folding down to 2.4m, and is equipped with 300mm diameter self-sharpening discs spaced at 300mm, a Vogelsang macerator, mechanical suspension for each disc and individual disc steering to handle obstacles in the soil.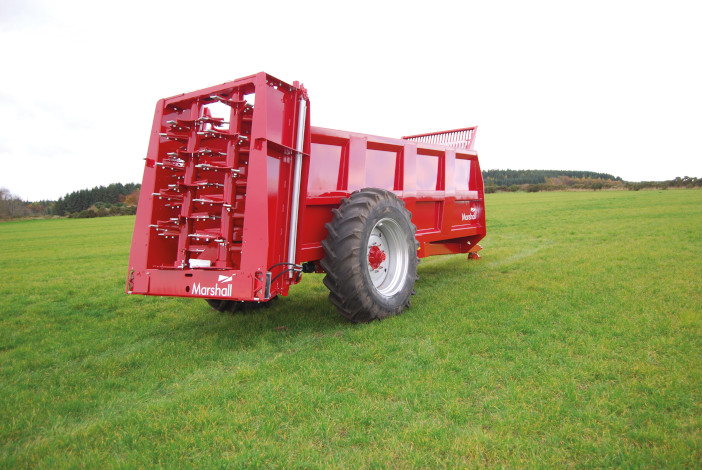 Marshall offers the VES range, topped out with the VES-2500 muckspreader, with a 14-tonne capacity. The company states that it uses a unique pushing ram system to discharge the load, which is low maintenance and very reliable. It's controlled with an electronically managed valve. By not having a chain system, the company states that the muckspreader is deeper and more compact, providing a favourable centre of gravity without sacrificing ground clearance.
The in-house developed rotors are heavy-duty and inter-meshed for a consistent spread pattern, with power provided though an over-specified gearbox. A slurry door is fitted as standard, and combined with the pushing ram system, the muckspreader is completely sealed meaning that liquid manures are fully contained until spreading.
The range is filled out by two additional models; the VES-2000 with a 12-tonne capacity and the VES-1500 with a nine-tonne capacity. The top two units are mounted on commercial specification axles, and the whole range features vertical beaters running at 350rpm for spread widths up to 16m, with reversible hardened tips to reduce maintenance costs.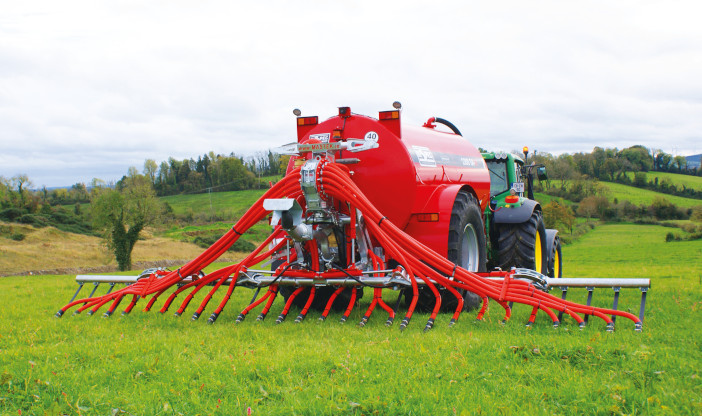 Irish manufacturer Mastek offers a range of applicators to suit different farm setups, starting with its Professional Universal Dribble Bar, available with a 7.5m working width and equipped with the company's Supercut macerator. It's a bolt-on retrofit, designed to fit any tanker, and comes 100% galvanised, with the option of an umbilical system.
The Micro Trailing Shoe can be mounted on any tanker with trailing shoe brackets, is fully galvanised and has an integrated Supercut Micro macerator, applying slurry to a 7.5m working width. Similarly, the Eco Trailing Shoe is suitable for any tanker make, with working widths of 7.5m, 9.2m and 12m. Like the rest of the range, it is fully galvanised and comes with an integrated Supercut macerator, with optional extras including LED lights, load-sensing hydraulics, umbilical attachments and a touchscreen, in-cab display.
Mastek also offers two smartphone applications for traceability of slurry spreading operations. The SmartSpread App gives a recommended forward speed based on the tanker size and desired application rate. Updating this is the SmartSpread Live application which is linked directly to a flowmeter and will calculate the optimal forward speed in real time based on the desired output and flow rate.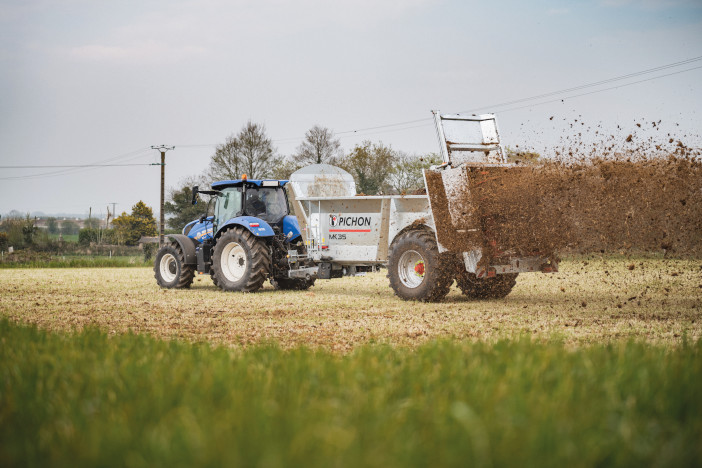 Pichon offers a range of slurry tankers, applicators and muckspreaders. It's fully galvanised range of tankers starts with the 12.2m3 capacity, single-axle SV12R and moving through the tandem-axle, 15.6m3 SV15R and 16.6m3 SV16, and the 19m3 and 21m3 SV18R and Sv20R. Models suffixed with an R offer recessed wheels to lower the centre of gravity and improve manoeuvrability, and all models are equipped with the new iControl 7S terminal and control system, which can automate working cycles, collect application data and allow for on-the-move dosage adjustment.
The SV15R features a multi-position single-axle setup, with a simple bolt-on design that enables users to change its position based on the rear applicator and ground conditions. A range of applicators are available, including dribble bars, trailing shoes and injectors.
Pichon's MK range of galvanised muckspreaders is comprehensive, with capacities ranging from 10m3 up to 24m3. Large diameter vertical beaters are fitted as standard, with the option of horizontal beaters and spinning discs available. Wooden and steel extensions are available, and the front wall is fitted with a grid to give the operator visibility into the machine.
Rear doors can be equipped to enable spreading up to the edge of the field, and limit spread near watercourses and buffer strips. A hydraulic slurry door is also featured to adjust the spreading characteristics to suit lighter, or less solid materials.
A range of control options are available, including full ISOBUS control, with the possibility to specify automation flow regulation and weigh cells.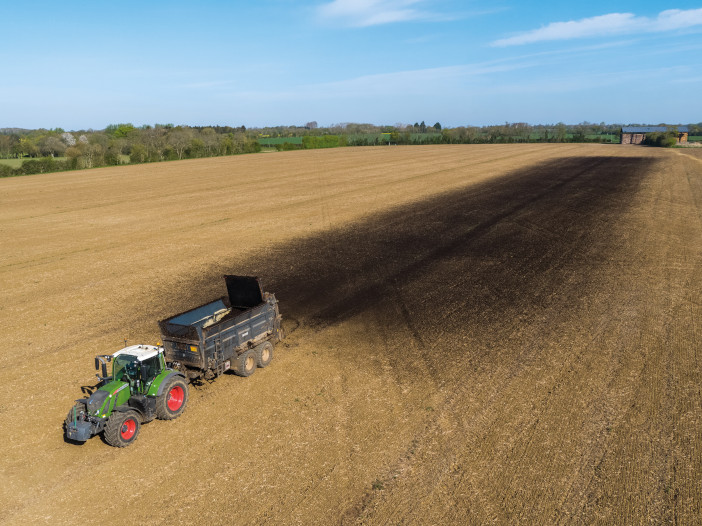 The Delilah DS spinning disc range from Richard Western features horizontal beaters, hydraulic slurry door, a full-opening rear canopy variable speed floor drive and a wide angled PTO shaft as standard. Two models are available, offering heaped capacities of 15.2m3 and 17.3m3, with the option of a sprung drawbar, greedy boards, air brakes and hydraulic floor tensioning.
The FBS is heavy duty unit, with commercial axles, sprung drawbar and four heavy duty bed chains with variable speed hydraulic drive. The construction of the machines comprises 10mm boron spiral rotors, with boron rotor blades and breakback stops. Primarily offered with vertical beaters, it can be specified with horizontal units and spinning discs, with the option of a hydraulic slurry door. With extensions, the heaped capacity of the two-model range can reach 23.7m3 and 28m3.
For precision applications, the Griffith Elder weigh cell system is available for both ranges for application rate control. It is also possible to equip ISOBUS load cell weighing and application rate control to both the FBS and Delilah ranges. If the operator does not have an ISOBUS activated tractor, the company can supply ISOBUS terminals as an optional extra.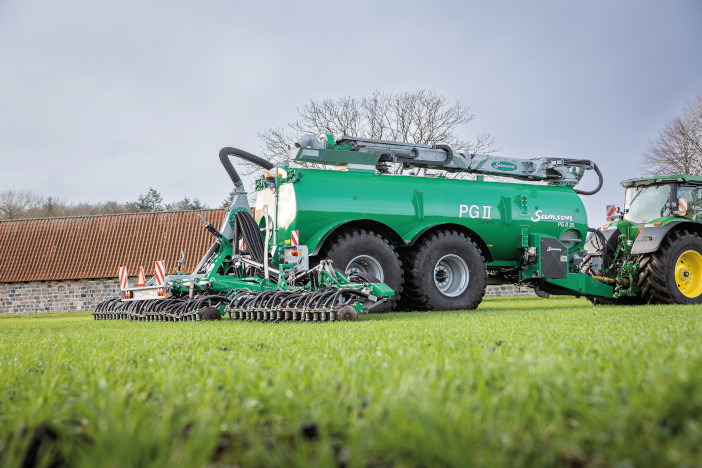 At the end of last year, Samson launched section control for its range of applications. The GSC (generic section control) is a universal system, linked to the PG II Genesis range of tankers and can be used with Samson applicators and third-party units. It can be controlled manually with the SlurryMaster 8000 joystick, or automatically when combined with ISOBUS compatible GPS maps.
The PG II Genesis range is available in tandem and triaxle models from 18m3 up to 35m3, fitted with an integrated flow control system to offer an exact dosage, even when working on hills. The sectional tank means that weight is distributed evenly as the tank is emptied, with traction increased if the option of HPD or HWD wheel drive is specified.
Samson also offers the tandem axle TG range, in 18m3 or 20m3 capacities, with a range of filling options to suit different operations, various control systems, central lubrication and the option of automatic tyre regulations. Across both slurry tanker ranges, a host of applicator options are available.
For solid manures, one of the ranges offered is the US, available with tandem or triaxle running gear. Standard fitment includes hydraulic suspension and electronic steering, while control is through the SpreadMaster 8000 which can handle variable rate applications and weighing if optioned. The US range is equipped with horizontal beaters and dual spinning discs, with the beaters specifically designed to break down heavy manures for faster integration into the soil.
Capacities for the US range start 18.1m3, increasing through to 30.3m3 on tandem axle units. Triaxle models start at 22m3 and run up to 36.9m3.
Shelbourne Reynolds – www.shelbourne.com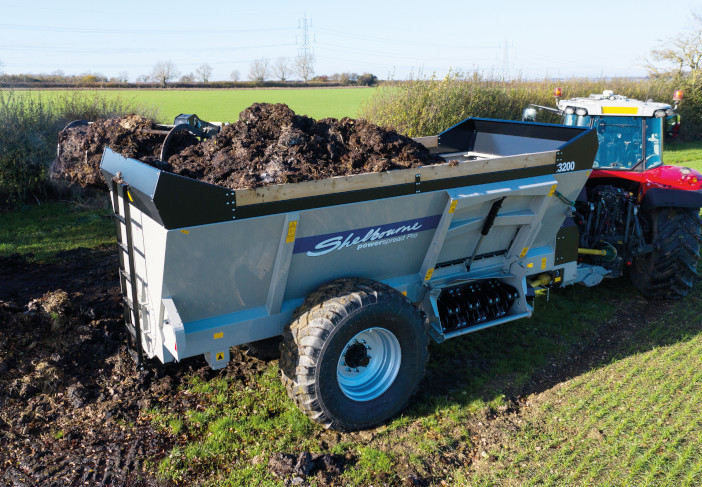 Shelbourne Reynolds has focused its muckspreader development on machines capable of handling a range of different manures, including solids and slurry. Two side discharge ranges are available, the Powerspread Dairy is available in 7.25m3 and 9m3 capacities, each fitted with a full-length auger that brings material to the central discharge rotor. A hydraulic door opens vertically to utilise the full width of the discharge rotor, which runs at 700rpm and uses the Hardox door as a shear bar to breakup the material.
Six models of the Powerspread Pro are offered, with capacities between 8m3 and 14.5m3. A new weigh cell options has been integrated, brought across from the company's Powermix diet feeders, with two units mounted on the axle and a third fitted to the drawbar. Powerspread Pro models can be specified as tandem axle machines to spread the weight evenly across the field surface and are available with flotation tyres.
The company is currently working on a GPS system, which can be combined with the weigh cells, to allows the operator to closely monitor application rates.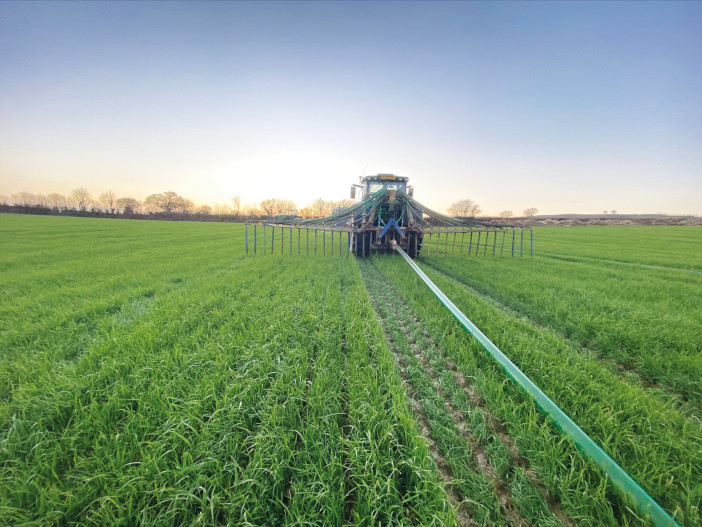 Cheshire based manufacturer Spreadwise has developed a range of applicators for accurate slurry spreading. Starting with dribble bars, the Slimline applicators are designed for umbilical operations, with a hitch for a rear-mounted reeler to be attached. These are available in 6m, 8m or 12m working widths.
Working widths remain the same for the tanker mounted range, with the design been carried over. Spreadwise manufactures a bespoke tanker rear door with the dribble bar, enabling the customer to retrofit it to any make or model of machine, although other connection methods are available. Both the umbilical and tanker models utilise a Vogelsang macerator.
The dribble bar portfolio is rounded out with a 12m model, with twin macerators. The unit is said to offer higher flow rates, as well improved distribution of slurry through the spreading boom. Trailing shoes are offered for umbilical and tanker operations, in 7.5m and 9m working widths, both manufactured by Vogelsang and featuring mechanical break backs and a five-inch trailing arm to maximise the flow to the distributor head. Spreadwise can also offer a range of flowmeters.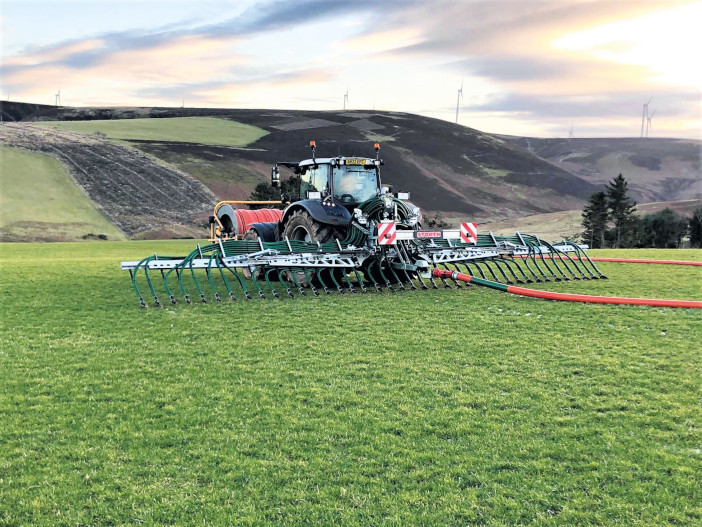 A range of dribble bars and trailing shoes are available from Storth Machinery, split into varying specifications to suit farmers and contractors. It's FarmerPlus dribble bar can be mounted on the tanker rear door, or chassis-mounted with working widths from 7.5m up to 12m, while Contractor and ContractorPlus units are primarily designed for umbilical applications, with the Twin Dibble Bar featuring individual feeds to the wings for hillside feathering and half-width shut-off.
The trailing shoe range includes variants for both tankers and umbilical operations. The Contractor unit is fully galvanised and fitted with an OptiCut Profi Plus macerator, with working widths of 10.5m and 12m. A short swing arm eases operation at the headland, and shoe pressure is between 8kg and 12kg. The ContractorPlus variant features 250mm spaced shoes, with sprung steel carriers and a replaceable cast tip which parts crop leaves.
The FarmerPlus is primarily designed for tanker mounting, with a QuickFit system which can matched to the tanker chassis for simple setup and height adjustment. Tanker variants include installation kits to fit most tanker makes, with a fitting service available.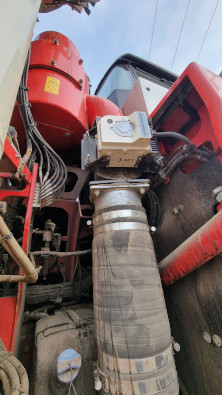 Tanlake is best known for its distribution of Krohne and Siemens flowmeters, sold to OEMs and end users. Two years ago it introduced the Iso-Slurry system, developed alongside Solteer, which connected the flowmeter directly to the tractor's ISOBUS screen to illustrate to the operator the current application rate, total slurry applied and to indicate the target forward speed to meet the desired application rate.
Recognising that more farmers are looking to optimise their slurry applications by the nutrient makeup, the company has recently travelled to Europe to assess different products on the market.
Now the company has signed a distribution deal for the Dinamica Generale NIR sensor, which can be paired with a flowmeter to apply slurry or digestate by nitrogen, phosphorus or potassium values. Unlike other units on the market, Tanlake states that the slurry can be sampled to create bespoke application curves for each area of spreading.
The unit is standalone, and can be fitted to any tractor screen, or supplied with its own screen and mapping software. Tanlake is now undertaken detailed UK field trials before rolling the unit out into the marketplace.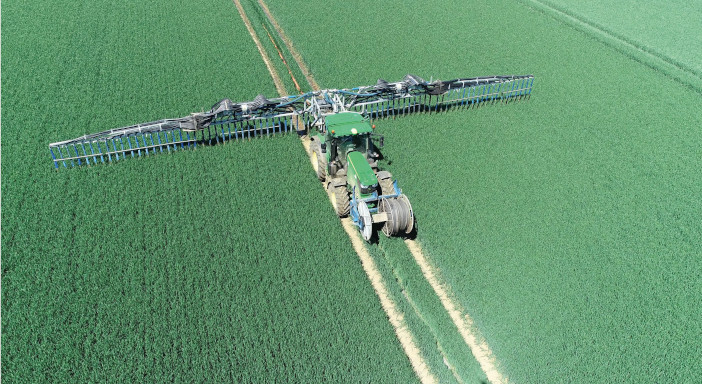 Tramspread offers a host of products for nearly every part of the slurry spreader process, from tools for the storage and mixing, through to tankers, applicators, and umbilical spreading units. According to Terry Baker, the systems for precision application of slurry are already available, including NIR sensors, slurry analysis, flow meters and applicators such as trailing shoes and injectors.
He highlights the products now available to improve slurry management on farm. The requirement to cover stores by 2027 to reduce emissions, also means that rainwater will be unable to infiltrate leading to slurry or digestate that is too thick. Tramspread therefore offers a range of Reck tractor-mounted and Stallkamp store-integrated mixers to provide a homogenous consistency for pumping.
Mr Baker added that regular testing will help establish the nutrient value of the slurry, allowing only the amount needed to be applied. The company offers the Agros testing kit to measure nitrogen, phosphorus and dry matter within the slurry, the data from which can then be linked to the applicator flow meter and ISOBUS system for variable rate. Operators can also opt for an integrated NIR system for real time application adjustment.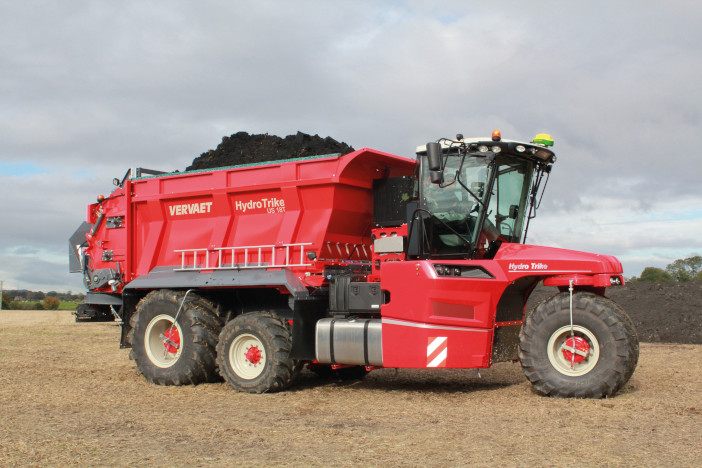 Distributed in the UK by J Riley Beet Harvesters, Vervaet specialises in self-propelled machines with the option of superstructures for slurry and solid manure applications. Recently the company launched the Quad XL, combining the 22m3 Quad unit with a trailed 18m3 buffer tank for a reported industry leading capacity.
To enhance manoeuvrability, the trailed tanker is equipped with an electronic steering system, while a second centrifugal pump handles filling and emptying. Rate control is still handled by the master Quad unit but the rear applicator is carried on the tanker.
The Quad was the latest self-propelled unit introduced by the company, with a four-wheel design as opposed to the traditional Trike design used before. This enabled the unit to work in tramline applications. It is powered by a 550hp engine and can be fitted with either the 22m3 tanker or 21-tonne solids spreading body.
The Hydro Trike range features a 530hp engine, with three-wheel or five-wheel chassis layouts. Tank capacities range from 16m3 up to 20m3, with the option of a solids spreading body with an 18-tonne capacity. Vervaet can also offer an umbilical system for the Hydro Trike, with more details due to be released.
The Vervaet machines can have differing levels of precision farming systems fitted. As standard they come with Vervaet Connect telematics, which gives real-time machine tracking and remote access to operational data, service information and warnings, and remote diagnostics. An additional premium version allows field-specific data to be exported to farm management software including retrieval of historic data to allow customer- and field-specific reports to be generated. An optional John Deere NIR nutrient sensor can be integrated to allow real-time monitoring and adjustment of the application depending on the nutrient value of the slurry.
The Blackbird trailing shoe from Vogelsang has been developed for the accurate application of slurry. In working widths of 12m, 15m and 18m, it offers a hose spacing of 25cm, with active pressure applied to all skids and a passive oscillation compensator in the central frame to adjust to undulations. The hose layout and the integration of precision distributors is said to eliminate the V-shaped application at startup, as well avoiding overlaps. It can also be set for half-width shutoff.
Dribble bar units start with the Unispread, with working widths of 6m, 7.5m, 9m and 10.5m. These are said to offer high distribution accuracy thanks to the ExaCut distributor. Other units include the SwingUp and SwingMax ranges, with widths up to 36m, Compax units from 12m to 18m and the BackPack up to 30m. Units feature rigid hose ends to separate the crop and spread directly on the soil.
Finally, Vogelsang offers the XTill VarioCrop strip-till system, with working widths up to 6m. It can adjusted to suit a range of crops and operating systems, with row spacings between 45cm and 75cm, individual depth control and infinitely variable ground pressure.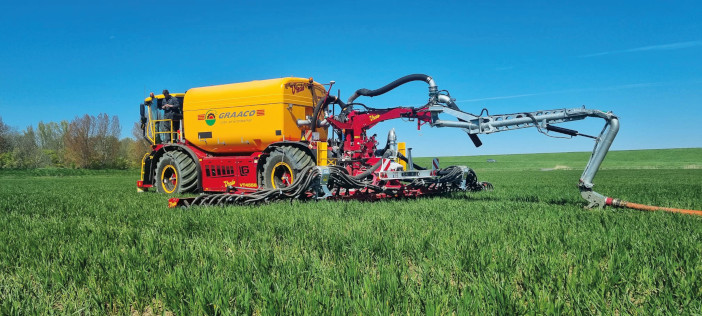 Vredo offers two self-propelled slurry tankers, known as Tracs. The VT5536 is powered by a Scania 550hp engine and mounted with a GFK slurry tank offering a 22,000-litre capacity. Standard fitment includes a 12,000 litre per minute Vogelsang positive displacement pump, with the Vredo-built macerator and touchscreen control of the machine. The large VT7138 is equipped with a Scania 710hp power unit, with polyester tanks for capacities of 21,000 litres on tandem axle machines, 32,000 litres on triaxle machines, or the option of the innovative flextank which has a base capacity of 25,000 litres, with a 7,000-litre flexible extension.
Precision farming systems include an NIR system, sourced from John Deere or Zunhammer for real time adjustment of the application rate based on the constituents in the slurry. GPS guidance is also available, all controlled through the terminal in the Claas cabin.
To limit emissions from slurry spreading, Vredo also offers the Profi range of injectors, which can be mounted on the back of the Tracs. It's possible to specify working widths up to 18m, with section control and an oscillating frame to adjust to undulating ground. On the largest XL models, this oscillating frame is replaced with a hydraulic system. Depending on the model, a range of soil engaging elements are available.