Slurry specialist, SlurryKat, has launched lightweight models of its Farmline Trailing Shoe, with wider varieties of up to 10.5m.
Created with steel, the models are built to be strong yet lightweight to reduce soil compaction. Garth Cairns, SlurryKat innovator and CEO, said: "We launched the 7.5m Farmline Trailing Shoe in 2018 and it has been a huge success. However, as slurry tankers have become larger and more grants have become available to help farmers purchase specialist equipment, we have experienced huge demand for wider models."
The new models, in 9m and 10.5m sizes, include many features of the earlier models as well as some new upgrades.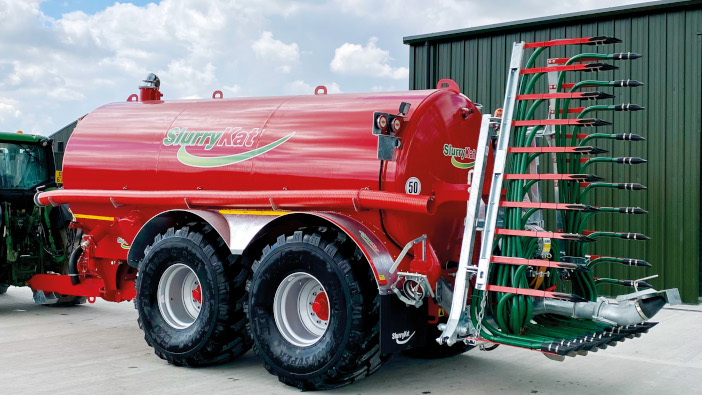 Mr Cairns added: "These are the lightest trailing shoes on the market. While the 7.5m model weighed in at 490kgs, the new 9m model is 600kgs and the 10.5m model is 636kgs. Both the 9m and the 10.5m models exhibit unique inverted booms in the transport position.
"The extra width for the new models was achieved by adding a novel flip-over end section on the sidearms, which is operated by a hydraulic cylinder. This is easy and straightforward for the operator to use.
"The transport height, which is the lowest on the market, on the new wider models stays the same as with the 7.5m model. Also, they now have flip-up shoes on the beam with hydraulic cylinder as standard, which was not a feature on the 7.5m model. "With flip-up shoes on the central and outer sections, this makes it easier for the operator to make headland turns. Also, the machine does not need to be folded up to reverse, all the operator has to do is flip up the shoes, carry out the manoeuvre, then drop the shoes and work away."
Upgrades
The new models use the SlurryKat ventilated macerator distributor head with a V36 head on the 9m models and a V42 heado n the 10.5m variety. This system allows slurry to be delivered evenly from every show along the boom.
Other upgrades include a crash protection system on the boom, using a shear bolt rather than a spring release system. Spacing of the shoes is the SlurryKat standard 250mm and all models are fully galvanised and fitted with UV resistant flexible hoses.
Reducing soil compaction
The company said that it's aim for the new Farmline Trailing Shoes is to maintain the lightweight element. The Shoes work alongside SlurryKat's Premium Plus™ range.