Entering production this month, Landini has updated its compact range of tractors, now dubbed the Mistral2, bringing it in line with engine emission regulations by swapping out the previous Yanmar Tier 3 power unit for a Kohler Stage V.
Both the 2-055 and 2-060 models are equipped with a 1.9-litre, three-cylinder, turbo aftercooled engine offering outputs of 49hp and 55hp respectively, with torque levels reaching 180Nm and 200Nm at just 1,200rpm.
Importantly, the exhaust gas after-treatment system is mounted at the side, maintaining the overall height of the bonnet from the ground to retain operator visibility. It also means that the tractors are suitable for municipality work and landscaping tasks as well as the specialised farming applications it is designed for.
Amongst the updates, the Mistral2 has an engine speed memory function, a new electronic instrument panel (derived from the Rex-4 family) and can be equipped with the Landini Fleet Management system.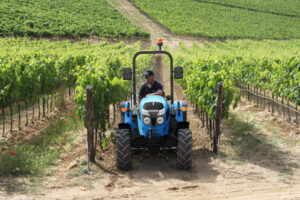 Two configurations
Both models are available in a Standard configuration, available for both platform and cab versions, or as a Ground Effect machine (platform only) with a lowered set-up. This is achieved thanks to the use of dedicated rear reduction gears and a front axle, which reduces the overall height of the tractor.
As standard, the Mistral2 comes with a mechanical power shuttle transmission, with 12 forward and reverse gears. This can be updated to a 16×16 gearbox, with creeper gears for minimum speeds of 220m per hour.
Cab models come with a FOPS cabin, mounted on silent blocks to isolate it from noise and vibration. For the operator's comfort, it features air conditioning, a flip-up front window and a radio, with ergonomic controls.
The rear three-point hitch can lift up to 1,200kg, with the option of a 400kg front hitch. PTO speeds of 540 and 540E are available at the back of the machine, while the optional front system spins at 1,000rpm. The hydraulic flow rate is 35 litres per minute, with an independent 20 litre per minute pump fitted for steering.
Additionally, the front axle has an electro-hydraulic Hydralock differential system, available on both Standard and Ground Effect models.
The tractor weighs just 1,780kg with a maximum gross weight of 3,050kg. Its wheelbase is 1,790mm, with a minimum width of 1,260mm and there is the choice of 20 inch or 24 inch rear tyres, providing bonnet heights from the ground of between 1,230mm-1,301mm on Standard models and 1,131mm-1,206mm on Ground Effect tractors.
Finally, customers can specify the Mistral2 with an extended warranty up to 48 months or 5,000 hours, with a host of maintenance packages.
For more information go to www.landini.it