Now offering trailed sprayers with actual volumes of up to 8,000 litres and 9,000 litres, Amazone has introduced two new models to its UX range. The new machines feature a brand-new chassis design and close the gap between the single axle models and the tandem axle.
The new chassis directly links the axle to the standard lower hitch drawbar and features a sloping design to maintain an optimum weight distribution. Importantly for operations on hilly terrain, the centre of gravity has been kept low and there is an optional underbelly cover to protect tall and easily damaged crops.
Freshwater tanks are mounted on either side of the narrow spray agent tank, which is made from polyethylene and has a rounded design and smooth interior and exterior walls for easy cleaning.
High output operations
The new UX 7601 Super and UX 8601 Super machines can be specified with Super-L3 booms in 39m, 40m and 42m working widths, with pivot points at 12m, 24m and 33m and the option of reduction joints on the outer sections. This ensures maximum flexibility when working at reduced widths, alongside the independent one-sided folding.
Hydraulically pre-tensioned break back joints are fitted at the boom ends, which are made entirely of aluminium for a steady boom ride. As standard, the latest Super-L3 booms come with ContourControl active boom guidance and SwingStop active vibration damping as standing.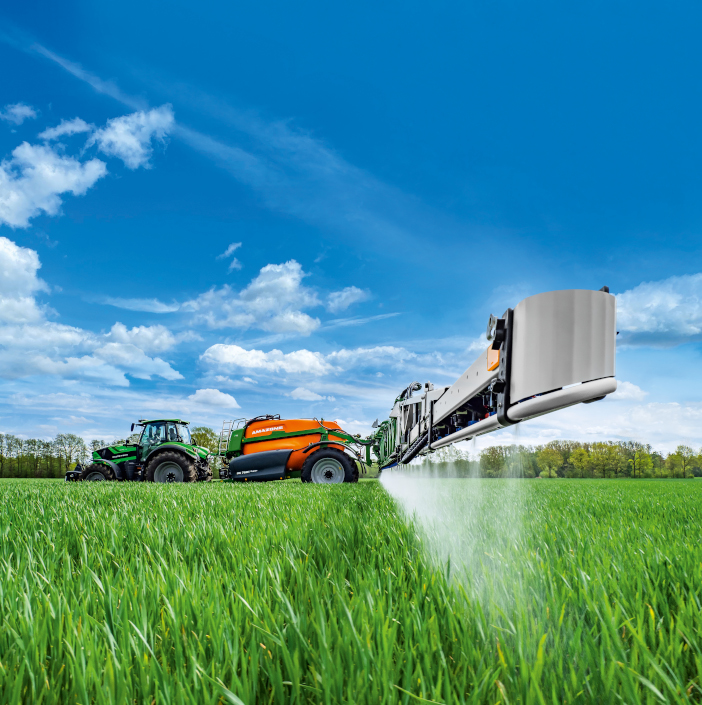 Thanks to the multi-section construction, the boom is compact during transport and held in a spring-suspended boom support to minimise the risk of damage. Both models can also be equipped with Amazone's full range of Super-L2 and L3 booms.
Agitation in the tank is provided by two high-capacity piston diaphragm pumps with outputs of 250 litres per minute for the spray pump and 350 litres for agitation. These are said to offer consistent capacities, regardless of the spray pressure.
The new generation of pumps have larger piston diameters, resulting is less stress. In addition, the pumps are self-priming for simple setup and short hose routing. This also provides the foundation for fast and thorough cleaning. It's possible to drive the pumps either via the PTO or through a hydraulic system; the latter of which is integrated into the ISOBUS control for automatic regulation of the pump speed.
Maximum comfort, maximum performance
Under the access cover on the left-hand side, the 60-litre induction and Smart Centre control system are located. It can be specified as the manually controlled Standard-Pack or the Comfort-Pack with the Twin Terminal 3.0. The Comfort-Pack offers automatic fill stop for suction and bowser filling, auto-dynamic fill dependent agitator regulation and remote cleaning programmes.
It's also possible to equip the HIghFlow+ system. This combines the output of both pumps for spraying at wide working widths and fast forward speeds. It can also ensure a high agitation capacity.
For more information go to www.amazone.co.uk