Machinery manufacturer, Kuhn, has launched its new high capacity trailed sprayer. The largest in the range, the Lexis 3800 has a 3,800 litre capacity and two further models offer 2400 litre and 3000 litre capacities.
Compact and lightweight, the machine has a maximum length of 6.9 metres and an overall width of 2.55 metres. This latest model also features new Ø1.85m tyres with a very high flexion (VF) option from 320 to 520mm.
The Lexis can be specified with Kuhn's Manuset manual rinse operation which is controlled from the operator's control station. Multifunction handwheels reduce handling operations by up to 50% and the ergonomic design means valves are easily operated.
During rinsing, a complete turn with the delivery circuit handwheel ensures that the water drawn in by the pump is conveyed into all sprayer circuits. The rinsing tank level gauge, visible from the workstation, also enables easy sequencing of the rinsing operations.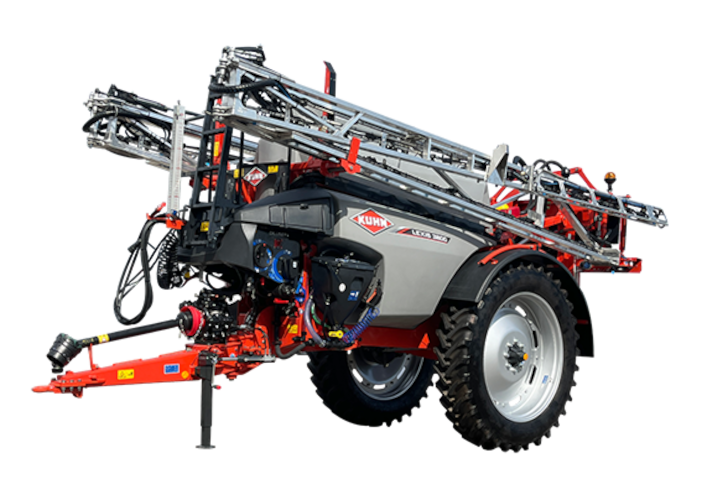 The machine is also available with Diluset+ which offers operators assisted management of filling and dilution of residual volumes.
Spraying can be operated using Kuhn's Canbus control box, a CCI 800 or 1200, or any other Isobus terminal.
The Lexis is stable and manoeuvrable because the shape of its tank has lowered the centre of gravity. This improves stability, even with a reduced track width of 1.50m or when spraying on gradients. The short tow eye-axle distance of 4.30m coupled with the Track Assist gyroscopic steering drawbar system also improves tracking in the tractor wheels.
The Lexis can be fitted with CCE individual nozzle control, Autospray PWM technology or the Boom Assist Extreme contour control system. Kuhn's CCI Connect solutions and MyKuhn portal also provide remote access to the machine and feedback on the tasks performed to harness valuable operational and application data.