Fendt has announced a series of updates to its self-propelled Rogater sprayer range, available on 645, 655 and 665 machines with boom widths from 24m up to 39m.
A redesigned plumbing system features a separate clean water pump, allowing the new ContiRinse system to cut tank cleaning times after spraying. The system uses two adjustable liquid volume thresholds, with the first cleaning chemical residue from the plumbing lines while the operator continues to spray, and the second activating near the end of the tank load to start the full cleaning process.
Sam Treadgold, sales engineer for sprayers at Fendt, said: "ContiRinse is designed to reduce the downtime spent cleaning and rinsing the plumbing system after spraying, making it quicker to change between products and crops. The additional clean water pump allows the pre-rinse cycle to begin whilst spraying and there is now an auto pump shutoff, which switches off the main 785l/min pump after cleaning to prevent it from running dry."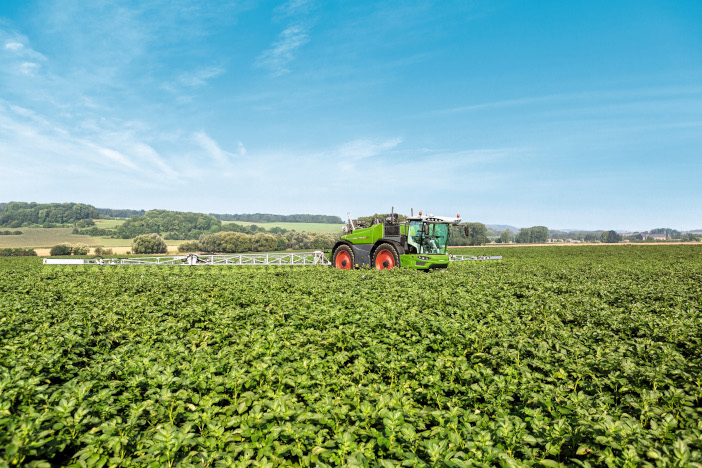 All machines are now fitted with Altek electro-pneumatic nozzle bodies as standard, replacing the fully electric Arag units. These are compatible with the OptiNozzle automatic nozzle selection system, as well as a single-line Hypro five-way rotary, an Altek twin-line and an Altek quad-line setup. Valves are now sourced from Banjo.
Mr Treadgold added: "The changes to our spray systems will increase longevity and reliability of the machines. The new nozzle bodies don't have diaphragms and feature no dead-volume areas, so liquid or chemical residues can't sit inside the bodies after use. The electro-pneumatic design also provides increased reliability compared with our old units."
Additional updates include an increase in the number of OptiSonic height sensors, now six instead of the previous four. This is said to keep the boom automatically adjusted in uneven crops, increasing the application accuracy. As well as this, the central sensor has been repositioned away from the rear axle to keep it free of debris.
The cabin has also undergone updates, with the option of a dedicated fridge, an improved hands-free system with a centrally located gooseneck microphone and strong mirror mounts to reduce vibrations on rough terrain.
For more information go to www.fendt.co.uk