This autumn sees a series of updates to the Claas Torion wheeled loader range, with two new flagship machines and a power upgrade to existing units.
The new Torion 1913 and Torion 2014 bring greater engine power, an increased lift capacity and a higher loading height. Both models feature a 10cm larger wheelbase to enable the increased specifications. The longer lift arm means that the bucket pivot point is now at 4.15m, 23.5cm higher than on previous machines, available with agricultural kinematics and Z-kinematics.
With the new Z-HL Highlift kinematics, a loading height of 4.7m can now be achieved and is combined with larger bucket volumes and increased tear-out force and tipping loads to 165 kN and 12,500 kg (Torion 1913) and 175 kN and 13,750 kg (Torion 2014).
The new flagship machines also feature higher operating weights of 18.5 tonnes and 19.6 tonnes respectively, and the hydraulic output has been boosted from 234 litres per minute to 290 litres. Under the hood, Liebherr engines produce 222hp on the 1913 and 249hp on the 2014, with a low-speed concept to provide maximum power at 1,150rpm and maximum torque at 1,100rpm.
New mid-range addition
The mid-range Torion models also feature a new machine. The 1511 P features a 6.8-litre DPS engine producing 228hp, 40hp more than the standard 1511. Torque levels max out at 900Nm, available at 1,600rpm. The new model also features Dynamic Cooling which automatically adjusts the fan speed to suit the cooling requirement, with fan reversal as standard, which can be set through the control terminal.
The engine is mounted crosswise and set back in the machine. This design is said to offer improved maintenance, as well as acting as a counterbalance to reduce the amount of ballast needed. Compared to the 1511, the 1511 P features an uprated oil pump, enabling the machine to reach a top speed at just 1,800rpm.
Varipower drive features three driving ranges to ensure that the optimum gear ratio is selected at all times. The second axial piston motor is automatically disconnected at speeds of 16kph, and the transmission is said to offer the same driving performance in forward and reverse, with hydraulic braking assistance to reduce wear on the brakes and tyres.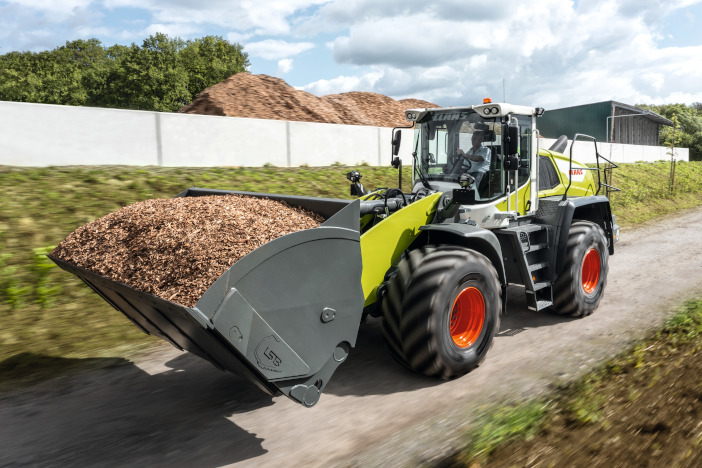 It can be equipped with P- or Z-kinematics, with optional vibration damping and four operating modes The optional high-lift arm increases the bucket pivot point from 3.93m to 4.51m. Automatic functions such as the Smart Loading bucket return or the lift height and lowering limiter are available for easier handling.
The Torion 1511 P is completed with load-sensing hydraulics rated at 228 litres per minute and the responsiveness can be adjusted from the cab. For the third and fourth functions, 128 litres is available at 200 bar.
Mid-range updates
The 1177, 1410 and 1511 also benefit from new equipment options and functions. Optional joystick steering is now available and a new control panel has been mounted on the armrest, while the curve radius of the windscreen has been reduced towards the front to provide an undistorted view.
A new integrated weighing system and a tyre pressure monitoring system are also available, as well as a stainless steel exhaust pipe. Up to ten LED lights can be fitted to the cab roof and other visibility features include a rear camera, acoustic alarms and flashing lights.
| | | | | | |
| --- | --- | --- | --- | --- | --- |
| | Operating weight | Articulated tipping load | Hydraulics (litres/bar) | Maximum power output | Drive |
| Torion 2014 | 19,600kg | 13,750kg | 290/350 | 249hp | CMATIC |
| Torion 1913 | 18,550kg | 12,500kg | 234/350 | 222hp | CMATIC |
| Torion 1511 P | 14,100kg | 9,300kg | 170/350 | 223hp | Varipower |
| Torion 1511 | 14,200kg | 10,500kg | 170/350 | 184hp | Varipower |
| Torion 1410 | 13,500kg | 9,500kg | 170/350 | 165hp | Varipower |
| Torion 1177 | 11,770kg | 7,750kg | 136/330 | 137hp | Varipower |
| Torion 639 | 5,600kg | 3,850kg | 77/230 | 68hp | Hydrostat |
| Torion 535 | 5,180kg | 3,450kg | 77/230 | 63hp | Hydrostat |
| Torion 956 Sinus | 9,070kg | 5,575kg | 115/240 | 103hp | Hydrostat |
| Torion 644 Sinus | 6,390kg | 4,430kg | 93/210 | 71hp | Hydrostat |
| Torion 537 Sinus | 5,550kg | 3,750kg | 70/230 | 71hp | Hydrostat |
| Torion 738 T Sinus | 7,000kg | 3,800kg | 93/230 | 71hp | Hydrostat |
For more information go to www.claas.co.uk