Antonio Carraro has put forward its four-track Mach 4 Tony fruit and vineyard tractor in the Best of Specialized category, offering 98hp from the four-cylinder Kubota engine and 330Nm of torque at 1,500rpm.
Power is put to the ground via an in-house, stepless hydrostatic transmission, made up of four mechanical gears with independent engine speed control and a hydraulic shuttle to change the direction of travel at any speed. When working on slopes, the transmission is also fitted with a Stand Still System, which will hold the tractor in place.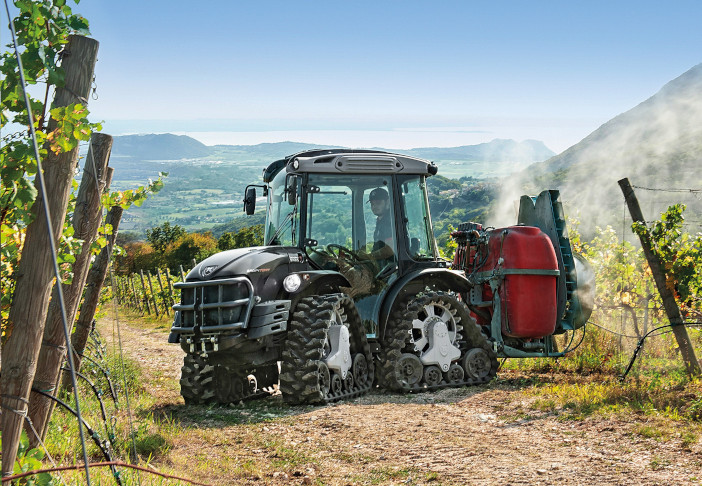 The machine is fitted with the proven Actio chassis, providing up to 15 degrees of oscillation to keep all four wheels on the ground at all times. Ground clearance is 383mm, enabling the tractor to handle undulating ground and the steering radius is 325mm, for tight turns at the end of rows. The Mach 4 Tony is just 1,306mm wide making it ideal for narrow rows, while the 1,645mm wheelbase ensures stability.
To limit ground compaction and improve traction in poor conditions, the tractor is equipped with four in-house developed tracks. These are said to not impede the manoeuvrability of the machine, while also boosting performance when working in mud or on side slopes.
At the rear, the rear hitch can lift 2,400kg, while the front linkage is available with a 1,000kg capacity. The open centre hydraulic system comes as standard with a 43 litre per minute flow, with the option to increase this to 52 litres, feeding up to six valves around the machine.
Completing the Mach 4 Tony is the suspended cabin, which comes with climate control and is fully sealed and pressurised with Category 4 filtration.