JCB has now launched its new Fastrac 4000 and 8000 Series tractors, with all-new electronic infrastructures for high performance and unprecedented operator choice. The Fastrac iCON operator environment has three key features:
iCONFIGURE – for a bespoke operator control experience (with memory for up to 50 different profiles)
iCONNECT – for the integration of advanced precision agriculture technology (including ISOBUS, a Novatel Smart-7 receiver, and JCB Rapid/Twin Steer)
iCONTROL – for the redefinition of operation through new driveline software
The 175hp to 348hp (133kW to 260kW) Fastrac tractors feature the new iCON armrest console with position-adjustable 12in colour touch-screen display plus optional integrated ISOBUS and fully integrated GPS guidance and precision farming application options.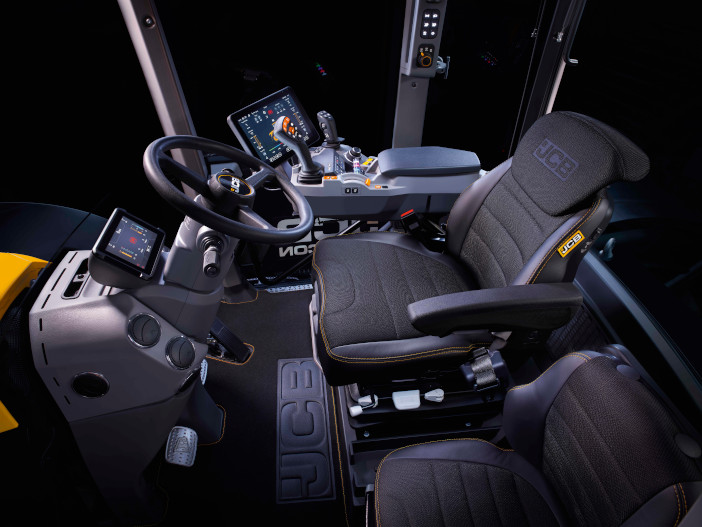 The iCON armrest console
The iCON armrest console also features a new main joystick; assignable RGB LED colour-coded levers, giving proportional control of electrically-operated spool valves; PTO and hitch controls; an auxiliary joystick; and hard keys plus an encoder dial for an alternative to using the touch screen.
Hydraulic functions can be allocated freely to the five main joystick buttons and also to a four-way auxiliary joystick with its four buttons and rocker switch, with LED colour backlights identifying which spool valve is allocated to which control.
JCB's 12in touch screen display presents information on five screens, and a new 7in fully digital dashboard display provides speed and engine rpm read-outs – with essential vehicle status information.
Swiping right on the 12in screen brings up a more detailed running screen that includes settings for up to six front/rear electric spool valves; another two retain essential vehicle status information while providing a remote camera view and an ISOBUS 2 Universal Terminal screen; and a fifth screen is dedicated to JCB's new satellite guidance and precision farming options.
Transmission control
Operators can now set the required forward speed with the Smart Transmission Control; to allow the tractor to balance engine speed and gear ratio to achieve speed under changing loads. While joystick and pedal driving modes no longer have to be pre-selected, they are now automatically selected when either control is used.
JCB Headland Turn Assist now also has up to 50 individual sequences and up to 50 steps each, for operator ease across variable field operations.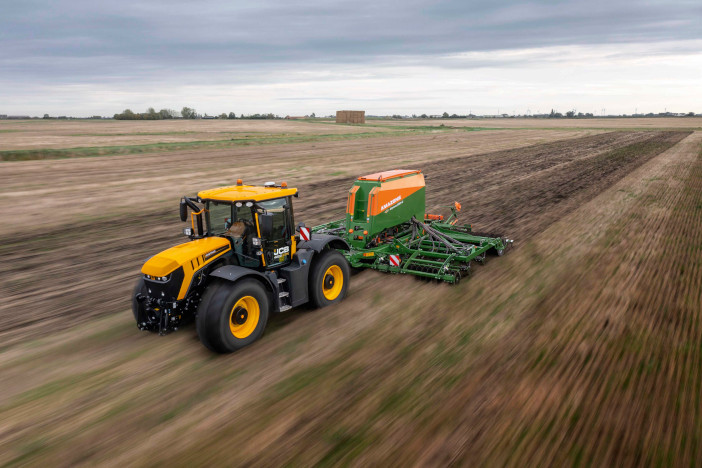 Operator comfort
A new fully-automatic climate control air conditioning system has been introduced, complete with solar load sensor and ambient cab temperature monitoring. Plus a heated and ventilated air suspension seat is available as part of the Field Pro and Pro Line option packs.
JCB agriculture managing director John Smith said: "We had three major objectives with this important project for the JCB Fastrac: to create a bespoke operator experience; integrate electronics technology such as ISOBUS and GPS guidance; and redefine the already high level of operator control and driving comfort that the Fastrac offers."
"At the same time, we wanted to maintain a familiarity in terms of the controls and information displays to ensure existing users can quickly adapt to the new system. Feedback from our extensive development and testing work with evaluation customers shows we have achieved all of these objectives, making the Fastrac an even more attractive proposition in terms of performance, productivity and operator appeal." 
For more information go to www.jcb.com