Landini will be presenting its newest tractor models at many of 2022's agricultural machinery shows, from Lamma in Birmingham to FIMA in Zaragoza and Fieragricol in Verona.
6RS Robo-Six series
Landini's new 6RS Robo-Six Series features the 6-135 RS, 6-145 RS and 6-155 RS models, powered by 4.5-litre, 16-valve, 4-cylinder FPT NEF 45 engines, with 135, 145 and 155hp power outputs.
The Robo-Six series transmission, with six powershift gears and four ranges offer 24+24 speeds that rise to 40+40 when the Creeper is fitted. The powertrain and transmission layout allow for a wheelbase of 2,560mm, the maximum rear wheel size sits at 650/60R38 and the maximum allowed weight is as high as 9,500kg.
The Robo-Six has two pre-programmed working modes: Eco – geared toward keeping consumption down, and Power – ensuring maximum performance, to speed up task completion times. Power output is enhanced by the four-speed PTO.
The closed-centre hydraulic system features a 123l/min pump, capable of handling up to seven spool valves, that are electronic and mid-mounted, and an electronically controlled rear hitch with a maximum capacity of 7,200kg. The front hitch can lift up to 3,200kg.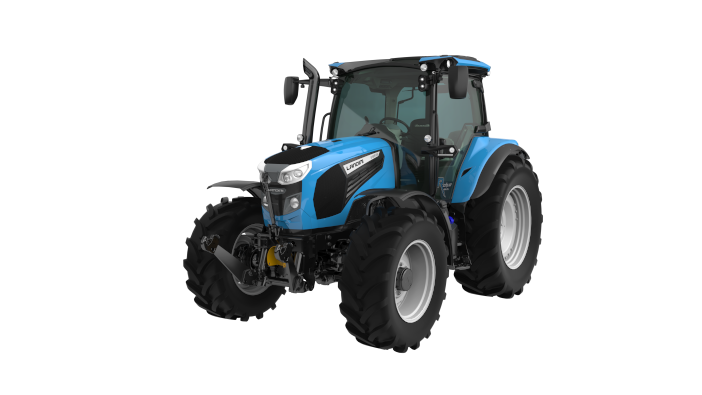 The Landini High Vision cab offers a FOPS-homologated panoramic roof and hatch for natural ventilation. The cab also sports a mechanical suspension.
For ease of use, up to 14 headlights are available, eight of which can be incorporated into the roof to provide better night vision. A 90-degree opening bonnet and radiators, arranged in a fan-shaped layout, allow for easy and safe servicing of the tractor.
Trekker4
The Trekker4 is equipped with a passive regeneration DPF, a DOC oxidation catalyst, selective catalyst reduction (SCR) (for models with over 56kW of power), and the 10.5-litre AdBlue tank. The 4-085, 4-095, 4-105, 4-110 and 4-120 models offer power outputs ranging from a minimum of 75 to a maximum of 112hp.
With the same dimensions and height as the Stage IIIB, the Trekker4 is suitable for working in orchards, with the F version, and mountains, with the M version. Tracks are available in steel or rubber; the F version is available with a track width of 1,100mm, the semi-lubricated steel tracks range from 310 to 360mm in width, while the M version has a track width of 1,300mm, with semi-lubricated steel tracks available in 400 or 450mm widths. Rubber soles are 400mm wide for both versions, with track widths of 1,132mm in the F model and 1,300mm in the M model.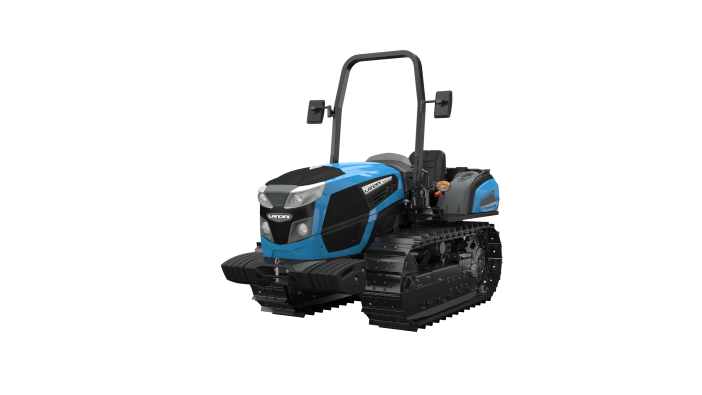 The 16+8 speed transmission operates through a synchro reverse shuttle and can be configured with overdrive, to increase the top speed up to 15kmh, or, with the Creeper, a minimum speed of 300 metres per hour.
The Trekker4 has a dual pump hydraulic circuit, with a 28.5l/min pump for steering and a 42l/min pump for managing hitches and spool valves. Three hydraulic rear spool valves can be added, with the option for two more – bringing the total to a possible five.
REX4
The Rex4 is available in four models: 4-080, 4-090, 4-100, 4-110 and 4-120. This series has power outputs ranging from 75 to 112hp. The Deutz 4-cylinder, 16-valve, 2.9-litre Turbo intercooler engines, with common rail electronic injection, offer greater tractor responsiveness and lower fuel consumption. The Engine Memo Switch stores and recalls the most suitable engine speed to accelerate work, and engine maintenance intervals have been expanded from 500 to 1,000 hours.
Among the various REX4 transmission configurations, is the new Robo-Shift 48 + 16 version with electro-hydraulic reverse shuttle and fully robotised Hi-Medium-Low (H-M-L) speed and gear shifting under load. The tare weight of the cab version is between 2,900kg and 3,600kg with a maximum allowed weight of 5,250kg, 2140mm wheelbase (2190mm for the V version), and a minimum width of 1,000mm (V).
REX3
The strength of the REX3 is its compact size, ideal for working in vineyards, orchards, for horticulture and greenhouse operations: 1,950mm wheelbase, 213mm minimum ground clearance, external width ranging from 1,350mm to 1,617mm, the minimum height, above ground, of the steering wheel on the platform version, is 1,256mm.
The range offers two Kohler 4-cylinder, 16-valve 2.5-litre engines with 68 and 75hp. Both models reach a maximum torque of 315Nm at 1500rpm. Operational autonomy throughout the day is ensured by the 50-litre diesel tank and the transmission offers 16+16 speeds with a creeper.
The Landini REX3 is available in platform, low-profile cab and standard cab versions.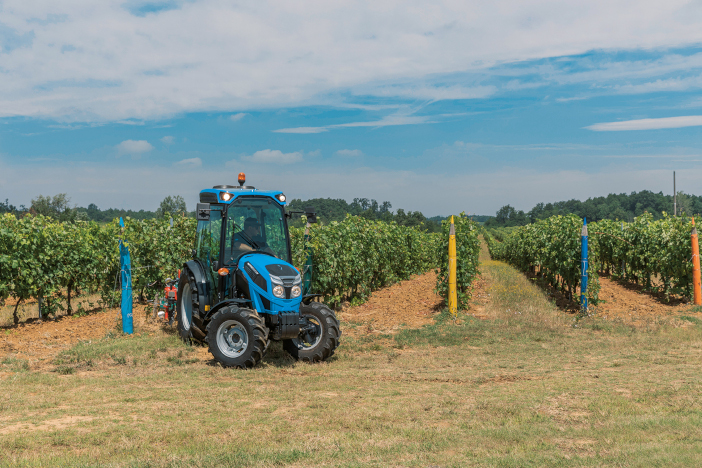 Mistral2
The Landini Mistral2 is an updated version of the Landini compact tractor. The 1.9-litre, 2-cylinder, turbo aftercooled Kohler engine offers maximum torque (180 Nm and 200Nm) at 1200rpm, and the two models (2-055 and 2-060) are suitable for both specialised farming applications and for urban council work.
The Mistral 2 has a 1,790mm wheelbase, a minimum width of 1,260mm, a weight of 1,780kg for the cab version, and a maximum allowed weight of 3,050kg. The rear tyres are available in 20-inch and 24-inch sizes, and the ground effect (GE) version can maintain bonnet heights from the ground at 1,131mm and 1,206mm respectively while the standard version maintains a bonnet height of 1,230mm and 1,301mm.
Landini 5-085
The Landini 5-085 is a multi-utility tractor that can be fitted with an optional L15 front loader for enhanced versatility. It has a 2,171mm wheelbase and the rear final drives can accommodate 34-inch wheels.
The 5-085 has a maximum weight allowance of 5,800kg and the rear hitch, combined with the Ergonomic Lift System, can lift up to 3,900kg. The tractor is equipped with a 3.4-litre, 4-cylinder and 8-valve FPT turbo intercooler engine that makes the most of the 75hp available to provide excellent traction and torque at 375Nm, at as little as 1,400rpm.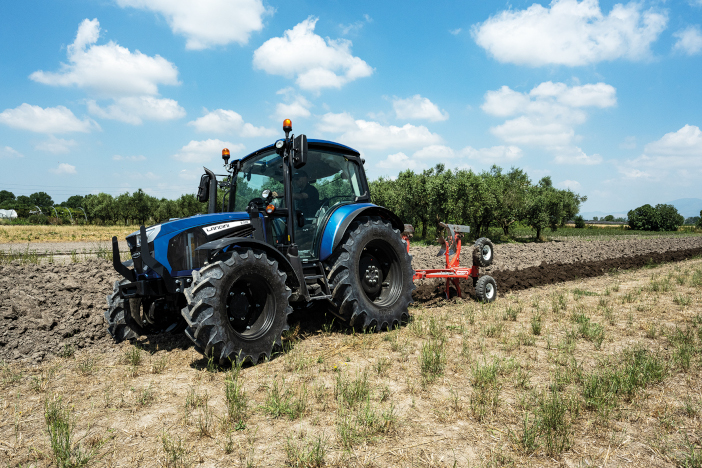 Operator comfort has also been improved, with a four-pillar cab to maximise the glazed area while four silent blocks absorb oscillation and vibration.
Available on all new Landini tractor models is the Precision Steering Management system, for satellite guidance control and management, the ISOBUS function, and the Landini Fleet & Remote Diagnostic Management system.
For more information go to www.landini.it