Reportedly a strong seller for Case IH since it was introduced to the portfolio in 2015, the Optum range has been re-engineered with each of the three models featuring a new cabin, redesigned interiors and the AFS connectivity package.
As with the previous generation, the new Optum AFS Connect machines offer rated power outputs of 250hp, 270hp and 300hp, all with the CVXDrive continuously variable transmission. Jumping in the cab, operators will see a host of features brought down from the Magnum AFS Connect range (introduced in 2019), including the Multicontroller armrest and multifunction lever, the larger AFS Pro 1200 touchscreen terminal and the A-pillar display for engine and transmission readouts.
The cab is also larger. The interior volume has reportedly been increased by 7.5%, with an 11% greater glass area to increase visibility and a noise level of just 66 decibels.
On the armrest and controller, there are configurable buttons that can be adjusted via the terminal to ease operation. The screen is also ISOBUS compatible and can display feeds from front and rear cameras and provide a level of control over engine optimisation functions, the transmission and the hydraulics and PTO. Short-cut keys and an encoder dial are also integrated into the armrest.
Through the terminal, users can control the AccuGuide automated steering system and – for the first time in this tractor class – the full AFS Connect telematics system. With this, owners can monitor their farm and fleet, with two-way data transfer. Both current and historical data is available, including real-time information such as fuel levels and performance data, and application maps and task data can be sent directly to the tractor cab.
Farmers and dealers (as long as permission is given) can use AFS Connect Display Viewing to view the AFS Pro 1200 display remotely. This allows suggestions to be made to improve operation or, if the dealer is looking, issues to be potentially fixed remotely. The AFS Connect Support PRO package also means that the terminal can be wirelessly updated so that operators have the most up to date software available to them.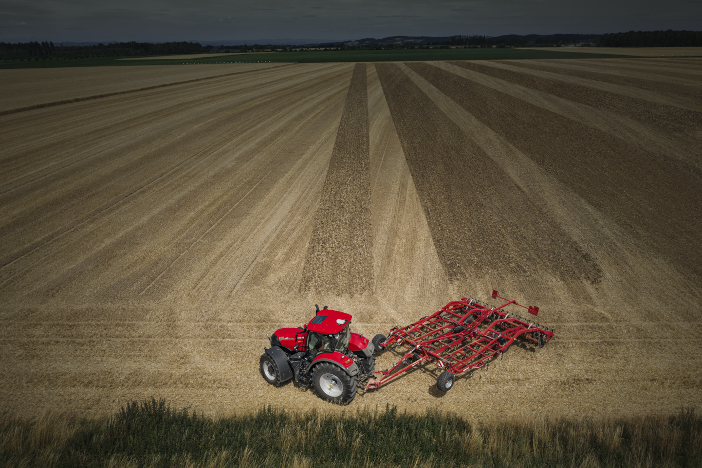 More comfort and control
The layout of key controls has been rethought, with a new armrest and redesigned Multicontroller lever that features remote valve switches with pressure release for easier coupling. Other features include buttons and hydraulic remote switches which can be adjusted based on the operator preference.
Visibility from the driver's seat has also been improved, including lower rear fenders, a four-pillar design and full-length doors. The windscreen has an upper curved edge to increase natural light and the wiper has been lowered and has an increased cleaning area. LED work and road lighting packages can be specified, with a maximum of fourteen units.
There is a new pressurised climate control package with more outlets and auto-zone control. The high specification seat features lateral suspension, as well as full cooling and heating capabilities, with an upper swivelling backrest for comfortable turning in the seat. Further upgrades include a new driving pedal, with enhanced precision and greater control for inching.
The increased cab volume also allows for more storage space, with an integral coolbox under the passenger seat, with enough space for a lunchbox and a pair of two-litre bottles. A number of USB sockets are also fitted to charge mobile phones.
"The first generation Optum CVX took Case IH into a whole new category when it was launched in 2015," noted Dan Stuart, product marketing director Europe.
"The new generation Optum AFS Connect takes its capabilities another leap forward. It gives users a versatile 250-300hp tractor with continuously variable transmission that offers even more in terms of comfort, capability and connectivity."
For more information go to www.caseih.com