Kubota has launched a new narrow version of its 106hp M5-102 tractor, designed for orchard, vineyard, vegetable and solar park work.
The M5-102N brings several upgrades over the previous generation, including a revised cabin featuring Category 4 filtration, front axle suspension, front PTO and hydraulically adjustable rear linkage stabilisers. The company also states a reduced cost of ownership due to an improved DPF and emissions control system.
Power is provided by the company's V3800 3.8-litre, four-cylinder engine, delivering 346Nm of torque and 106hp. Meeting Stage V regulations, all the emissions control systems are packaged under the bonnet to provide a clear view from the cabin.
"Packaging is very important on a tractor that is governed by its physical size," said Jonathan Rook, Kubota's UK product manager for M-series tractors. "And this narrow model does not disappoint. Yet on its narrowest wheel and tyre combination, the M5-102N can be slimmed down to just 1.2m wide to suit row-specific tasks."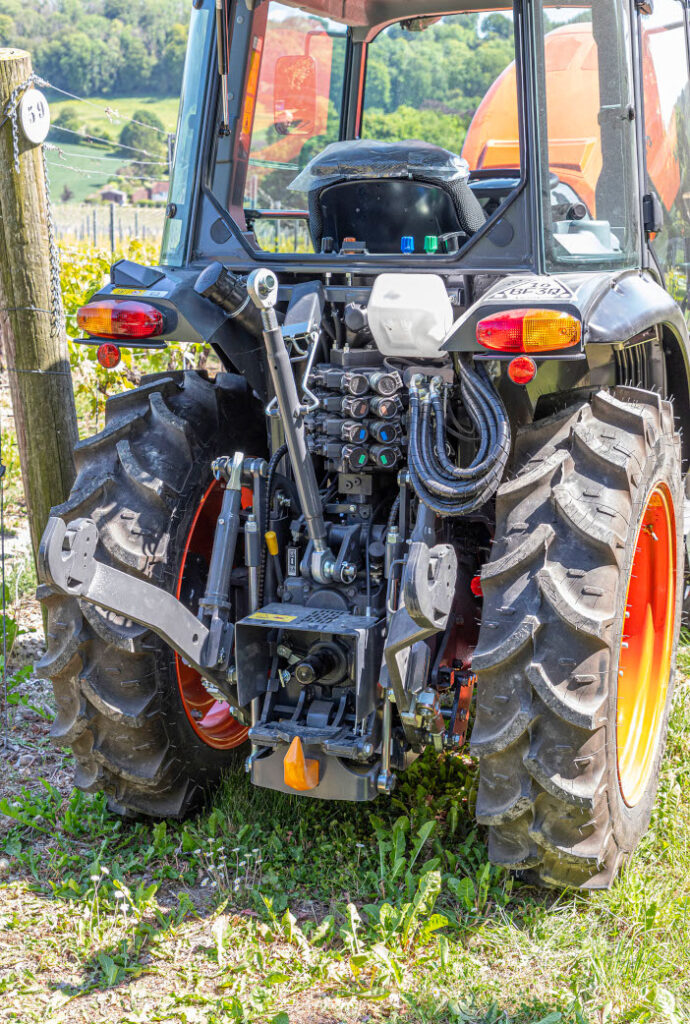 Due to updates to the emission control technology, the tractor can perform a DPF regen at just 1,100rpm, compared to 2,000rpm on the previous model, with a DPF service not required for 6,000 hours. Engine oil changes are every 500 hours.
Power is put to the ground via a 36×36 transmission, split into three ranges with a two-stage power split in each of the six manual speeds. Electronic shuttle control and a declutch button improve operator control and the tractor can reach a road speed of 40kph.
The portal front axle with bevel gear includes Kubota's Bi-Speed turn, which increases the front wheel speed when the turning angle exceeds 35 degrees. When engaged, this tightens the turning circle. An optional suspension system is available, providing 95mm of travel, as well as a front linkage and PTO system fitted at the factory.
In the cabin, the company has achieved an almost flat floor, making the most of the available space, and the M5-102N is equipped with an air-suspended seat as standard.
"Good packaging and practical use of space has made this one of the most generous operator environments on the market for this size of tractor, without needing to make the cab taller," said Mr Rook. "A huge amount of detail has gone into producing this new model, and with almost every mechanical component made in Japan by Kubota, we're expecting the same legendary reliability as other models in the Kubota range."
The dashboard features an LCD panel with gauges, with two electronically controlled engine speeds. Air conditioning is standard, but the tractor also features two openable rear corner windows. Both front indicators are mounted on spring-loaded brackets, allowing them to twist inwards 90 degrees for added protection.
LED lighting and a new stationary PTO function are included, and the tractor can be equipped with manual or electronic spool valves and ISOBUS control.
"Up to five mechanical spools can be fitted, with individual flow control easily reached inside the cab thanks to a 68.3 litre fixed displacement pump," added Mr Rook.
"In addition, the availability of a mid-mount spool valve kit makes it easy to operate front-mounted equipment," he said. "The Cat II rear linkage offers a 2.3 tonne lift capacity, and electronic lift control for ease of set-up, and the tractor can also be equipped with hydraulic rear linkage stabilisers and hydraulically adjustable lift rods."
The M5-102N is priced from £58,868 and is offered with a range of Kubota Care warranty packages. For more information go to www.kubota.com